Features
Disney+ Halloween Movies for Kids: The Best Family Films to Watch This Spooky Season
Find out the best tricks AND treats you can have for the whole family while streaming Halloween movies on Disney+!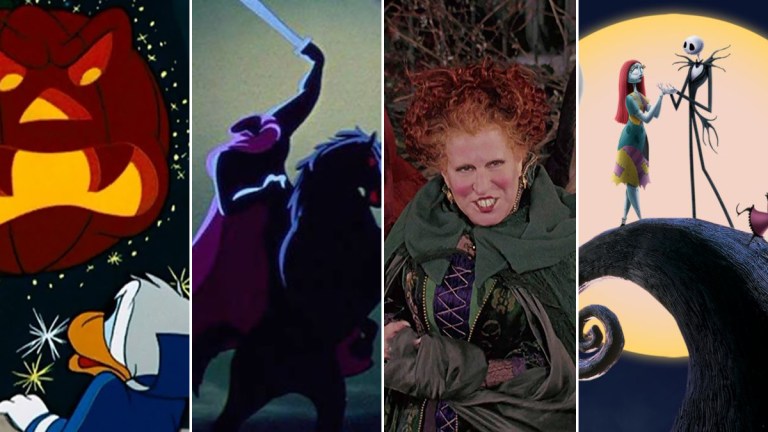 It's the season for thrills and chills, but if you're planning to watch movies with your kids as Halloween approaches, you might not be looking for the scariest horror films. Luckily, there's plenty of family friendly fare on Disney+ to add some spooky to your Halloween season.
The Adventures of Ichabod and Mr. Toad
When you're looking for The Legend of Sleepy Hollow on Disney+, it doesn't come up on its own. The short from 1949 was released in tandem with another short based on the Wind in the Willows. The combined films were released under the full title of The Adventures of Ichabod and Mr. Toad, and that's exactly what you have to type in to get it to come up.
The story, which is based on Washington Irving's original text, tells of the ill-fated romance between schoolmaster Ichabod Crane and Katrina van Tassel in 1790 Sleepy Hollow, New York. When Katrina's unofficial fiance discovers that Ichabod is superstitious, he tells the story of the Headless Horseman—and Ichabod, on his ride home, encounters a pumpkin headed spirit. The next morning, Ichabod is nowhere to be found; a shattered jack-o-lantern and his hat are all that remain. While some younger viewers may find the tale distressing (Disney didn't pull punches back in the 1940s), those with a taste for ghost stories will happily enjoy their shivers.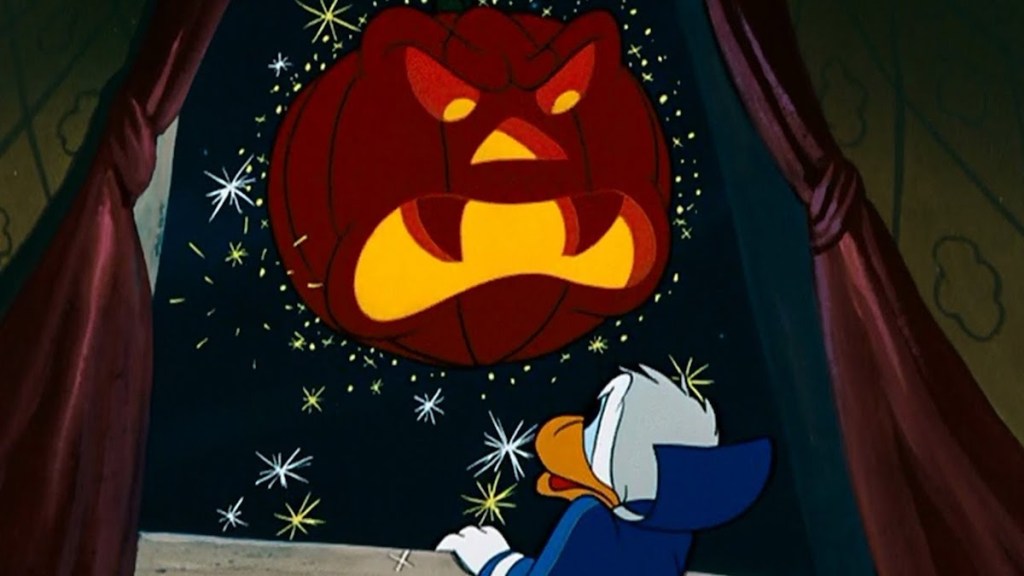 Trick or Treat
What happens when Huey, Dewey, and Louie come to Uncle Donald's for trick or treating? Donald's full of tricks! Luckily, Witch Hazel takes pity on the nephews and helps them get their just desserts. This 1952 classic is only nine minutes long, so it's a great short to open your Halloween family movie night! You can also pair it with the 1937 "Lonesome Ghosts" (Mickey, Donald, and Goofy in a haunted house), or the creepy 1936 short, "Thru the Mirror," an Alice in Wonderland inspired Mickey short.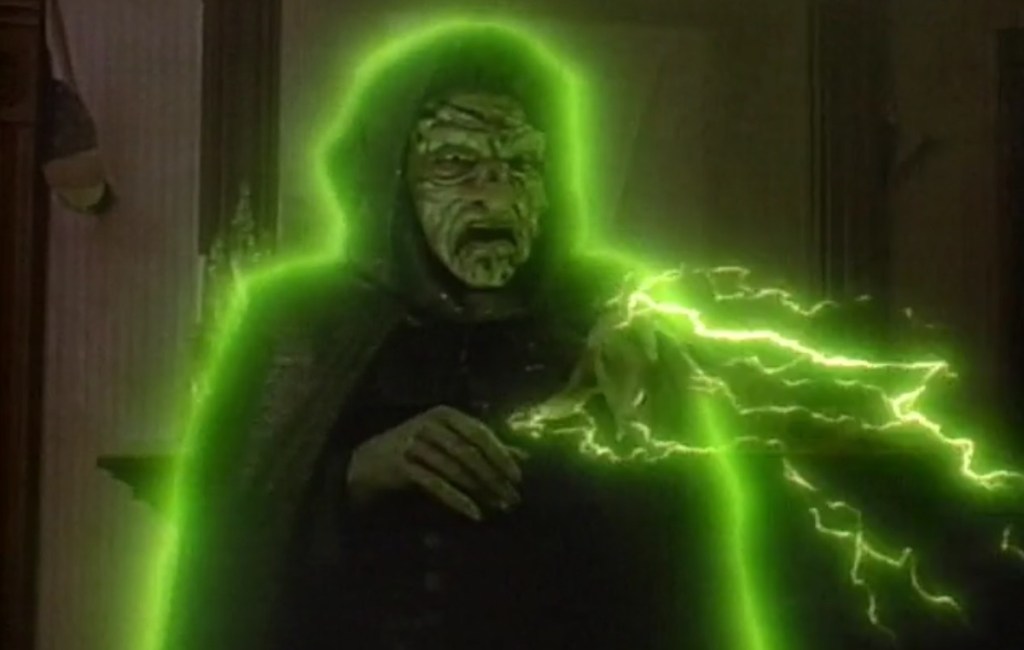 Mr. Boogedy
This 1986 Made for TV Disney Sunday Movie may bring back childhood memories for parents! In it, a family moves to a spooky New England town only to discover that their house is haunted. The two Halloween-loving parents are inclined to believe that the hauntings are just a practical joke from the creepy old man who runs the town's historical society.
The kids, on the other hand, are determined to get the evil ghost—a 300-year-old pilgrim whose spurned love caused him to sell his soul to the devil for a magic cloak—out of their house once and for all. With kid heroes (and the creative use of a ghost-fighting vacuum cleaner), this one might be so bad that it's good.
The Nightmare Before Christmas
Yes, technically this is a Christmas film, but there's not a lot that's Halloweenier than Jack Skellington, the Pumpkin King, and the monsters of Halloween Town taking over Christmas.
Released in 1993, this stop-motion animated film from producer Tim Burton was originally deemed "too scary" to be released under the Disney label, but in the years since, it's become a favorite, especially of older kids and their parents. The characters Jack Skellington and Sally have plenty of reach beyond the original film too, appearing on t-shirts and other accessories worn to celebrate this time of year.
Coco
Coco isn't officially a Halloween movie, either, but it's a great way to celebrate both Hispanic Heritage Month (which runs until Oct. 15, 2020) and Dia de los Muertos. Miguel just wants to play music, but in his family, it's forbidden. When he steals a guitar from a crypt on Dia de los Muertos, he finds himself transported to the land of the dead, surrounded by the beautifully painted skeletons of his dead relatives.
Unwilling to promise he'll never play music again, Miguel goes on the run, helped by a scoundrel, Hector, to reach the one person Miguel believes will get him home. This Pixar film hits all the right notes when it comes to family, to music, and to learning how to accept and love people for who they are. It also has alebrijes: beautifully colorful magical animals that assist both the dead and the living through their trials.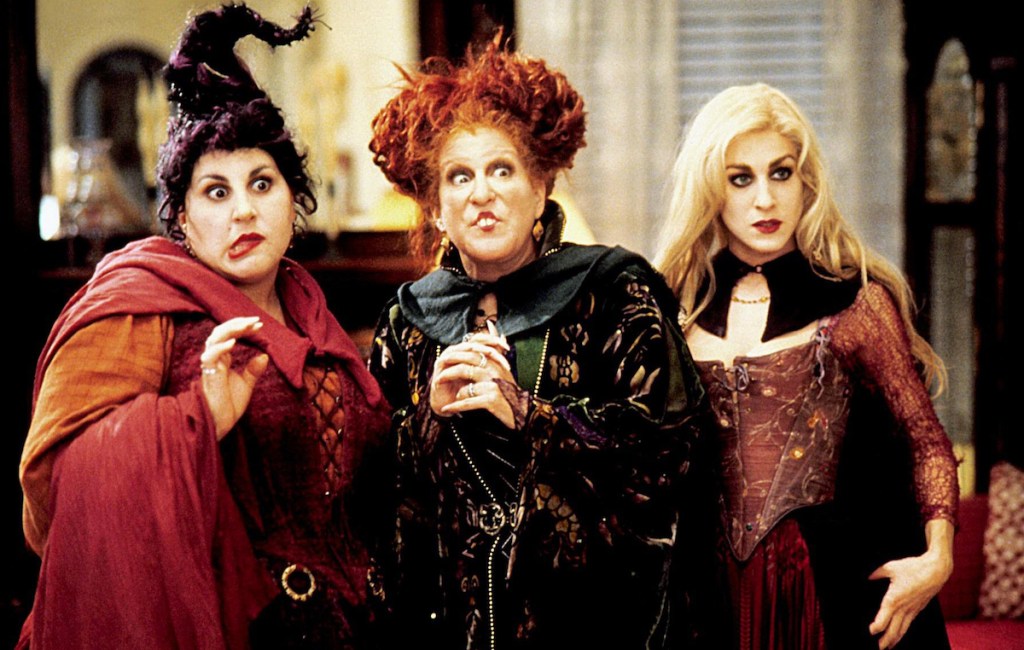 Hocus Pocus
Possibly one of the most hotly debated family friendly Halloween films, this cult favorite of the 1990s features three sibling witches who were executed in 17th century Salem (so the witch trials were justified in this world?). But before their deaths, they declare they'll be resurrected if a virgin lights a magic candle.
Flash forward 300 years and a teenage boy finds a way to set them free. There are a lot of ribald jokes throughout, likely to go over the heads of young viewers, and the sisters really are wicked. (Early on, they suck the life out of a little girl and doom her brother to being an immortal black cat.) While for some families, this is a hard pass, for many others, it wouldn't be Halloween without watching Bette Middler put a spell on you!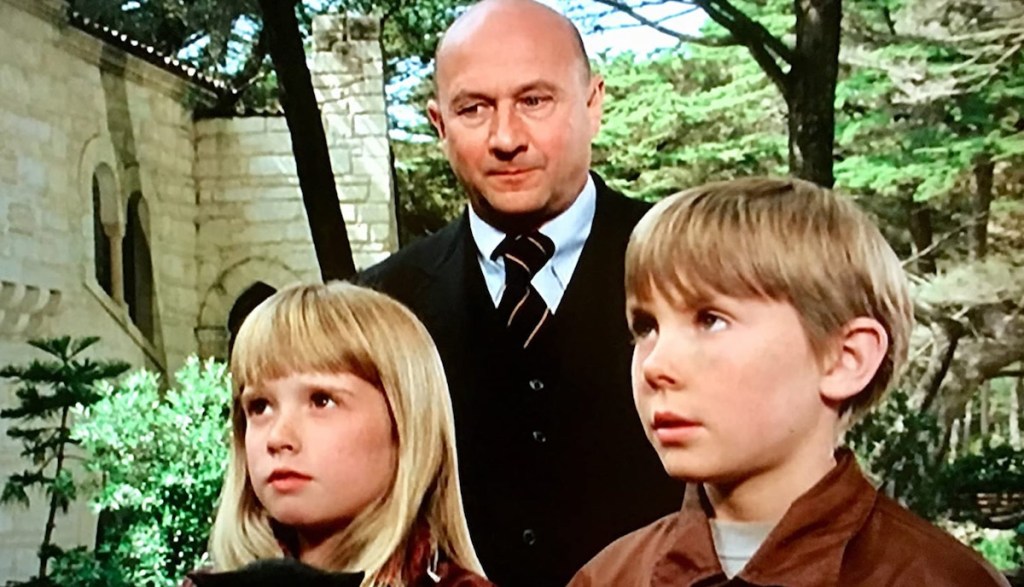 Escape to Witch Mountain
There are no actual witches in Escape to Witch Mountain (1975) and its sequels. Instead the first film revolves around two foster children, Tony and Tia, with special powers. When an "uncle" appears to bring them home, they realize he's a villain who wants to use them, and they escape. Over the course of their adventures, they discover their true heritage: they're aliens.
Tony and Tia's adventures continue in Return from Witch Mountain, and the 2009 remake of the first film, Race to Witch Mountain, stars Dwayne Johnson as a cab driver who helps the two alien children (renamed Sara and Seth) to their destination.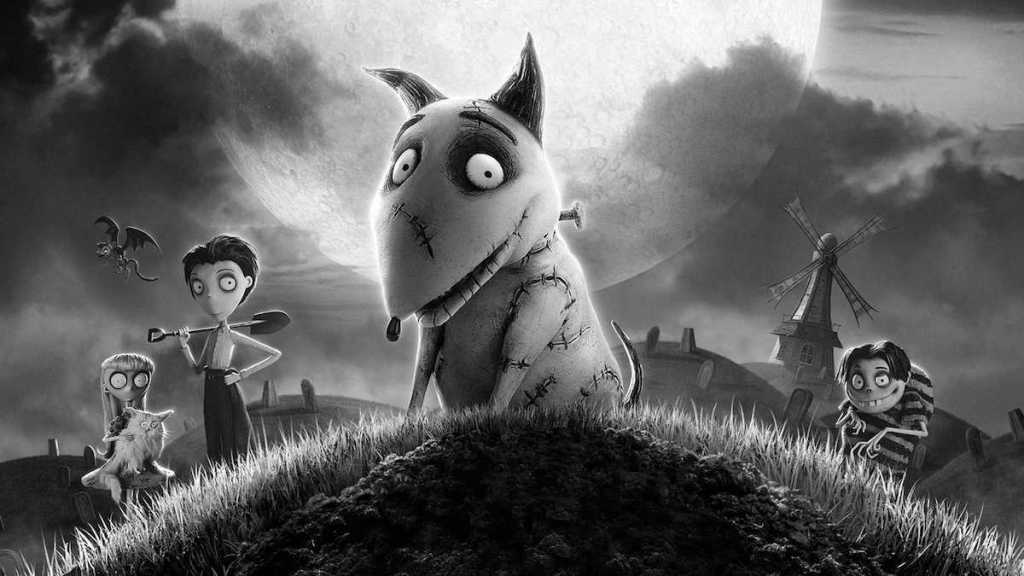 Frankenweenie
Another Tim Burton stop-motion film, Frankenweenie tells the story of boy Victor Frankenstein, who resurrects his pet dog, Sparky, but is then blackmailed into telling other neighborhood children the secret behind reanimating their pets. The black and white animation and the somewhat creepy content makes this one better suited to tweens than the younger set, and parents will enjoy the homages to classic horror films in Burton's storytelling.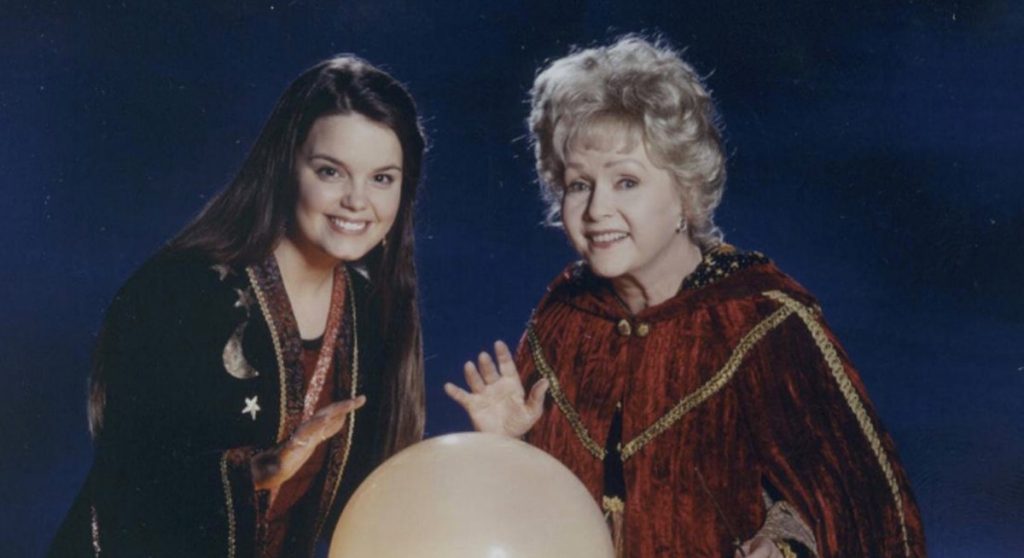 Halloweentown Series
If you're looking for a movie marathon, you might check out the Debbie Reynolds-led series of Disney Channel originals about a town full of witches, demons, skeletons, and goblins. The first, Halloweentown, came out in 1998. In it, 13-year-old Marnie is incredibly frustrated because her mother won't let her celebrate Halloween. As it turns out, it's because Marnie's mother and grandmother (played by Reynolds) are witches; Marnie's mother wants Marnie to be a regular mortal, but her grandmother wants to train her before she loses her powers forever.
After overhearing their argument, Marnie is determined to get to the bottom of her history, so she follows her grandmother back to Halloweentown where she gets embroiled in the quest to find a talisman that will undo a demon curse on the townspeople.
In Halloweentown 2: Kalabar's Revenge, Marnie, now with two years of witch training under her belt, has to undo a warlock's plot to trap everyone in the mortal world as the creatures of their Halloween costumes. Halloweentown High features Marnie bringing several Halloweentown teens, disguised as humans, to her mortal high school, posing as exchange students from Canada. In the fourth film, Return to Halloweentown, Marnie (played by a different actress) decides to attend Witch U in Halloweentown for college.
There's not a lot of serious food for thought in these, but the scare factor isn't terribly high, and it's notable as a Disney Channel Original movie series that ran for four films.
Monsters Inc.
For the younger set, there's nothing better than Monsters, Inc. to bring shivers and giggles together in one film. This is the story of two roommate monsters, Sully and Mike, who work together at the scare factory. One day they find their lives derailed when a human child (supposedly poisonous to monsters!) comes through one of the closet doors that monsters travel through to scare children. They're determined to get her back safely, with no one the wiser, and end up uncovering not only a huge conspiracy, but a new source of energy for monsters.
The prequel Monsters University hits some of the same scare and humor notes (with a great lesson on embracing who you are, and the skills you have, rather than trying to become something you're not). If you've only got time for one, though, pick the original, and be prepared to hear your kids say "Mike Wazowski" over and over…
What are your favorite family friendly Halloween films? Tell us in the comments.