News
A Babysitter's Guide To Monster Hunting Trailer Teases Family-Friendly Scares
Netflix just dropped the trailer for A Babysitter's Guide To Monster Hunting, starring To Felton.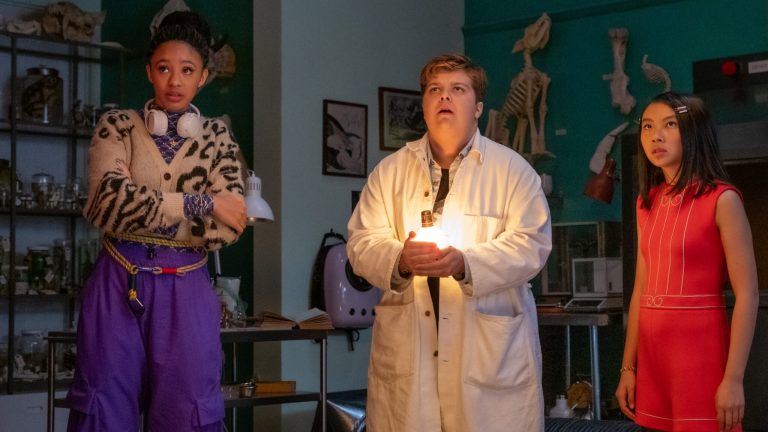 You've heard of the Babysitter's Club, but have you heard of The Order of the Babysitters? It's the super secret society babysitting society at the heart of Netflix's upcoming family horror film: A Babysitter's Guide To Monster Hunting. The streamer just dropped the trailer for the film, which features Harry Potter's Tom Felton as a very creepy nightmare man, aka Boogeyman, who kidnaps teenage protagonist Kelly's (Tamara Smart) babysitting charge and promises to "unleash your nightmares on the world." Yikes! Check it out…
A Babysitter's Guide To Monster Hunting is based on a series of books by Joe Ballarini, and has Doctor Who director Rachel Talalay behind the camera, which means it has been on our radar pretty much since the directorial news was announced. The film will follow high school freshman Kelly Ferguson who, after reluctantly agreeing to babysit on Halloween, is recruited into a secret society of babysitters who protect kids with special powers from monsters. In addition to writing the books that the film is based on, Ballarini also penned the screenplay for the feature adaptation.
"It's a Halloween family movie," Talalay told Entertainment Weekly about the upcoming film. "We're living in the zone of trying to be both scary and funny. It's about a super-secret babysitters' organization that's always protected kids from monsters. You have our main lead, Kelly, who is [played by] Tamara Smart, who finds herself dropped into this world of monsters unexpectedly. She's taken on her tour by the grumpy Liz, played by Oona Laurence, who doesn't want to take on a protegee, who just wants to rescue her brother and fight monsters. I wanted to make a movie with that feeling that the leads could teach each other things. The Kelly character is very smart and very science-oriented, very math-oriented and there's a little bit of Tank Girl in Liz."
In addition to Felton, Smart, and Laurence, A Babysitter's Guide To Monster Hunting costars Ian Ho, Troy Leigh-Anne Johnson, Lynn Masako Cheng, Ty Consiglio, and Indya Moore. It sounds like a great and new option for the family Halloween media schedule. When it comes to kid-geared Halloween films, it can be hard to find spooky movies that manage to deliver a degree of genuine scariness without tipping too far into horror. It sounds like A Babysitter's Guide To Monster Hunting might just strike that balance.
A Babysitter's Guide To Monster Hunting will premiere on October 15th only on Netflix.