Features
Dennis Quaid and Jared Gutstadt Talk The Dennissance Podcast and Audio Up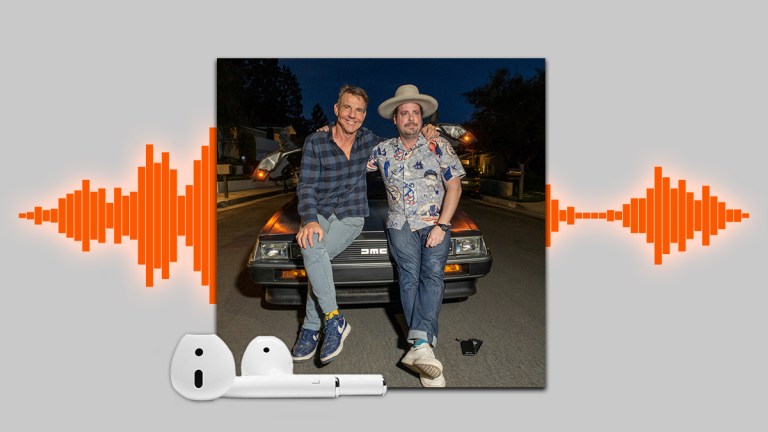 Dennis Quaid came roaring back into the spotlight in 2019 with the low budget suspense thriller The Intruder, which turned into a sneaky box office hit, an ensemble role in the World War II epic Midway, and Netflix's Happy Merry Whatever. Could the 66-year-old actor be making a resurgence? Is this the start of the "Dennissance"?
Jared Gutstadt, who is credited with coining the title of Quaid's new podcast, The Dennissance, seems to think so.
"Last year was a Dennissance, and that's really where the word came from," Gutstadt tells Den of Geek. "Driving my kids to school every morning, I'd see his face on a poster on different streets. So you were literally like The Intruder one week, Happy Merry Whatever the next. Everyone said, 'We're living through a renaissance of Dennis,' because I think one time he excitedly told me on the phone, 'It's the '80s all over again.' And those things don't just accidentally happen."
Quaid's latest offscreen project comes from Audio Up, the podcast content production studio founded by Gutstadt. The partnership between Quaid and Gutstadt began when they collaborated on Bear and a Banjo, a fictional anthology podcast series that featured songs written by Jason "Poo Bear" Boyd, Gutstadt, and Bob Dylan. Quaid executive produced the series and lent his voice to one of the characters.
On April 8, Gutstadt and Quaid launched Audio Up and its flagship interview podcast, The Dennissance. Ahead of the launch, we spoke with Quaid and Gutstadt about the origins of the project, building a podcast community and brand, and the inspirations behind the Dennissance format. Quaid also joined our new baseball-themed video series MLB The Show (The Show) to revisit the pitching scenes in The Rookie. Read on for the full Q&A with Gutstadt and Quaid!
Den of Geek: How did this partnership between you guys unfold?
Jared Gutstadt: Dennis and I met through T Bone Burnett. I pivoted from strictly wanting to put out an album to realizing that it was very hard to market that album that I created, Bear and a Banjo, if there was not some sort of secondary component. So ultimately I flipped it upside down and turned it into the soundtrack for a podcast that had not yet been created. Dennis, being adventurous and innovative, said, 'Hey, let's do it.' None of us really knew what it was going to be. We truly had stumbled into a big idea because brands very much reacted to it in terms of us being able to de-risk, almost like putting out a movie or TV show which is monetized before it hit the airwaves or the podcast distribution channels.
Dennis and I looked at each other and said, 'Well, this was fun. We like working with each other, let's do much, much more.' And as we were firing up a few other premium scripted things in our world, including the country musical, Make It Up As We Go, we thought the next big thing would be utilizing Dennis's voice as a way to have conversations with amazing people and that the first thing that we're launching at Audio Up is really a flagship, always on, talk format with Dennis. I've heard every talk format out there in the space. And I think with Dennis's voice is real unique, and it's something that's missing right now in podcasting
Dennis, who were your inspirations for hosting an interview show? With so many great podcasts hosts out there, what were you able to pull from listening to your contemporaries?
Dennis Quaid: There was a show called Tomorrow back in the '70s that talked to different newsmakers, celebrities, or whatever about what might be behind what people may have thought they knew about a certain person. I have had such a lucky life as far as my exposure to so many different, interesting people that I'm tapping. I do research for my movie roles, and through that I got to meet the astronaut Gordon Cooper who I was playing in a movie who was also a childhood friend of mine. And Chuck Yeager was also involved in that film. Jimmy Morris, who is the real rookie I played, was on the set every day.
I could go on and on about people that I've been able to have contact with in my life. Bill Clinton, I spent a weekend in the White House with him. And these are the people that I want to go back and interview, and get to find out what they're interested in life besides their job that they've been doing, really find out something that we didn't know about them.
What's the origin of The Dennissance title?
Dennis Quaid: The Dennissance title, I would say maybe it should be 'Dennis Quaid is Here.' I think it may have been Jared who came up with The Dennissance. But along with that, being in music and everything, I also fly jets, I'm an amateur astronomer. I'm a forest enthusiast and animal rights activist. I've spoken at patient safety medical conventions because of what happened to our twins at a very early age.
I've gotten to go behind a lot of doors that say, 'Authorized personnel only,' and have access to some very interesting and knowledgeable people in their fields. The topics and the guests will be spread out across a broad spectrum of jobs and what they do rather than just celebrities. And I also would like to get people who don't necessarily have something to sell at the time.
Jared Gutstadt: Dennis was in the zeitgeist. I've seen Dennis go out in public, and people have this very strong reaction to him. Older people know him from certain movies. It's not like meeting other celebrities. People will feel compelled to tell them what their favorite Dennis movie was. Many times people wouldn't do that to a DeNiro or a Redford because they're closed off. But I think it's because Dennis has been so relatable.
What other networks were you looking to in terms of developing the model for a podcast network?
Jared Gutstadt: A lot of the stories we're telling, especially on the scripted side, have a musical component, a soundtrack component, a publishing component, but they also have a very strong component of being things that brands are attracted to, being able to go to Ford or Pepsi or State Farm and say, "Look, you're going to reach an audience in ways that you've never been able to." The numbers on completion rate of podcasting versus terrestrial and cable TV is staggering. For [Joe] Rogan or [Marc] Maron, people listen for a full hour, maybe more. In today's television space, the completion rates are not that. And digital video on the web is extremely crowded right now.
So podcast is the place for unique stories where a brand can either dynamically or not dynamically be inserted into what we did. They always say you should never be paid handsomely for your passion project, but Bear and a Banjo, as esoteric as it was, was one of the most profitable things ever for my career and in the podcast space.
When I think of the podcasts I listen to, they find ways to exist outside just the audio. The most successful ones can organically build a community. How do you plan to build a podcast community through Audio Up?
Well, just looking at the slate right now, almost everything that we have on the go has music in its DNA. We have this country music shows with some of the biggest names in country. We have another one that's being billed as the real life version of Tales from the Tour Bus meets King of the Hill. We have two podcasts with Universal Music right now. And what these all have in common even though the genres are different is that music is in it. But if we were to grow, and looking three to five years ahead, we want to have the best class of people that we partner with, whether it's in sports or in the world of fashion or beyond.
And I think at the beginning our type of programming people can expect is the best access and reach into musical storytellers. And with Dennis who's always on strategy, with him as the voice of Dennissance, it's a great way to promote. He's our newsroom and a great way to promote additional things from our network, build up the RSS feed, and have other guests that we're going to be piloting into our world, come and be guests on The Dennissance.
What platforms will Audio Up programs be available on?
Jared Gutstadt: Anywhere where you can hear a podcast, so Apple, Spotify, Stitcher, Himalaya, and obviously if you go to audioup.com, go look at our slate, and you can find out everything else that's available.
The Dennissance from Audio Up is now available.