News
Daisy Ridley Reveals Original Plan to Connect Rey to Obi-Wan Kenobi
The controversial reveal of Rey's parentage in Star Wars: The Rise of Skywalker was originally planned with a very different twist.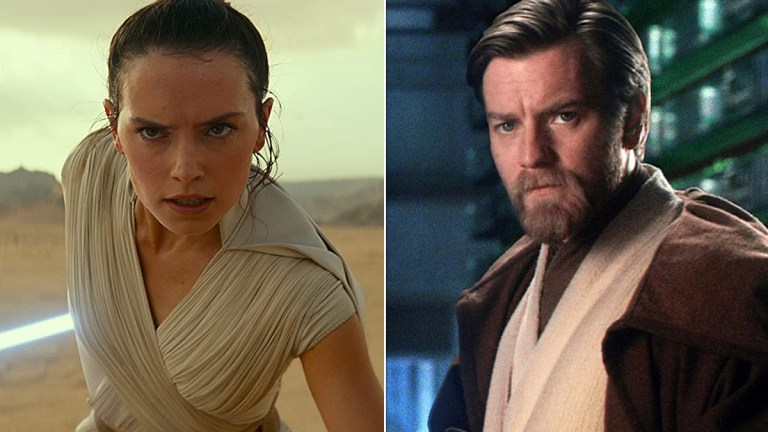 Star Wars: The Rise of Skywalker has had nearly a year to digest in the ether, but it remains a source of controversy, with the J.J. Abrams-directed film having stultified its Rian Johnson-directed immediate predecessor, not to mention co-star John Boyega's recent criticism of his character's unfulfilling arc. However, the trilogy closer's revealed parentage of Daisy Ridley's protagonist, Rey, remains a source of widespread head-scratching. Now, Ridley herself confirms that said reveal was the end result of intriguing permutations.
In a virtual interview on Jimmy Kimmel Live, Ridley was pressed with an obligatory set of Star Wars questions from guest host (and clear fan,) Josh Gad about her experience with the franchise, notably regarding The Rise of Skywalker's twist reveal that (sorry, spoiler ahead,) Rey is the granddaughter of the franchise's abruptly returned original antagonist, Emperor Palpatine. Ridley's answer reveals that said twist was the culmination of multiple spit-balled ideas. As Ridley explains of the process:
"At the beginning, there was toying with an Obi-Wan connection," adding, "There were different versions, and then it really went to she was 'no one.' And then it came to Episode 9 and J.J. pitched me the film and was like, 'Oh yeah, Palpatine's granddaddy, and I was like, 'Awesome.' And then two weeks later he was like, 'Oh, we're not sure.' So, it kept changing. So, then I was filming and I wasn't sure what the answer was gonna be."
Ridley's confirmation of initial plans for an Obi-Wan connection actually lines up with a theory about Rey's parentage that strongly permeated during the era of 2015 trilogy-launcher The Force Awakens. Specifically, the scene in that film in which Rey experiences Force-driven visions after Maz Kanata gives her Luke's old lightsaber contains samples from Star Wars moments of the past before transitioning to an original sample of Obi-Wan Kenobi's voice saying "Rey… these are your first steps." It was an especially intriguing addition, since it was confirmed that Ewan McGregor actually went in to record the audio in question, which gave more potency to the rumor of an Obi-Wan connection. Thus, it now seems likely that McGregor's understated voiceover was intended as the seed from which a plot twist was designed to grow later in the trilogy.
Of course, Rey didn't turn out to be a Kenobi, nor did she turn out to be the "no one" she was (temporarily) revealed to be in director Rian Johnson's middle act, The Last Jedi—in fact, she didn't turn out to be anything that she was initially hinted to become earlier in the trilogy. Consequently, Ridley's answer also serves as further confirmation of what many have long-suspected of the Star Wars Sequel Trilogy, namely that its revolving creative personnel was flying by the seat of their pants on a film-to-film basis with regard to the plot; a notion critics can point to as a reason for its apparent lack of cohesion. However, that is not to say that the Sequel Trilogy is without its fans, and the somewhat redeemed status of the contemporaneously-maligned 1999-2005 Prequel Trilogy might be evidence that the wider fandom's current verdict is far from final, for what it's worth.
In the meantime, Star Wars is currently invading the medium of streaming television, with The Mandalorian Season 2 set to hit Disney+ on October 30, and, pertinently, the long-gestating, Ewan McGregor-headlined Obi-Wan Kenobi spinoff series still on the docket for the platform.