News
Star Wars: Daisy Ridley Responds to Rise of Skywalker Backlash
Daisy Ridley reveals she needed to stay off the internet in January given how unhappy the Star Wars reception turned out to be.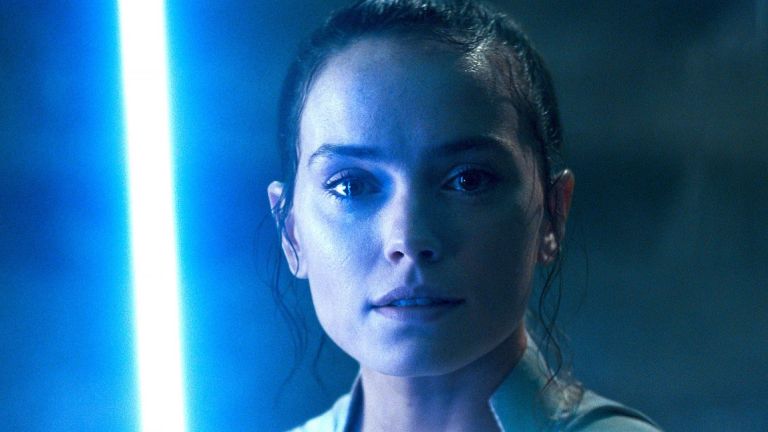 It's strange times when a movie can cross $1 billion worldwide but many folks, including the talent that starred in it, are forced to speak of it in tones of disappointment or frustration. But here we are less than four full months out from Star Wars: The Rise of Skywalker's debut and its star is fielding questions about fan division and a muted critical reception.
As the ninth and allegedly final film in "the Skywalker Saga"—which includes nine of the 11 Star Wars movies—J.J. Abrams' The Rise of Skywalker arrived with heavy expectations, particularly after Rian Johnson's The Last Jedi won over critics but divided fans, at least according to social media echo chambers. Yet The Rise of Skywalker's reception was even more contentious, something Rey actor Daisy Ridley acknowledged when she went on the Dragcast podcast.
"It's changed film by film, honestly," Ridley said about accepting the scrutiny of a fandom that can be wonderful and awful. "Like 98 percent, it's so amazing, [but] this last film it was really tricky. January was not that nice. It was weird. I felt like all of this love that we'd sort of been shown the first time around—I was like, 'Where's the love gone?'"
She goes on to compare her experience of making the Sequel Trilogy with the overall dedication of filmmakers across multiple generations, as showcased in The Skywalker Legacy documentary.
"I watched the documentary, the making-of, this week, and it's so filled with love," Ridley said. "I think it's that tricky thing of when you're a part of something that is so filled with love and then people [dislike it]. Everyone's entitled to not like something, but it feels like it's changed slightly, but I think in general that's because social media and what have you."
Indeed, Ridley is no longer on Twitter, although she said on the podcast it was not related to Star Wars fan criticism. But it does appear fans increasingly demand a two-way conversation with creators of content that they love.
"I think in general people share so much on social media," Ridley considered. "If I went to a film and didn't like it, I just wouldn't tweet about it. But it's such a conversation [around Star Wars] and it's always been. I guess now conversations are just more public, so there's stuff I wouldn't have seen. But honestly trying to scroll through my newsfeed in January and trying to not see Star Wars stuff—I'd see headlines and be like, 'Oh my God, this is so upsetting.' So it's been tricky but then it's like having that thing of I feel really proud of it, and I'm so thrilled to be part of it. It's a funny thing."
And Ridley does make an interesting point about fandom. We've documented before that there's a growing sense of fan entitlement where they demand to be serviced by creators. However, in many ways, a lot of the perceived faults in The Rise of Skywalker sprung out of filmmakers clearly attempting to course correct after The Last Jedi was met with some vocal critiques by fans. But the result with The Rise of Skywalker appears to be a film designed as a series compromises that satisfied even fewer people.
Whereas the first two films in the trilogy, The Force Awakens and The Last Jedi earned 93 percent and 91 percent scores, respectively, on critic aggregate site Rotten Tomatoes, The Rise of Skywalker was met with a tepid 52 percent "rotten" score. And box office continued to drop across the trilogy, with the first film grossing $2.07 billion and The Rise of Skywalker selling the least tickets with a total cume of $1.07 billion, a full billion dollars less. But Ridley has a point, fan kvetching used to be much less visible in the days before social media or Rotten Tomatoes. Yet for all the early criticism certain franchise films like Return of the Jedi and Indiana Jones and the Temple of Doom were met with upon their debuts in the 1980s, they're now considered classics including by the geek set. So we'll see.