Reviews
Coming 2 America Review: Eddie Murphy's Zamunda Needs New Blood
Coming 2 America is aware of the dangers in a belated comedy sequel. Yet it only works when it's in the barbershop or new talent is allowed to take the mic.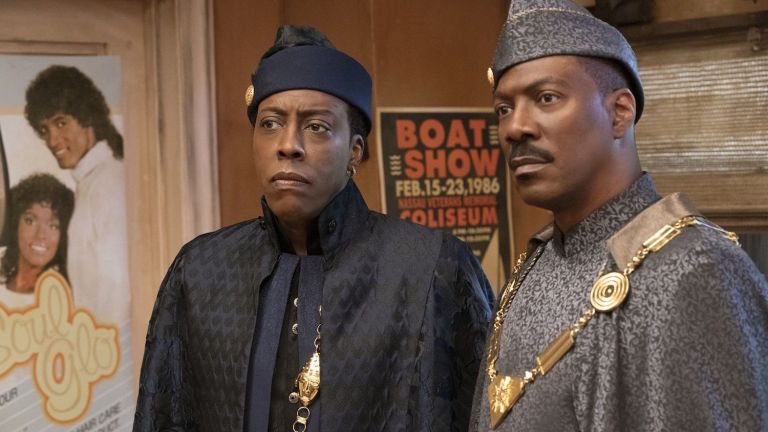 Before watching Coming 2 America, try to think of some successful comedy sequels. If the best you can conjure up is Wayne's World 2 or 22 Jump Street then that really speaks for itself, doesn't it? More difficult than the traditional comedy sequel is the many-years-too-late variety of retread. Just ask Zoolander 2 or Dumb and Dumber To. Rehashing the same jokes and running them into the ground, reusing the old beloved catchphrases, and hitting the same story beats typically set comedy sequels up for failure, no matter how nostalgic audiences may be for the original. For every Borat 2, there are 10 Hangover 2s.
The team behind Coming 2 America knows this. They even acknowledge it with a joke in the movie. It's obvious that the everyone involved with Coming 2 America, including returning stars Eddie Murphy and Arsenio Hall, director Craig Brewer, and screenwriters Kenya Barris, Barry W. Blaustein, and David Sheffield, have a great affinity for the original 1988 classic and had a lot of fun returning to the well. But it doesn't mean that the new Amazon Prime Original movie avoids the common comedy sequel pitfalls. With that said, nostalgia is a hell of a drug, and it's possible some of Coming to America's most ardent fans may find something to like in this new trip to Zamunda.
Coming 2 America finds Eddie Murphy's Prince Akeem back in the fictional African kingdom of Zamunda, enjoying life with his love Lisa (Shari Headley) and three daughters. However, there's trouble in paradise; the health of King Jaffe (James Earl Jones) is ailing and hostile General Izzi (Wesley Snipes) is threatening to attack, knowing that Akeem has no male heir behind him. Loyal advisor Semmi (Arsenio Hall) then breaks the news that Akeem fathered a son, Lavelle Junson (Jermaine Fowler) during their first trip to Queens. Knowing that he can broker peace with Izzi by arranging a marriage between his newfound son and the Nextdorian general's daughter Bopoto (Teyana Taylor), Akeem sets out once again to America to find his son and put him through the traditional trials to become a prince.
The callbacks come quickly in Coming 2 America, with appearances from a McDowell's fast food restaurant and Louie Anderson happening before the opening credits wrap. However, Zamunda is a much more wholesome place compared to our first glimpses in the original film, and you can credit that to a PG-13 rating.
The whole setup can sometimes feel like an SNL sketch with high production values, but seeing Murphy and Arsenio play off each other can momentarily win over even the most indifferent pop culture aficionados. Still, those moments are fleeting; Murphy sometimes seems bored as Akeem, only really coming to life when he's caked in prosthetics as Clarence, the barber (or Saul, Clarence's Jewish verbal sparring partner), and Arsenio can only score laughs under the same conditions as Baba, the witch doctor. It starts to seem obvious as to why we don't see Arsenio on screen much these days.
Fowler does fine work as Lavelle, but the characterization is a bit uneven. When we meet Lavelle, he talks about how hungry he is for an opportunity to improve his life, but when he's given an opportunity in Zamunda, he folds under the smallest of obligations, like remembering the names of his ancestors or walking with good posture. Luckily Mirembe (Nomzamo Mbatha), the royal groomer, reminds Lavelle to be himself, and the pair strike up a flirtatious friendship. Fowler and Mbatha sell their brief scenes nicely and remind audiences of how sweet the original film actually was.
There's a sweetness here too, it's just that Coming 2 America isn't all that funny. The best lines come courtesy of the sequels new blood. Tracey Morgan, Leslie Jones, and Snipes make the largest impression and score the biggest laughs, but still, the film lacks some of the old mischievous Murphy spirit.
In an interview with the Wall Street Journal, director Craig Brewer said, "My job on set was to be the guardian of what from the original movie can be celebrated, and then what's going overboard, because we did want this movie to be its own thing," stressing that the country had changed a great deal since the 1988 original film, and that needed to be kept in mind when making the sequel.
That being said, Brewer and company made the mistake of trying not to offend a new generation without trying to do much to appeal to it. Coming 2 America's biggest pleasures come from the nostalgia department and seeing Murphy back on a movie screen where he belongs. Anyone coming in expecting more will be coming 2 be disappointed.