Features
Coming to America: Ranking Every Eddie Murphy Character
We look back at the multiple faces Eddie Murphy wore in the comedy classic, Coming to America.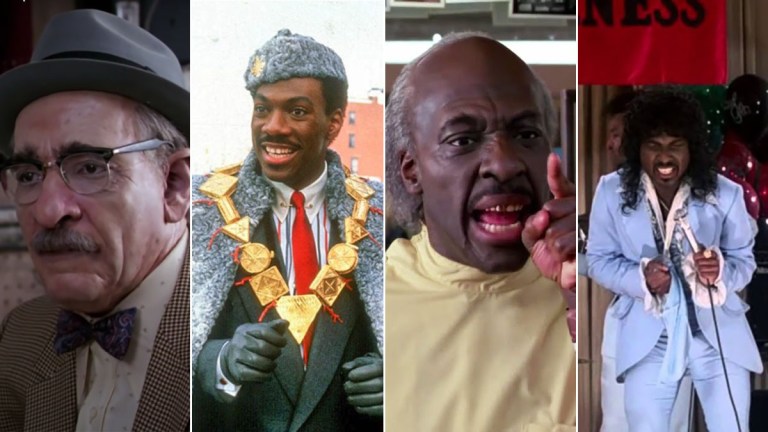 Coming to America remains one of Eddie Murphy's funniest comedies. As a still reliable go-to example of fish out of water humor done right, as well as a vicarious fantasy about a fairy tale like version of Africa, the film has endured for more than 30 years. In its day, (mostly white) film critics dismissed the picture as vulgar and crass, but audiences found the laughs in Murphy at the peak of his skill and popularity, particularly whenever he donned a bucket full of makeup.
In the movie, Murphy primarily plays Prince Akeem, heir to the throne of the fictional kingdom of Zamunda and a man in desperate need of a modern, free-thinking wife. Hence he rejects his arranged marriage and flees to the United States, ending up in (where else?) Queens, New York.
The film is a showcase of Murphy's talent at not only playing wide-eyed nobility but also, alongside co-star Arsenio Hall, portraying just about every supporting character in the film. This was the first time, at least in a movie, Murphy embraced the full range of possibilities offered by makeup and prosthetics in order to play multiple characters. Admittedly, the approach led to problems down the line (we see you there, Norbit). However, in 1988, it was a fresh kind of humor effortlessly executed by a comic talent at the top of his game.
So here are all the characters Murphy played in the film, and how we rank them from worst to best.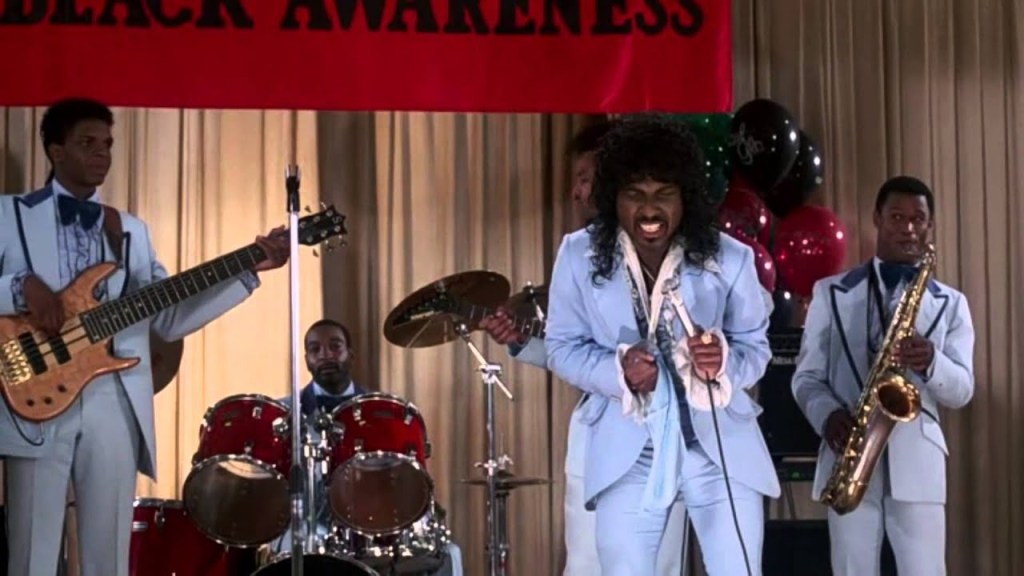 4. Eddie Murphy as Randy Watson, the Lead Singer of Sexual Chocolate
We have no way of confirming this, but it sure feels like Randy Watson is based on someone Murphy knew back in the day, doesn't it? As an out of work actor whose big claim to fame when he takes the stage is playing "Joe the Policeman" in an episode of That's My Mama (a real sitcom that was cancelled in 1975), Randy is the thoroughly talentless front man for the band Sexual Chocolate.
Actually, you've got to hand it to Randy, that's a pretty great name for a bad musical act. Unfortunately, everything else is just bad about their soul number, with Murphy taking the stage in a blue leisure suit that looked dated even 30 years ago. He's meant to be the desperate local boy who's past his prime but still singing as an up-and-comer at local church and community functions. By itself it's a funny bit, but in the film it honestly just slows the pace down as one side character too many in Coming to America.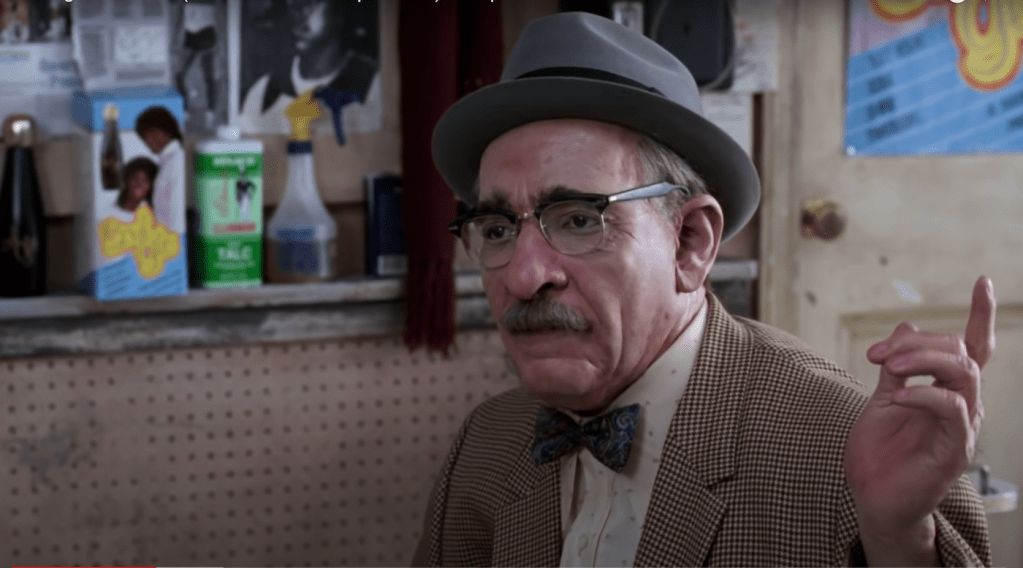 3. Eddie Murphy as Saul, the Customer
In the absolute best use of makeup in Murphy's career, his broad and over-the-top portrayal of Saul, a Jewish customer at the local barbershop in Akeem's building, was a closely guarded secret during the making of Coming to America. It was a carefully guarded secret right up until release. You can sense the absolute pride the filmmakers had in waiting until the very end of the closing credits, with a title card appearing for each actor and/or character, to reveal it was Murphy under extensive prosthetics as the old motor mouth.
It's still a genuinely effective visual effect, too. In fact, Murphy apparently walked around the Paramount lot in the Saul makeup between scenes to test its believability, and he was able to fool people into thinking he was a lunatic, even when he said in his natural voice that "I am Eddie Murphy." Conversely, when he's in full-on Saul mode, he's still pretty convincing as that well-meaning old-timer who just. Will. Not. Leave. The. Store. (Or stop talking about the greatness of Rocky Marciano.)
He might be a stereotype of an outer borough local in NYC, but he's one crafted from a place of affection, with Saul as the unofficial fourth barber, often playing checkers with whoever is free in the corner. And hey, Saul's open-minded enough to recognize if Cassius Clay changes his name to Muhammad Ali, then you should call him Ali. So that makes him maybe the first or second most woke person in that room.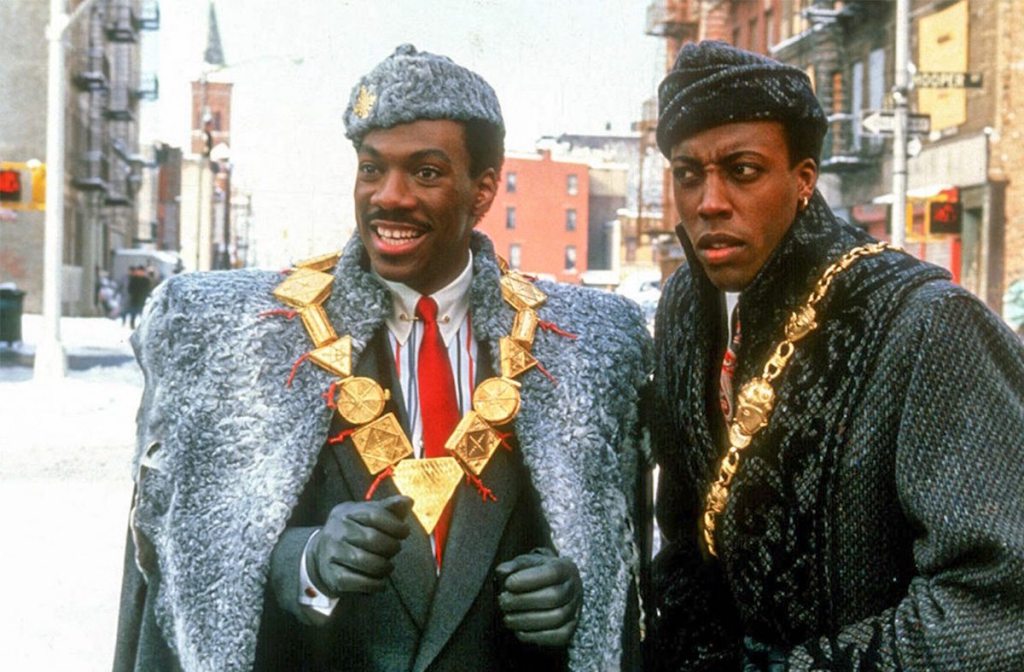 2. Eddie Murphy as Akeem, the Prince
In many ways, the Coming to America straight man, at least when Hall's Semmi isn't rolling his eyes, Murphy's Prince Akeem is perhaps Murphy at his most dialed back and reserved. However, it is also the comedian at his most charming. While many of his other most famous characters at least start from a place of being visibly annoying to everyone around them, if not the audience, Akeem is the classic fairy tale archetype of a prince who doesn't really wish to be a prince. He's our point-of-view character having to put up with the quirks and excesses of wealth.
It's standard stuff, but Murphy plays the character with an irresistible charm, even as he partakes in what we today would deem some of the more uncomfortable aspects of the humor. Hopelessly naïve about the ways of the world, never mind New York, Akeem goes through the streets of Queens in tourist paraphernalia and with a goofy grin on his face.
Yet the performance avoids caricature due to the look of perpetual frustration behind the kind prince's eyes. Despite having everything he supposedly should want for, especially in the status obsessed '80s, Akeem is unfulfilled by his position at the top and is looking for more. One imagines post-SNL Murphy could relate to this conflict on some level, and he uses it ground the big hearted royal who shouts from his fire escape "Fuck you too!" with a depth greater than the punchline. He's not a fool, which allows us to enjoy watching him act foolishly.
1. Eddie Murphy as Clarence, the Barber
As the other major character created in the makeup chair, Murphy's Clarence lets audiences know immediately that this is the guy who played Buckwheat and Gumby on Saturday Night Live. A brash, loud, and gut-busting caricature of the chatty local barber, Murphy is giddy in playing the old-timer who will never shut up about boxers like Joe Louis from his youth.
Essentially having an argument with himself, all the barbershop sequences devolve into a battle of words between Clarence and Saul about athletes from time gone by—with Hall as fellow barber Morris just shaking his head. And Clarence's rant when someone mentions that Rocky Marciano maybe, sort of knocked out Joe Louis? Perfection. But don't take our word for it, watch the clip above where Clarence continues to increase Louis' over-the-hill age in the Marciano fight until he's concluded Joe was 137-years-old.