Features
Bull Ending Explained: How Did Bull Survive the Caravan Fire?
British crime thriller Bull is getting a lot of attention on Netflix, but the movie's confounding ending needs a deeper look.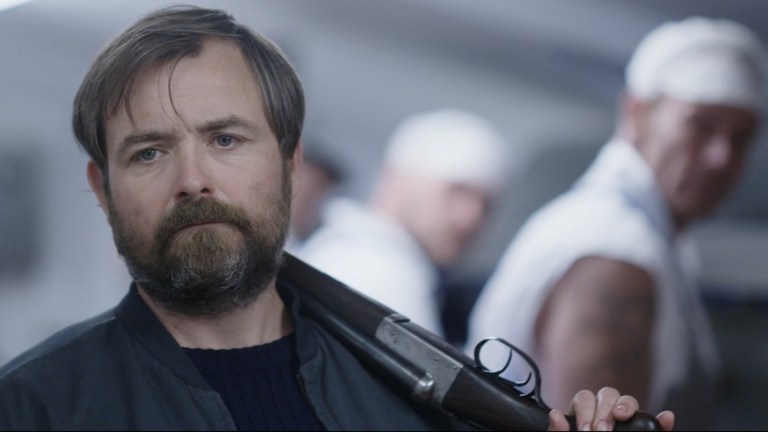 This article contains spoilers
Kill List star Neil Maskell delivers an astounding performance in the 2021 low budget movie Bull, which has been a smash hit on streaming since Netflix acquired it. The bloody crime thriller, directed by Paul Andrew Williams, follows Maskell's vicious enforcer as he returns to his old stomping ground ten years after some deadly and mysterious events have transpired between him and his fellow gang members.
The gang, headed up by Bull's horrible father-in-law, Norm (David Hayman), are still kicking around – but not for long. Bull is determined to mete out vengeance upon those who he believes double-crossed him, but they can't quite believe he's even there, as they seem certain it's impossible.
What Happens In Bull?
Bull begins with a small group of men burying something at dawn in a field, then shifts forward a decade in time, as we see Bull begin his killing spree. First, he shoots a man in the street, then he goes round to his ex-wife's sister's house, where she is living with her husband. He kills them both, then goes off to find his former gangster friend Marco.
Bull systematically works his way through the other gang members trying to find the whereabouts of his addict ex-wife, Gemma, who is the mother of his son, Aiden. After he has killed and threatened the last of the thugs, and now having key information about the town where Gemma currently lives, Bull makes his way there and extracts the vague location of her home from a local drug dealer. Gemma is still a heroin addict, and so her dealer is able to lead Bull right to her.
When Bull arrives he sets a trap for his father-in-law, Norm. He ties up Gemma and lies in wait as Norm enters her house to make sure she's ok. When he stabs Norm in the leg, Norm reflexively fires his shotgun and wounds a helpless Gemma. Bull then smothers Norm to death while Gemma watches. She eventually tells Bull where their son is, revealing that Aiden is now also hooked on heroin, and is living on the street. Bull kills her, ending his vengeful carnage.
How Did Bull Survive the Caravan Fire?
At the end of the movie, we return to the past to see what really happened to Bull at the hands of Norm and his flunkies.
When Bull, a great father all things considered, refuses to hand Aiden over to Gemma and disappear, Gemma orders her father to kill him. Bull is tied up in remote caravan, doused with alcohol, and set on fire. As the caravan burns with Bull inside, his son watches the fire rage, screaming for his mother and grandfather to save him. The relentless Bull even manages to escape the blaze briefly before being shot dead on the ground. We see the gang members burying his body, as we did in the beginning of the movie. Bull did not survive the caravan fire.
In the present, we revisit Bull's kills from the point of view of his victims. To them, Bull's eyes are supernaturally black. It is clear that they are frightened not only because of Bull's horrifying obsidian eyes, but because he is clearly dead, and therefore a vengeful spirit who has returned from the grave to punish those who wronged him.
This is further clarified when Bull leaves the scene of Gemma's murder, picks a drugged-up, teenaged Aiden up off the street, and takes him to a church. Aiden is traumatized from watching Bull die as a child, and he has lost control of his life. Bull asks a terrified church vicar, who seems to instinctively know that Bull is a demonic force from the blackness of his eyes, to help Aiden. Bull gives some money he took from the drug dealer to the vicar to help get Aiden clean, and leaves, returning to the field where he was buried.
Bull says he has been to hell, and we assume he will return there now that he has had his vengeance.