Sponsored
Sign Up for the Chance to Enter the Big DC Giveaway and Win a Trip for Two to Hollywood!
Celebrate the arrival of The Flash, in cinemas now, with a super-charged prize draw.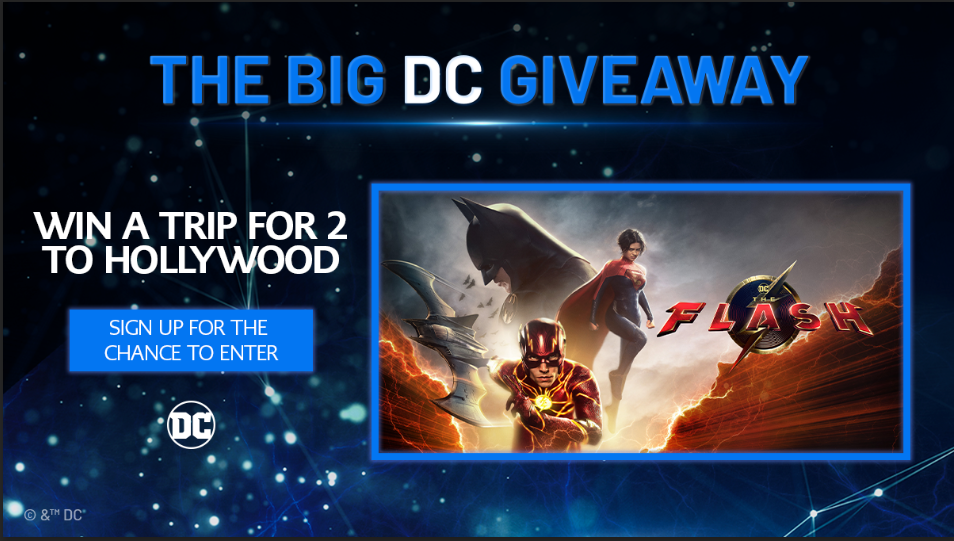 In association with DC Comics
Are you sprinting toward your local cinema in anticipation of The Flash? Ready to get nuts with the return of Michael Keaton's Batman? Anxiously awaiting meeting Sasha Calle's Supergirl? Well, we've got the perfect way for you to keep your excitement for The Flash running!
Warner Bros., the studio behind The Flash, is offering lucky fans the chance to win the holiday of a lifetime! Sign up now and you could receive a 3-night stay in the heart of Hollywood, flights and transfers included, before going behind the scenes at the most famous movie studio in the world!
The best part is you'll get the ultimate Hollywood day out at the Warner Bros. Studio Tour Hollywood! The tour offers a unique and revealing insight of sound stages, props, costume departments and instantly recognisable exterior locations.
Go behind the scenes of this real working studio! Hear secrets from huge productions, as you explore interior and exterior sets from some of the most renowned movies and TV shows of all time. It's the glitz, the glamour and the history of Hollywood, all rolled into one fantastic showcase, highlighting 100 years of Warner Bros history. Enjoy an exquisite lunch at the Commissary Fine Dining Room, and enjoy a beverage and snack at Central Perk Café.
Sign up for the chance to enter and be the first to hear about other upcoming competitions and offers. Enter now!
Worlds collide in The Flash when Barry uses his superpowers to travel back in time in order to change the events of the past. But when his attempt to save his family inadvertently alters the future, Barry becomes trapped in a reality in which General Zod has returned, threatening annihilation, and there are no Super Heroes to turn to. That is, unless Barry can coax a very different Batman out of retirement and rescue an imprisoned Kryptonian… albeit not the one he's looking for. Ultimately, to save the world that he is in and return to the future that he knows, Barry's only hope is to race for his life. But will making the ultimate sacrifice be enough to reset the universe?
The Flash is out now in cinemas. Read our official spoiler-free review here! Terms and conditions apply.
Entrants must be 18+ and residents of the UK. Full details on the competition entry page.