Features
The Best Horror Movies of the '90s
Some people say the '90s were a bad time for horror movies. Some people are wrong.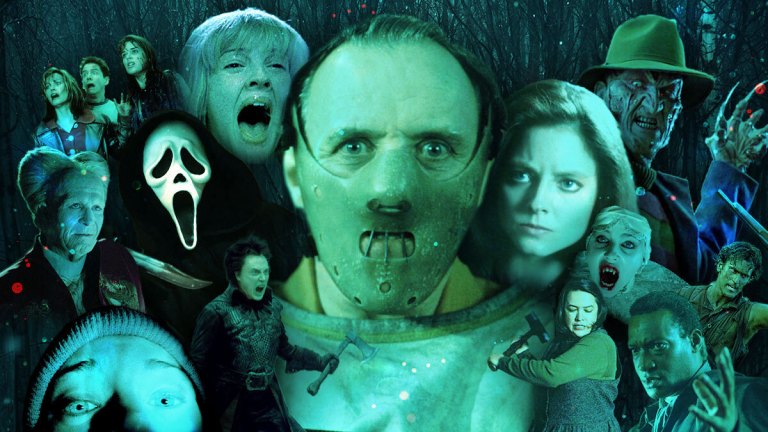 Some people say the 1990s wasn't the best time for horror since it marked the end of many of the popular slasher franchises from the '70s and '80s that previous generations grew up on. In those movies' place, the '90s introduced way more postmodern teen horrors (following on from Scream). But there was way more to '90s horror than that, and it was an era which deserves a second look. While Scream was revising the slasher model, making it more female-friendly and catering to teen gore hounds who knew all the tricks, The Blair Witch Project ushered in a new era of found footage horror, and high-concept marketing. And horror was suddenly becoming more mainstream: Silence of the Lambs became the first and only horror to win the Best Picture Oscar, though The Sixth Sense mustered up 6 nominations the following year. Meanwhile the well-respected director of The Godfather, Francis Ford Coppola took a stab at Dracula.
Add in some joyful shockers, subversive slashers, sexy thrillers, and more and you have a decade in horror that is absolutely worth your attention. We have thus picked out the best '90s horror to feast your eyes on.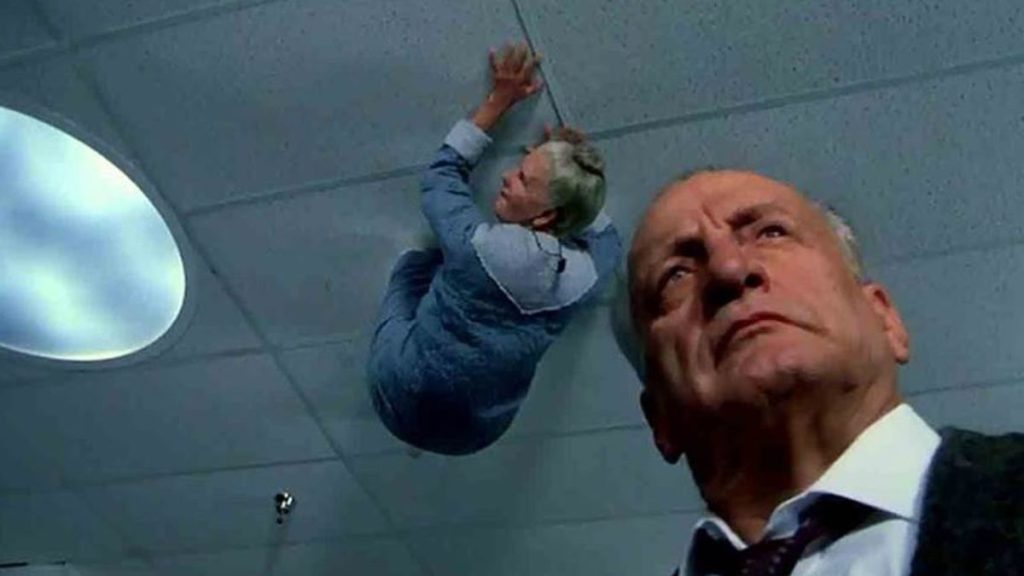 The Exorcist III (1990)
It'ss perhaps fitting we begin this list with a movie that felt like a leftover from a different age—a throwback to '70s horror at a time when the '90s vintage was yet to be determined. It's just a shame the movie was called The Exorcist III instead of Legion, which is the name of its source material novel by Exorcist author/screenwriter William Peter Blatty. Making it sound like a belated sequel to one of the most revered chillers in movie history (as well as the notoriously awful Exorcist II: Heretic from 1977) did this movie no favors. But Blatty came back as writer and director on this follow-up after having nothing to do with Heretic, and the passion is tangible as he crafts one of the most evocative and brooding religious horror movies ever produced.
The film stars George C. Scott as the police detective Kinderman (a supporting character in the original played then by Lee J. Cobb) as he investigates a series of murders involving the local Jesuit perish in Georgetown. The grisly crime scenes have all the hallmarks of a Zodiac-like serial killer they call "the Gemini Killer." The only problem is the Gemini Killer is dead—Kindermen put him in the electric chair decades ago. Yet there is a patient at the local mental hospital who claims to be the Gemini reincarnated… or at least his ghost who's possessed a poor man. If that doesn't spook you, one of the all-time great jump scares sure as hell will. – David Crow
Misery (1990)
One aspect of the movies based on Stephen King's work is that they've often given meaty parts to actresses who then knock those roles out of the park—even to the point of Oscar recognition. Both Sissy Spacek and Piper Laurie were nominated for their work in 1976's Carrie, but Kathy Bates brought it all the way home when she won the Oscar for Best Actress as the psychopathic Annie Wilkes in this, Rob Reiner's adaptation of one of King's most compact yet punchy novels.
Annie's favorite author is Paul Sheldon (James Caan, also superb), who has just capped off his long-running series of romance novels starring the title character. Luckily for him, Annie saves his life when his car crashes on a snowy road near her house. Not so luckily, Annie is enraged when she learns that Paul has killed off Misery. So she decides to keep him captive until he writes the character back to life. The battle of wits between the two is riveting, along the story's wry commentary on obsessive fans (30 years before we even had terms like "toxic fandom"), keeping this solidly in the top tier of King adaptations. – Don Kaye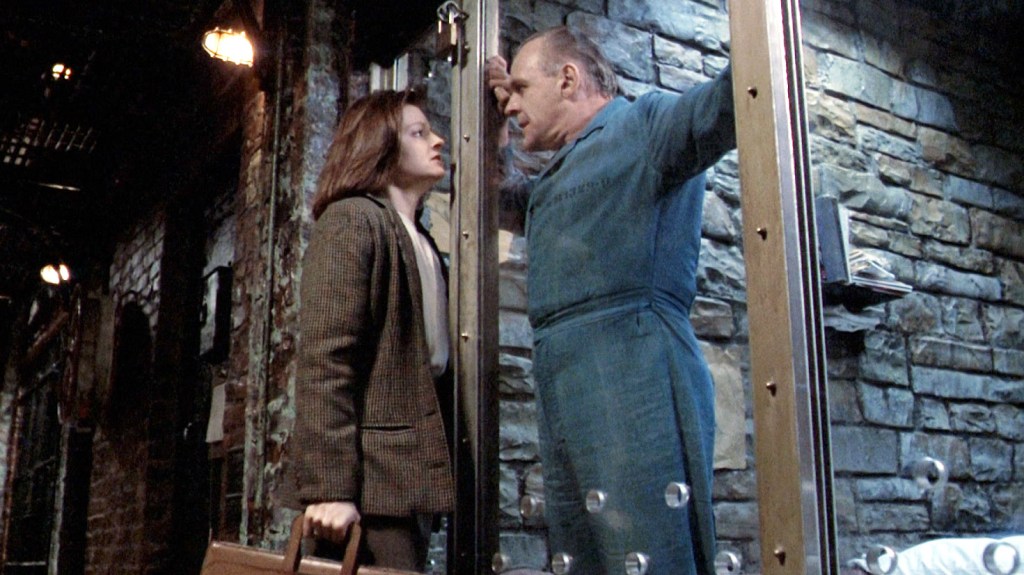 The Silence of the Lambs (1991)
What hasn't been said about The Silence of the Lambs? To date, it remains the only horror movie to ever win the Best Picture Oscar, but that might suggest more about the Academy Awards than it does the film. Even so, Jonathan Demme's psychological horror remains a classic that hasn't aged a day.
The story, if you're one of the lucky few who doesn't know, involves a young but not naive FBI trainee named Clarice Starling (Jodie Foster), who's been tasked to tease and intrigue the mind of an incarcerated serial killer at the local mental hospital: Dr. Hannibal Lecter (Anthony Hopkins in his most famous role). As it turns out, the not-so-good doctor holds the secrets that might catch another serial killer (Ted Levine) before he skins his next victim.
Yes, this is the movie that made Hannibal the Cannibal a pop culture icon. But forget the sequels, prequels, or television spinoffs. Silence of the Lambs remains a singular, razor sharp thriller that cuts with perfect precision through its story about troubled minds, the subtle menace of the patriarchy, and even an unlikely romance that is always divided by a plane of glass. It's a masterpiece. – DC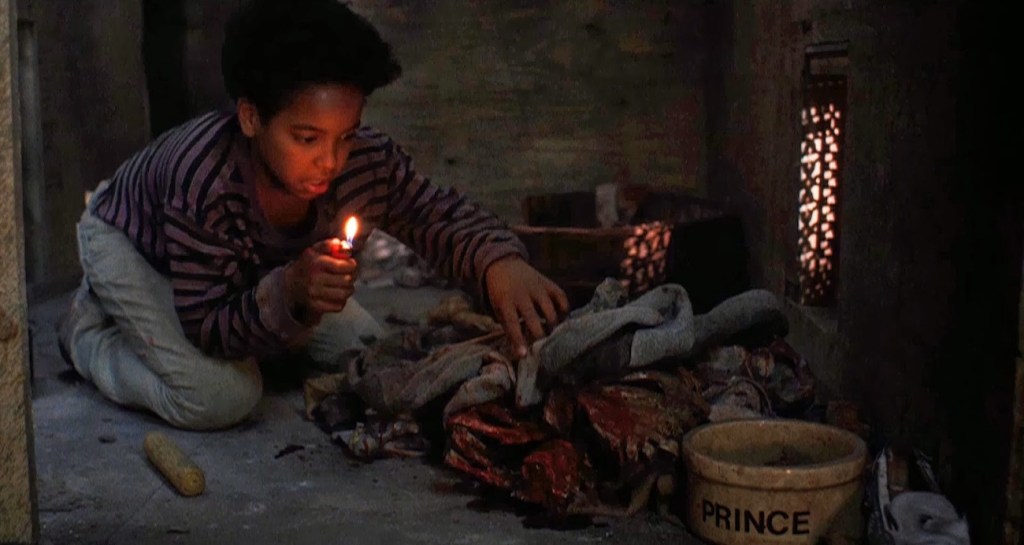 The People Under the Stairs (1991)
Wes Craven's The People Under the Stairs gets under your skin and into your nightmares. One of the all-time great urban horror films, it took on the terrors of gentrification with the saddest twists, and the angriest responses. Barely a teen, Fool (Brandon Quintin Adams) and his family face imminent eviction if they don't make bank soon. Leroy (Ving Rhames) finds a solution in somebody who "deserves to be robbed." The simple breaking and entering job turns into a twisted thriller that psychologically messes with the viewer. But once the young, Black, and reluctant criminal meets Alice (A.J. Langer), he goes through the looking glass.
The people under the stairs are all too-real. They were swiped by the leather-clad landlord (Everett McGill) and his righteously raging sister (Wendy Robie), who call themselves "Daddy" and "Mommy"—-stand-ins for the Reagans. The kids are now imprisoned in the walls. They are abused, mutilated, fed from garbage pails, and under the threat of being butchered for cannibal cuisine. The People Under the Stairs is over-the-top in character assassination, social symbolism, and anger. But it is also street legal horror that creeps you out and can keep you up at night. – Tony Sokol
Bram Stoker's Dracula (1992)
No one can make blood look as inviting and dangerous as Gary Oldman does when his Count Dracula licks the stain off a simple cut from a straight razor. Director Francis Ford Coppola infused Bram Stoker's Dracula with beauty and brutality in equal measures, and transformed the horror genre into high art. More faithful to the book than most adaptations, this filled in the backstory, finding a warrior and a lover who could not be vanquished. The vampire Count Dracula has always been a sexy beast, but he becomes a romantic antihero here when seen through the eyes of Winona Ryder's Mina.
Oldman's Dracula is one of the most human of the vampires because he is haunted. In life as a warrior king, he did abominable things, damning himself in the sight of God and all things decent. In undeath, he is a lovelorn fool pining for centuries over a lost love in a dusty Transylvanian castle. When Jonathan Harker (Keanu Reeves) arrives with a deal on a deed to London's Carfax Abbey, he brings more than a Gothic mansion with Victorian charm. He brings the reincarnated soul of the Count's beloved wife Elisabeta, who was cruelly tricked into suicide while he was out fighting his crusades. Horror fantasy or romantic tragedy, Bram Stoker's Dracula savors the blood, but serves it as an extravaganza, dishing out a vampire classic. – TS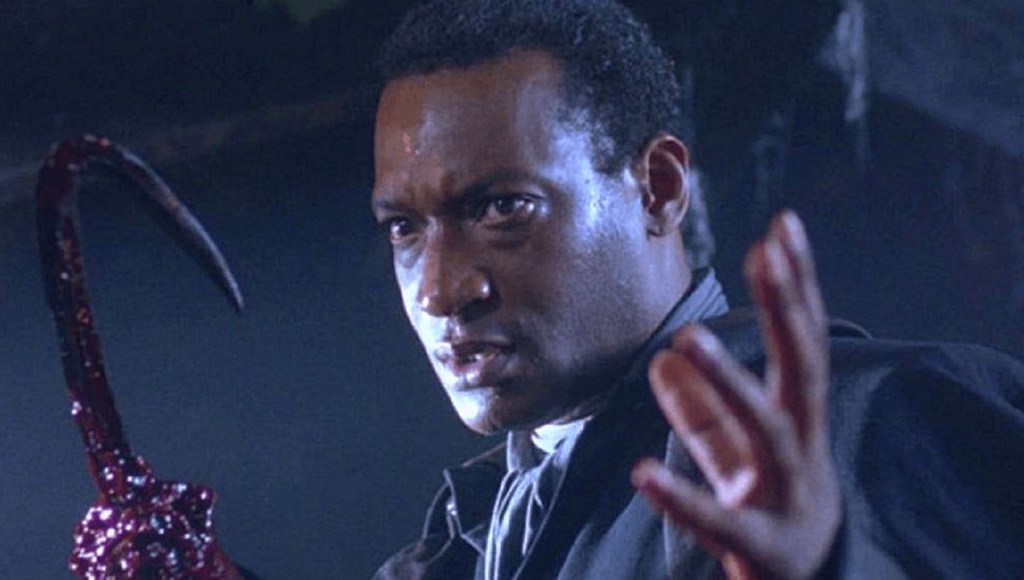 Candyman (1992)
Bernard Rose made a brilliant but politically-loaded choice while adapting Clive Barker's "The Forbidden" into Candyman: He moved the story about a ghost/urban legend who was murdered by a mob and now haunts impoverished slums from London to Chicago's real-life government projects, Cabrini-Green (which has since been torn down). Rose then made the ghost who was lynched into a Black man (played with irresistible fatalism by Tony Todd). And the woman that same specter now torments is white.
Tackling the real, eternal demons of American racism directly—and not necessarily with always the greatest sensitivity or self-awareness—Candyman was a game-changer in its day; it centered a slasher movie on the Black American experience. It remains evocative now as a potent fear-bomb, too, because of many other shrewd choices Rose made, including by casting Todd as the Candyman and tapping composer Philip Glass to write one of the most rhapsodic melodies about self-annihilation ever. There really is a hypnotic quality to Todd standing absolutely still as he insists, not unsympathetically, for Virginia Madsen's Helen to "be my victim." – DC
The Hand That Rocks the Cradle (1992)
This horror/thriller from 1992 was part of a particular subgenre of gorgeous psychotic woman movies that reached a peak in the '90s—specifically in 1992, which also saw the release of Basic Instinct and Single White Female. The Hand That Rocks the Cradle is a particular gem that sees Peyton (Rebecca De Mornay) infiltrate the home of Claire (Annabella Sciorra) and Michael (Matt McCoy), who have just had a second child. The picture of white bloused serenity, Peyton is perfect—-a help around the house, a friend for Claire, a playmate and protector for their other child Emma (Madeline Zima). She's everything you'd want from a nanny and more. It's the "more" that becomes a problem.
De Mornay is icy perfection (we've never seen a person eat an apple in a way that is more sexy and threatening at the same time), and while she's obviously the baddie, she's so utterly captivating that you sort of want her to succeed. It's only when she messes with the lovely but slow gardener Solomon (Ernie Hudson, being adorable) that she loses our support, making her just desserts all the more delicious. Look out for great supporting turns from Julianne Moore and a greenhouse. – Rosie Fletcher
Army of Darkness (1992)
When Sam Raimi and his school days chums, which included Rob Tapert and Bruce Campbell, went out into the Tennessee wilderness to shoot The Evil Dead (1981), they had one aim: Make the scariest movie ever. When they eventually got around to the sequel, Evil Dead II (1987), that evolved into making a spooky romp that would entertain as much as scare. So when it finally came time to close out the trilogy, they reached the coolest of epiphanies: This has been a comedy all along. Groovy.
And so it came to be that Army of Darkness, the most expensive and over-the-top of the Evil Dead trilogy, was also the most outrageously hilarious as God's perfect asshole, Ashley Williams (Campbell), was transported back in time by the Book of the Dead to the Dark Ages. There Ash will have to find a new hand and a new love interest to admire his chin, all as he takes the fight to the Deadites one screw-up at a time. We encourage you to drink every time there's a canted camera angle or one-liner. Hail to the King, Baby! – DC 
Cronos (1993)
Guillermo del Toro is renowned for humanizing his monsters, but in his feature film debut, he deifies the vampire. Jesús Gris (Federico Luppi) truly lives up to his name as the antiques dealer who rises from the dead, with wounds on his hands and feet, a heart full of hungers, and sacred blood inside him. It comes from the Cronos device, an intricately-carved, golden mechanical scarab with a living core. The marvelously cinematic 400-year-old invention was designed and constructed by an alchemist as a key to eternal life.
"Tell me where it is or my uncle won't leave me alone," an American named Angel says, giving Ron Perlman one of his most complex and intriguing characters. Everyone thinks he's stupid, and as he huddles before attacking a car like a defensive end, we realize no monster is what it seems. His uncle, De la Guardia (Claudio Brook), put him up to this out of a very real fear of death, and the vampire at the center can't take a life.
Del Toro knows how to slip suspense into the most unlikely of places. Cronos begins so sweetly, Jesús and his granddaughter Aurora (Tamara Shanath) take turns playing hopscotch in his antique store. It then goes through the layers of hell, as the blood craving carries the same tortures of addiction, and ends in reverence for ghoulish transcendence. – TS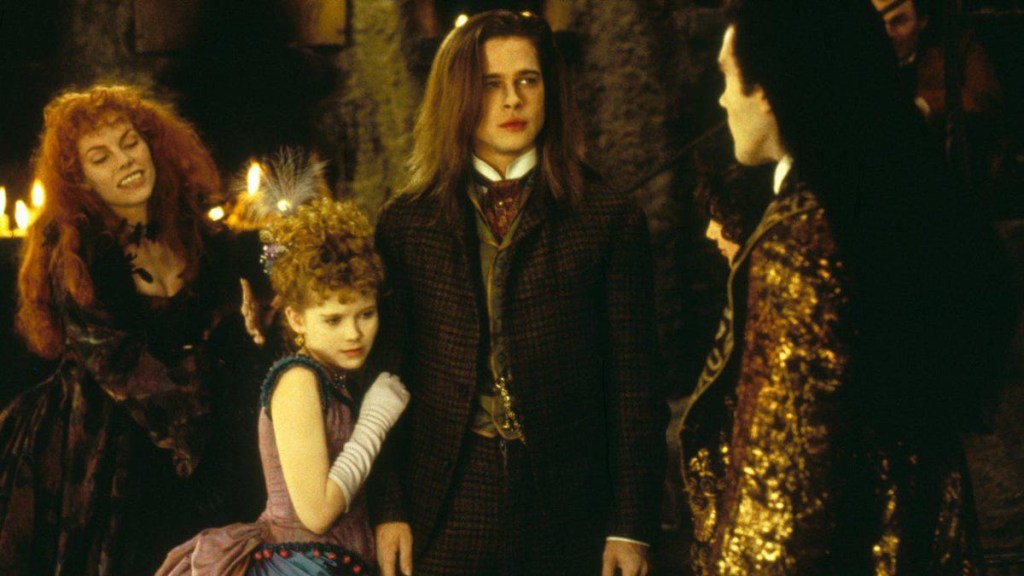 Interview with the Vampire (1994)
Before it was a supremely entertaining new series on AMC, Anne Rice's first vampire novel served as the source material for this classic danse macabre. Ironically, Rice was apprehensive at first because the decidedly un-French, mega movie star Tom Cruise was cast as her Brat Prince, the Vampire Lestat. But in one of the best performances of Cruise's career, the actor revealed a true malevolent side onscreen that charmed even the author who printed a retraction of her criticisms after seeing the movie.
In the film, Cruise plays the seducer of Louis de Pointe du Lac (Brad Pitt), the latter of whom was, as in the book, originally a plantation and slave owner in 18th century Louisiana before his wife and child died from an illness. Afterward, Louis becomes obsessed with death and so foolishly agrees to live forever in its company by accepting Lestat's dark gift. The homoerotic undertones are more subtext here than in the TV series, but director Neil Jordan (The Company of Wolves) is able to condense Rice's sprawling epic into a fast, if brooding and baroque, 123 minutes. The real highlight though is Kirsten Dunst in her first role as Claudia, the child vampire who lives long enough as the undead to realize they're all the villains. – DC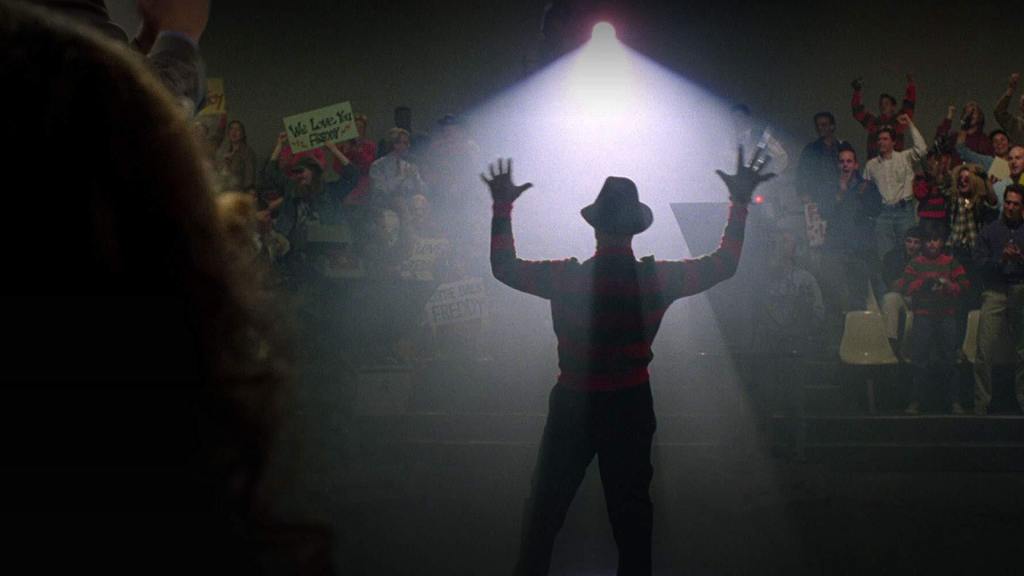 Wes Craven's New Nightmare (1994)
Before Scream there was Wes Craven's New Nightmare, the first self-aware meta-horror movie from a maestro so humble as to include his name in the title. Despite premiering at the Cannes Film Festival, New Nightmare has always felt somewhat underrated (perhaps because it opened the same weekend as Pulp Fiction?). Nevertheless, we would argue it is the second best Freddy Krueger movie ever made, behind only the original A Nightmare on Elm Street movie.
In the film's inventive conceit, Heather Langenkamp, Nancy from the original and third NOES pictures, plays a version of herself who is being reluctantly roped into appearing in the seventh Freddy movie by New Line Cinema and Craven (who also plays himself). However, the more she comes to tacitly accept Freddy into her life, the more she realizes she isn't dreaming when she briefly spots Robert Englund's boogeyman in the corner of her house, or hears that damned voice calling out to her son as he slumbers.
The movie riffs on Langenkamp's own real-life biography and Craven's more ambitious aspirations to make a bizarre yet entrancing thriller that is as much about the types of people who make horror movies (and those who consume them, either as fans or skeptical critics) as it is the slashes. But don't worry, when the claws finally do come out, Freddy has never been meaner. – DC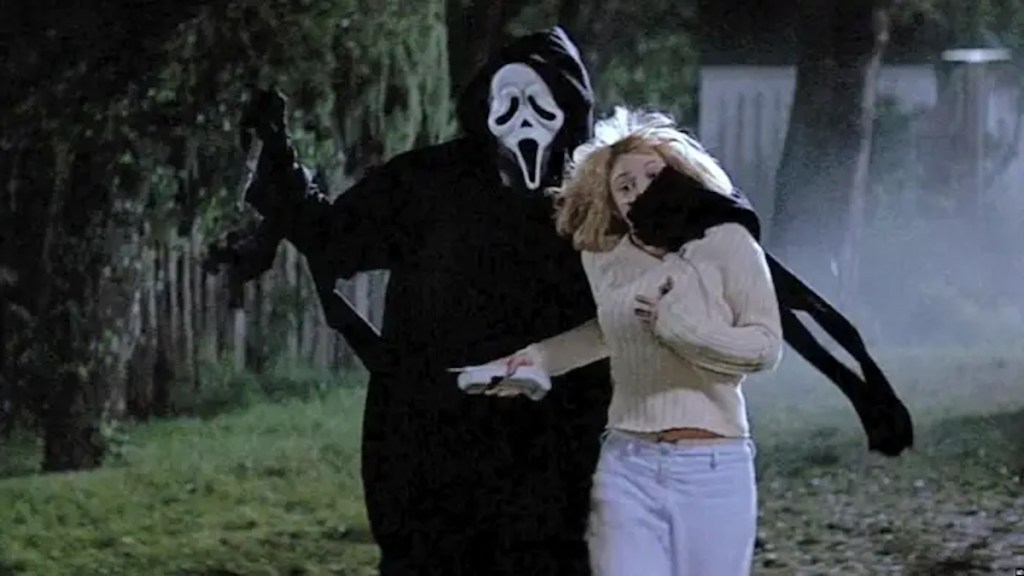 Scream (1996)
After crawling around in the foundations of meta-horror with New Nightmare, Wes Craven built his dream house via Scream—which means it's still a pretty bleak place to hang out in. Just ask the smartass teenagers in this '90s touchstone. The kids are all right with being highly media literate, and quite loquacious too thanks to dialogue written by Kevin Williamson. But that doesn't stop them from being sliced up by a slasher movie killer who acts like a clumsy modern day Michael Myers.
The movie that brought back slasher horror in a big way, Scream acts like a time capsule now, immortalizing a pop culture moment where the colors were bright, the snark was high, and even being the target of a masked killer didn't mean you couldn't have fun with friends at a party and a good bop. The meta-references is what folks remember, but a large reason this movie works is a bubbly cast that held the series together better than any single mask or kill scene. With that said, few horror movies have had openings as gut-wrenching as the one between Drew Barrymore and Roger L. Jackson's not-so-friendly voice on a phone. – DC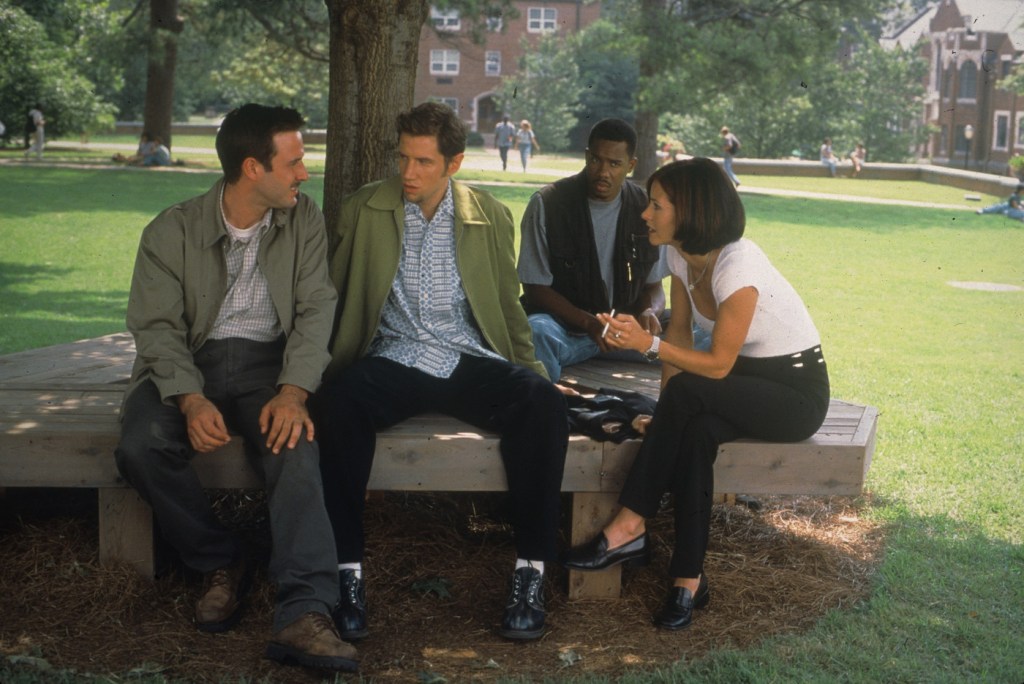 Scream 2 (1997)
A horror sequel rushed into production and released 12 months after the original? Yeah, it's a song we all heard before. And the refrain is always the same: cash-in schlock. Yet, somehow, Wes Craven, Kevin Williamson, and most of the key cast members behind the previous year's pop culture phenom were able to make lightning strike twice in this worthy sequel to Scream.
Set on a college campus this time, where Sidney Prescott (Neve Campbell) attempts to put the past behind her until she gets the ominous Ghostface phone call in the middle of the night, Scream 2 has a lot of fun commenting on and subverting the "rules" and clichés of slasher movie sequels. For starters, it has an entire ensemble of returning, affable faces who are as much the stars as the guy in the mask—and it then has the audacity to kill some of them off, quite cruelly. Still, Scream 2 is a lighter and more frothy movie than its predecessor, detouring into rom-com territory that wouldn't have been out of place in Julia Roberts' My Best Friend's Wedding (out the same year). Somehow it works, especially in an opening that shows what should happen if you talk in the theater… – DC
Ringu (1998)
This is where it all started. Based on a 1991 novel by Japanese author Koji Suzuki, this 1998 adaptation (also known as Ring) from Japan's legendary Toho Studios broke through as an international hit and started the phenomenon known as "J-horror," as more genre films from that country—along with South Korea and Hong Kong—brought a much-needed jolt of dread, terror, and supernatural menace to a field that had been saturated with slasher films and post-modern self-commentary.
Directed by Hideo Nakata, Ringu ingeniously blended folklore with (then) modern technology as a cursed videotape brings death within seven days to whoever views it. It may not be what we mean now by "viral video," but the conceit, along with some truly eerie imagery, captured the imaginations of audiences everywhere and sparked a wave of English-language remakes. Nearly 25 years later, the original film still packs a wallop, right down to its genuinely nerve-shattering climax, and its confluence of old and new horror tropes remains unique. – DK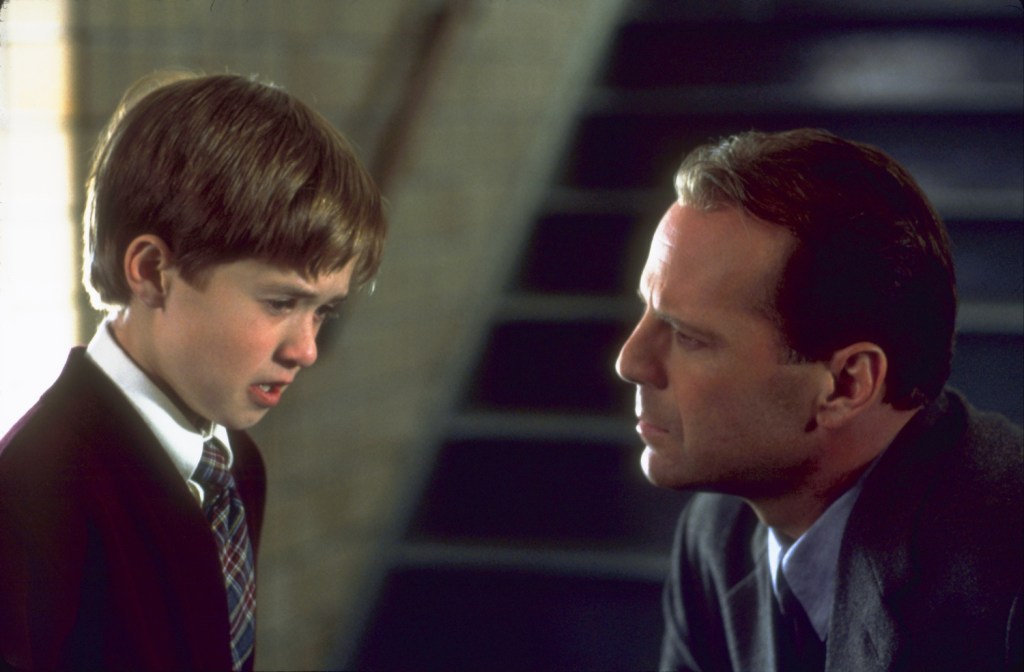 The Sixth Sense (1999)
M. Night Shyamalan might be a slightly divisive figure in the horror movie world these days, but it should never ever be forgotten what an extraordinary achievement The Sixth Sense was. Remembering it as the "I see dead people" movie, which established Night as a man who likes twists doesn't do it justice. There is so much more here than the bait and switch. It doesn't matter one bit if you know the ending, The Sixth Sense is scary, tense and deeply emotional.
A breakout for child star Haley Joel Osment, the young actor plays Cole here. Only 10-years-old, Cole, indeed, sees dead people, and often dead people who have suffered horrible deaths. Still, the child winds up trying to help them. It's a terrible "gift" for this thoughtful boy who didn't ask for his power and doesn't want it. Bruce Willis' child psychologist tries to help in more ways than one. The Sixth Sense was nominated for six Oscars (which is very good going since Oscar tends to ignore horror), including Best Supporting Actor and Actress for Osment and Toni Collette, who plays his mother. It's a wonderful film, and if you don't tear up at the "Do I make her proud?" moment, do you even have a heart? – RF
Sleepy Hollow (1999)
Despite holding the record for the most decapitations in a single movie, one could argue Tim Burton's Sleepy Hollow is not fully a horror movie. From a certain vantage, which we imagine includes Burton's, it even looks like an exceedingly dry comedy. This just happens to be one dripping in foreboding Halloween atmosphere. Loosely based on Washington Irving's genesis of American horror and fairy tales, The Legend of Sleepy Hollow, this movie follows Johnny Depp as Ichabod Crane—now a fancy pants New York City constable instead of a school teacher.
In this reimagining, Ichabod is sent to uncover the culprit of a series of grisly beheadings that have occurred in the quiet hamlet of Sleepy Hollow. Alas, when he gets there on All Hallow's Eve, all anyone can say is it was the Headless Horseman who's risen from his grave to claim random heads before his nightly sojourns back to Hell! It's wicked, depraved stuff that allows Burton to draw upon his childhood of watching Hammer horror movies and then paint that aesthetic in his own preferred shade of black.
In lesser hands, this might be grotesque, but back when Burton was at the height of his powers, it's charming, especially thanks to an all-star cast that includes Christina Ricci, Michael Gambon, Hammer's own Michael Gough, Miranda Richardson, the Sir Christopher Lee, and best of all, Christopher Walken as a delightfully camp Headless Horseman in the scenes before he earned his nickname. – DC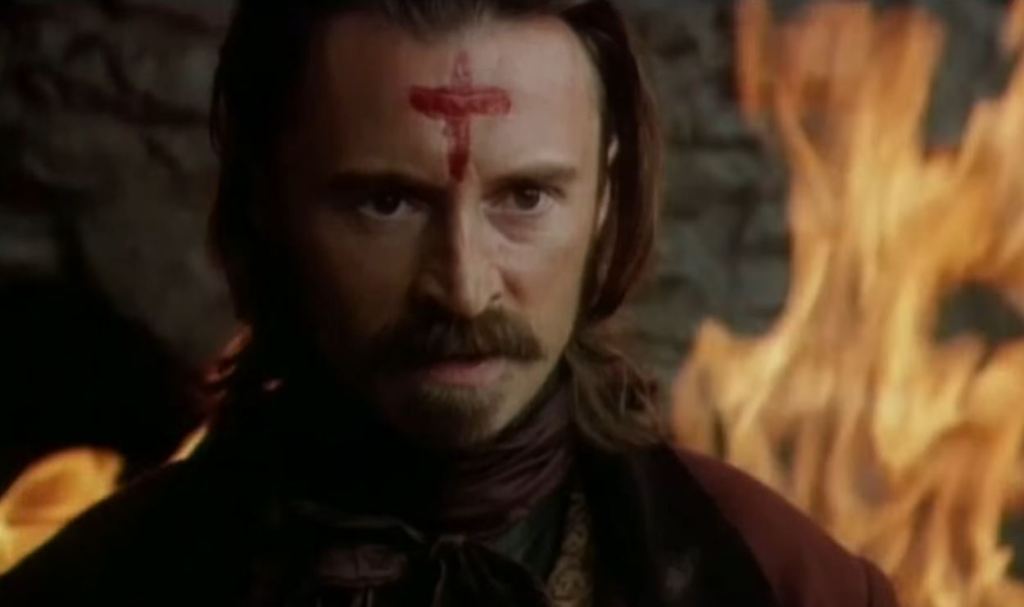 Ravenous (1999)
Westerns had a bit of a renaissance in the 1990s. In terms of staying power, we now collectively think of that because of Clint Eastwood's last classic in the genre, Unforgiven (1992). But really it began with the far more dated Dances with Wolves (1990), a Kevin Costner Oscar winner about a Civil War veteran who goes out into the West "to live"—ultimately alongside idealized Native American tribes. It was the Avatar of its day.
Yeah, so Ravenous flips that on its head when Guy Pearce's Civil War coward, who's a hair's breadth away from being court-martialed and hanged, winds up in a U.S. Cavalry outpost where instead of romantic ideas of noble savages… he finds cannibals. Specifically one cannibal who used to be in the Cavalry himself (Robert Carlyle) but now views his old compatriots as breakfast, lunch, and dinner. This is an amusingly mean-spirited dark comedy that never bites off more than it can chew. And it chews up a lot. – DC
The Blair Witch Project (1999)
It is perhaps serendipitous that we end this list with what might be the most influential horror movie of the '90s. While The Blair Witch Project is more indicative of what came in the subsequent decade with the explosion of found footage schlock, this Gen-X touchstone remains the best of its subgenre thanks to the era and instincts in which it was created. Released during the early, wild west days of the internet, The Blair Witch Project benefited as a pop culture phenomenon by the sheer naiveté of audiences who believed whatever they read on the internet was true. Sadly, they still do (sigh), but back then it was charming that folks believed this was a "real" documentary cobbled out of footage found in the woods!
And on that allegedly cursed video is the last days of three student filmmakers who went out into the Maryland wilderness to shoot a doc for class about the local legend of a "Blair Witch." Since childhood they'd all heard the stories about how an entity has haunted these lands since the 1600s. Yet what they find is the slow realization that they're lost and there's something in the woods with them. Eventually, it even dawns on them that they're recording their own demise.
Filmed in a cinema verté style that leaned into the then popular indie instincts of favoring messy, raw "reality" over big studio gloss, The Blair Witch Project never shows you anything supernatural. But the inescapable dread of impending doom is overwhelming as the inexplicable takes on a bent of the sinister, and all that's left to do is record for posterity. – DC