News
DC FanDome 2021 Will Deliver a Historic Batman Moment
Are you ready for all of the Batmen? Because Robert Pattinson, Michael Keaton, and Ben Affleck are all playing Batman in upcoming movies to be featured at DC FanDome 2021.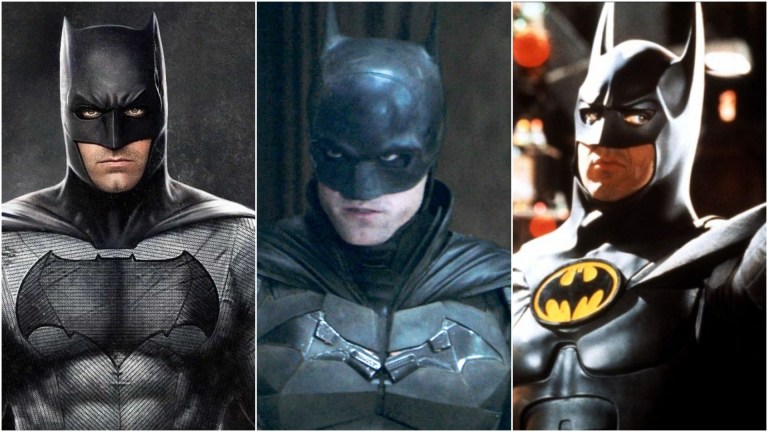 If you're tired of Batman, DC FanDome 2021 will have plenty to share about all the other superhero projects in the pipeline at Warner Bros. and DC Comics, including the upcoming Black Adam and Aquaman and the Lost Kingdom movies. But if you're like me and can't get enough of the Dark Knight, then you should be doubly excited for this year's virtual DC showcase, which will feature a series of projects with an unprecedented amount of live-action Batmen. I count four Bruces at this year's FanDome, and that's without even factoring in the upcoming Batman: Caped Crusader animated series.
Only one of these projects is an actual Batman solo film, though. That's The Batman, directed by Matt Reeves and starring Robert Pattinson. It's a new take on the Bat mythos that looks grittier, darker, and more violent than any that has come before, if you can believe that. Last year's DC FanDome trailer showed Battinson beating a thug to a pulp while exclaiming, "I'm vengeance," a moment eclipsed on social media only by the shot of Bruce wearing guy-liner at the end of the video.
The Batman takes place on "Earth-2," a different universe than the one where the movies of the DCEU take place. That means that Pattinson's Batman won't be weighed down by the baggage of Affleck's Dark Knight. In fact, like Marvel Studios, Warner Bros. is introducing a big-screen multiverse as a way to delineate the different versions of Batman coming to theaters in the next year. The multiverse will come to life in The Flash movie, which will not only see the unlikely comeback of Affleck's Batman but also the even more unexpected return of Michael Keaton in the cape and cowl.
Both movies will be featured heavily at FanDome. WB will drop a new The Batman trailer at the showcase as well as a sneak peek at The Flash, which sounds like a sizzle reel mixed with some behind-the-scenes footage of director Andy Muschietti (It) shooting the movie with Ezra Miler and the Batmen. But will Michael Keaton and Ben Affleck show up in-person for the event? It's more likely that WB will want to keep the poorly-guarded secret a surprise…at least until marketing for this superhero juggernaut heats up. We're more likely to see Pattinson make an appearance to chat about his first outing as the Caped Crusader with Reeves.
He's not exactly Batman on screen but he's still a Bruce Wayne who is very much scarred by his vigilante alter ego: Iain Glen delivers a very different take on the Dark Knight on Titans, a show that went all in on the marketing line "Fuck Batman" before eventually becoming another Batman-less Batman show. While the third season of Titans is currently airing on HBO Max, WB has confirmed the show will make an appearance at FanDome.
That's four live-action Batmen, with WB Animation set to show fans a "very early look" at Batman: Caped Crusader. Will this early look reveal who is voicing the Dark Knight on this spiritual successor to The Animated Series? If, and this is just me speculating, it's Kevin Conroy, DC fans are going to absolutely lose it.
This many different takes on Batman from such talented actors is a historic moment for DC, tripling down on the Bat mythos on the big screen. The closest we ever got to this moment was in 2008 when Mad Max director George Miller was set to helm Justice League: Mortal, which would have starred Armie Hammer as Batman — a different one than the one played by Christian Bale in the Christopher Nolan films of that era.
This time, it's really happening. And could DC lean into this by introducing all three Batmen on stage AT THE SAME TIME? Don't bet on it. The internet would never recover. But you should still be excited!
The Batman opens on March 4, 2022. The Flash will follow on Nov. 4, 2022.
DC FanDome 2021 kicks off on Oct. 16 at 1 pm ET. The virtual event will be live streamed on DCFanDome.com, Twitch, YouTube, Facebook, and Twitter.