News
Batman: Danny DeVito Open to Penguin Return
Batman Returns may be turning 30, but Danny DeVito is still enthusiastic about the idea of reprising his role as Penguin.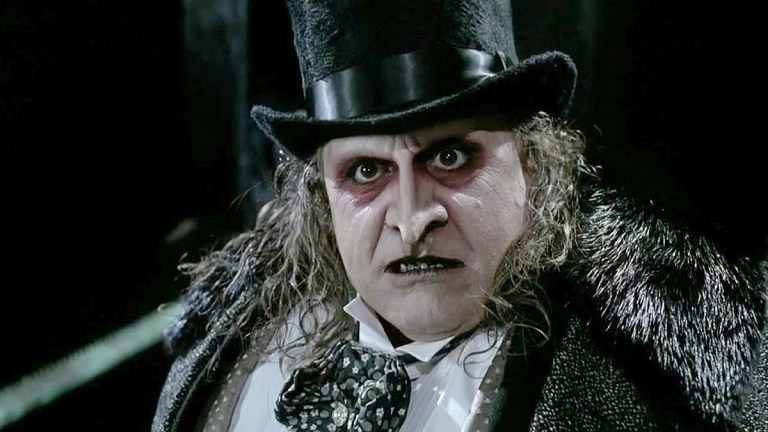 Danny DeVito's role as The Penguin in 1992's Batman Returns remains one of the most visually-haunting, brilliantly over-the-top villain performances in the history of the comic book movie genre, which was still in its infancy. Yet, in a sign of the genre's current universe-entangled state, the idea of the actor reprising the role 30 years later at the tender age of 77—even as Colin Farrell prepares to debut his version of the character—is actually feasible. Indeed, DeVito has let it be known that he'd absolutely fan the flippers on the big screen once again.
For DeVito, the character of Oswald Cobblepot, a.k.a. The Penguin, clearly stands out as a defining career moment. After all, it was an unprecedentedly layered offering in what had thus-far been a primarily comedic career that got off the ground from playing slimy dispatcher Louie De Palma on the 1978-1983 sitcom, Taxi, and subsequently transitioned to success in films such as sequel-spawning 1984 adventure comedy Romancing the Stone and sibling absurdity opposite (future fellow Batman villain) Arnold Schwarzenegger in 1988's Twins. Indeed, the actor recently expressed his ongoing enthusiasm for the character in an interview with Forbes, revealing that he'd even play Penguin again… provided that Batman Returns director Tim Burton is back behind the camera.
"I feel like it's not out of the question that The Penguin will return someday, but this is all up to Tim, whether or not Tim wants to do this," DeVito said. "I would say that could be in the cards because we ain't dead yet [laughs]. We could do a continuation of what we had in the past because that was truly a brilliant movie. They afforded me that opportunity and I feel very grateful and would I like to revisit it? Why not! It was a really great moment in time for me."
Of course, there are a number of reasons why the notion of DeVito returning as Penguin would seem absurd, primarily because the character clearly died at the end of Batman Returns, after which his pet emperor penguins carried off his green-slime-spewed corpse off to a watery grave in the murky sewers. However, we seem to be on the cusp of what could be called the Multiverse Era of comic book movies, notably with this month's Marvel offering, Spider-Man: No Way Home, concocting a magic-spun scenario, courtesy of Doctor Strange, in which characters from the Wall-Crawler's previous big screen iterations are brought into the Marvel Cinematic Universe, having seemingly been delivered from their fateful onscreen deaths. Likewise, DC is cooking up its own scenario with next year's The Flash in which Ezra Miller's Scarlet Speedster accidentally smashes the seal of the Multiverse, setting up, among other potential surreal scenarios, the return of Michael Keaton's Batman from the Tim Burton films. Consequently, DeVito's desire to revive Penguin is very much within the ever-widening realm of possibility.
Contextually, DeVito is currently riding a wave of personal nostalgia for The Penguin, having just written a story for DC Comics' new Gotham City Villains Anniversary Giant anthology, which brings his deceased big screen Penguin back to life—and, in what seems to be a case of personal wish-fulfillment—manages to conjure a romance unsuccessfully sought in Batman Returns with his temporary movie villain cohort, Michelle Pfeiffer's Selina Kyle/Catwoman. However, while the content of that story—which he calls "a blessing"—remains confined to printed pages, the process of writing it has seemingly renewed DeVito's resolve to put on heavy prosthetics for another big screen Penguin performance—even if he'd be about 80 by the time it would happen. Such a development would likely be widely welcomed, and would safely contrast from what's on tap with Colin Farrell's interpretation of the character in the 2022-scheduled The Batman opposite Robert Pattinson's Batman, Zoë Kravitz's Catwoman and Paul Dano's Riddler.
"I did call Michelle and tell her that I was doing it," says DeVito of his character-shipping comic. "I said Look, it's like my fantasy and it's my dream come true to have an incredible romance with such a beautiful woman. Oswald, I'm talking about, and Selina. She was very excited to hear about it."
There's certainly a lot to explore with DeVito's Penguin, who—in a stark contrast from Jack Nicholson's predecessor villain, Joker—was presented as a tragic character, who, despite being born into wealth, was rejected by his parents over his physical deformities, forced to survive in the sewers, where he brewed a hatred for Gotham City, especially the aristocrats that remind him of his parents. Yet, after Batman provided enough evidence to derail a disingenuous, fiction-backed plot to become elected as Gotham City's mayor, Penguin's character nuance would rapidly metastasize into parody-level villainy with the attempted kidnapping and murder of Gotham's children. That's a threshold at which any kind of redemption arc attempt starts to delve into blind indulgence.
Nevertheless, the character was spectacularly constructed, and visually complements director Tim Burton's displayed reverence for German silent-film-era Expressionism, with a look resembling Werner Krauss's top-hat-touting title character in director Robert Wiene's 1920's horror genre breakthrough, The Cabinet of Dr. Caligari. That stylistic visual nod to the genre was also cemented with one of Oswald's other quarries, Christopher Walken's ruthless businessman Max Shreck, who shares a name with the actor who portrayed the monstrous Count Orlok in F.W. Murnau's trailblazing 1922 vampire flick, Nosferatu. With appreciation for this aspect only having grown over the years, interest among fans would be quite prevalent to see DeVito's grossly-Gothic version of Oswald Cobblepot make a big screen return of some kind, especially given the likely scenario that Keaton's cape-and-cowl return in The Flash will see nostalgia for Burton's duo of Batman films surge.
"There is a little Oswald in me," enthusiastically declares DeVito on his continuing connection to the character. Indeed, it seems that, when it comes to DeVito, the will for a Penguin return is clearly there, but will there be a way? Such a scenario would involve luring Tim Burton back for a DC Extended Universe offering—namely one that places his Penguin back opposite Keaton's Dark Knight. Well, stranger things have happened, especially since we have Sony-Spider-Man helmer Sam Raimi directing an MCU movie with 2022's Doctor Strange in the Multiverse of Madness.
In the meantime, your long-awaited fix for the resurgence of Burton's Batman franchise will occur in a little less than a year, with The Flash currently scheduled to whoosh into theaters on Nov. 4, 2022. As for DeVito, you can catch him on It's Always Sunny in Philadelphia, which, currently in the midst of its fifteenth season (with no sign of stopping), airs on FXX.