Features
Bank of Dave: What Happened in Real Life?
Burnley's Dave Fishwick is as real as they come – as is his community bank dream – but what about the Def Leppard concert, lawyer Hugh, or even the Bank of Dave itself?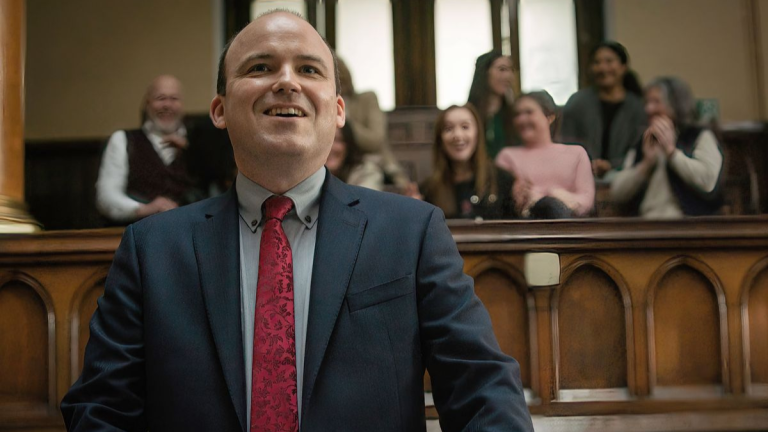 It's not surprising that Bank of Dave – Netflix's latest film, based on the heartwarming true story of Burnley businessman Dave Fishwick trying to open a community bank – has captured people's attention. The real man himself delightedly shared the news it was number one in Netflix UK's Top 10 Films soon after its release:
Indeed, Burnley businessman Dave Fishwick is as real as they come, a joyful, larger-than-life character that – judging from his social media and recent TV appearances – is accurately captured by Rory Kinnear (Our Flag Means Death), who plays him in the film.
Also undeniably real is the huge amount of good he has done for his local community, lending over £30 million to people in need and donating all the profits to charity. Only recently, a school wrote to him asking for a loan for an industrial-sized toaster so they could feed hungry children breakfast before school – he quickly donated not only the toaster but a year's supply of food.
But just how much of Bank of Dave is based on fact, and how much was fabricated for entertainment purposes? You might be surprised by the answer:
Does The Bank of Dave Actually… Exist?
Well, no, not really.
It's true that Dave Fishwick, a Burnley man who had built his business empire selling vans and minibuses, set up Burnley Savings and Loans – a company whose slogan is 'Bank on Dave!' – back in 2011, after he saw how difficult local people were finding it to get a loan from High Street banks. It's also true that he claims he had a lot of pushback from the Financial Services Authority (FSA) who apparently really did demand he raise several million pounds in security as part of his application to become a real bank, as the film shows.
But that money was never raised, and the company isn't actually a bank (technically it's an 'independent lending company') and is still in the process of trying to get its banking licence as The Bank of Dave.
The good news is that all the work we see Fishwick aiming for in Bank of Dave – lending to local people who struggle to get a loan elsewhere, giving decent interest rates on savings, donating profits to charity – is real.
Is Dreamy Lawyer Hugh (Joel Fry) Real?
Kinnear is joined in Bank of Dave by his fellow Our Flag Means Death cast member Joel Fry as hotshot London solicitor Hugh, who reluctantly takes on the job of representing Fishwick as he tries to set up the Bank of Dave.
After a shaky start in Burnley, he grows to love the Fishwick family, the Bank of Dave dream and the town itself, even stumping up £1 million of his own money to help the bank achieve its funding goals. He also grows ever closer to Alexandra (Phoebe Dynevor, Bridgerton), an NHS doctor and Fishwick's niece.
Sadly, he's a complete work of fiction, created as a way to allow the viewers to discover Dave Fishwick and his dream of the Bank of Dave.
Joel Fry is very good as a romantic lead, though. More of this, please.
Did Nefarious Banking Baddies Try To Ruin Dave Fishwick's Business?
Thankfully for Dave Fishwick, the answer to this is also no.
While he did have a lot of pushback from City finance experts, who did indeed dismiss his idea and warn him he'd end up in prison if he called himself a 'bank', the dastardly Sir Charles Denbeigh (played by Downton Abbey's Hugh Bonneville) is another fictional creation and there was not an evil scheme to sabotage the Bank of Dave plans.
That said, Fishwick does still take issue with how the UK banking system operates and has been actively lobbying parliament for banking reforms for over a decade.
Did Def Leppard Really Play a Heroic Burnley Fundraising Concert for the Bank of Dave?
Sadly not.
While the legendary real-life band did fly all the way from the US to Burnley to make their excellent cameo in Bank of Dave, their part in Dave Fishwick's real-life story is complete fiction, made up because he's such a huge fan of the band. Fishwick described meeting Def Leppard during filming as 'probably, if not definitely, the best day of my life.'
Not only did Def Leppard not play the concert, the concert itself never happened, and the funds were never raised – part of the reason why the Bank of Dave isn't actually a real bank yet.
But it was an excellent, tense and warm-hearted climax to an inspiring film. Who knows, maybe life will imitate art, and the Bank of Dave will finally become a reality after all? Watch this space.
Bank of Dave is available to stream on Netflix