News
Avengers: Infinity War – Did Any Actor See a Real Script?
Karen Gillan tells us Avengers: Infinity War feels like a graduation... especially as no actor knows everything that'll happen.
The week of Avengers: Infinity War is here. Finally. In fact, with the North American premiere for the film Monday night—as well as the only press screenings—people outside of Marvel Studios and Disney's most exclusive inner-circle are actually going to be watching it for the first time. And that includes the actors who star in it too. Indeed, when we sat down with Karen Gillan at the Tribeca Film Festival this weekend to discuss her directorial debut, the hauntingly intimate The Party's Just Beginning, the actor confided to us that she never read a full script for Avengers 3… even while she was shooting Avengers 4.
"I haven't seen the movie, nor have I read the entire script," Gillan said with a hint of amazement about the whole process. "So I don't know what to expect. I'm in the same position as everybody else. I don't think anyone has seen the movie anywhere in the world until—it's happening on Monday for the first time. So we're all just like, we can't wait." Further the Scottish filmmaker went on to add while only the "main" stars of Avengers: Infinity War received a full script, there is a chance none of them even read the real final version of the film penned by Christopher Markus and Stephen McFreely. Instead Gillan asserts the directors, Anthony and Joe Russo, personally scribbled down a fake version of the screenplay to confuse the actors and throw potential leakers off.
"I think a couple of the actors, the main actors, got to read the full script," Gillan told us. "But also the Russo Brothers wrote a fake script as well to throw people off track. So even if they did read the full script, they don't know if it was the real script."
This confirms an admission from Joe Russo last week when he told BBC Radio Scotland that he personally gave Spider-Man actor Tom Holland a fake script because Holland has had "slips" in the past and is now on "the black list" among the cast.
But full script, no script, or even a fake script, Gillan is jazzed to reach this milestone for Marvel Studios' Marvel Cinematic Universe, which 10 years in is having its own kind of homecoming with the next two Avengers films. In both movies, she has shot extensive scenes as Nebula, the daughter of Avengers Big Bad Thanos (Josh Brolin) who is also, as per director James Gunn, "the Boba Fett of the MCU." In fact, Gillan likened the whole release of these films to something like a graduation.
"It does feel a little bit like a graduation," Gillan laughed. "Yeah, and it sort of feels like a giant family portrait when we did that class photo. Because when I worked on Guardians, we really did become like a family, you know? Then we went into Avengers, and it was like we were meeting all of our cousins for the first time, and it was amazing."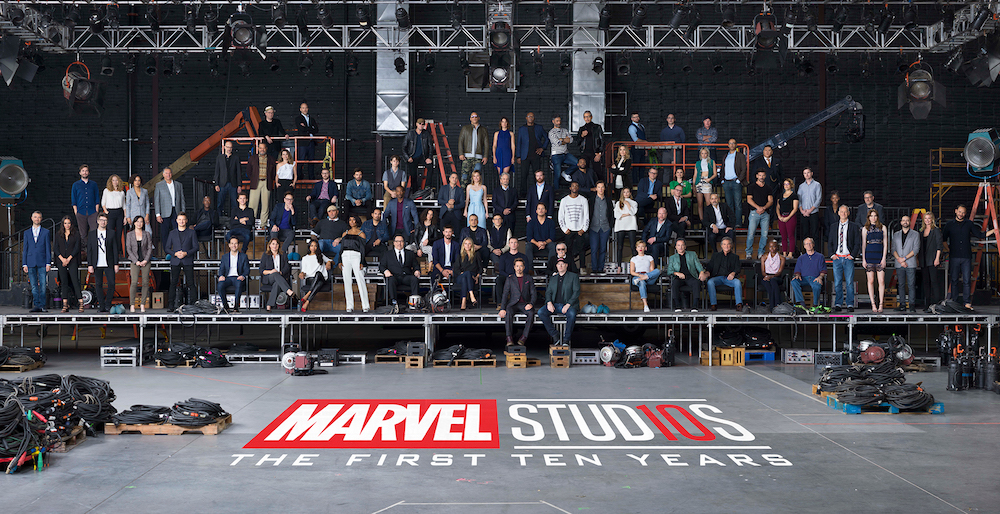 The photo of which the actor speaks is above. We will have our full interview with Gillan about The Party's Just Beginning (and a little Jumanji 2) later this week. And you can next see her, beginning on Thursday night, in Avengers: Infinity War. As if you needed the reminder.