Features
Are Action Movies About to Make a Splash at the Oscars 2023?
With each new batch of awards season nominees, a clear string of frontrunners is emerging… and four of them appear to be action movies raking in hundreds of millions of dollars.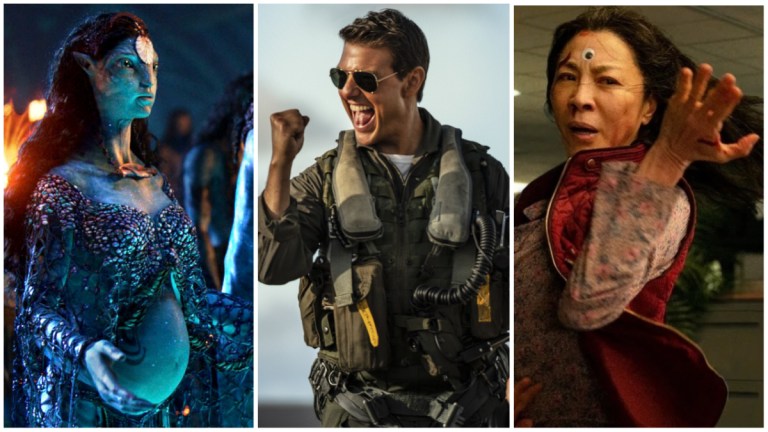 It's crazy to think it's already that time of year again. And no, we're not referring to the colored lights hanging from every lamp post or the tinsel seemingly on every tree. Rather the full heat of awards season is almost upon us, with the turnover between now and early January marking the first spate of high-profile (and televised) awards ceremonies.
Critics groups like the New York Film Critics Circle previously made a splash when they awarded Best Director to S.S. Rajamouli, the filmmaker of the Telegu-language RRR, which is a three-hour action fantasy that took international cinema by storm when it grossed $102 million worldwide this spring (and then was seen by far more on Netflix). However, the NYFCC has always gone to a beat of its own drum and its pick for Best Picture, Todd Field's exacting and masterful Tár, was far more in line with the group's reputation for celebrating challenging work that demands introspective consideration.
And to be sure, Tár remains an awards season favorite. But judging by yesterday's slew of Critics Choice Awards nominees, it's going to have some surprising and unusually populist competition from the action genre.
Among the CCA nominees for Best Picture are: Avatar: The Way of Water, Everything Everywhere All at Once, RRR, and Top Gun: Maverick, action spectacles and crowdpleasers all. Indeed, Top Gun: Maverick is currently the highest grossing movie of the year globally, with a total cume of about $1.5 billion. And yet, we're fairly certain that will change when James Cameron's long awaited sequel to the highest grossing movie of all time, Avatar, reaches cinemas on Friday.
It should be noted, too, that these nominations are not merely token nods toward crowdpleasers intent on getting eyeballs to televised ceremonies. Several of them, including Everything Everywhere (which grossed $103 million worldwide) and Top Gun 2 have their champions who will tell you with absolute sincerity that they're a frontrunner for Best Picture. Meanwhile Michelle Yeoh is generally considered one of several frontrunners in the Best Actress category after her stunning performance in Everything Everywhere while Tom Cruise is considered by many to be a dark horse candidate for receiving a Best Actor nomination from the Academy.
Until then, and over at the CCAs, both Yeoh and Cruise were nominated in their respective categories, as was most of the cast of Everything Everywhere in supporting categories, including Ke Huy Quan, Stephanie Hsu, and Jamie Lee Curtis, while Cameron and the Daniels received Best Director nominations, for Avatar: The Way of Water and Everything Everywhere, respectively. Additionally, Viola Davis was nominated for Best Actress due to her work in The Woman King.
Admittedly, the taste of critics and the filmmakers in the industry can differ wildly—just last year the CCAs, like most critics groups, rallied around Jane Campion's The Power of the Dog while the Oscars went for the more feel-good and sentimental CODA, an Apple TV+ original. And in the Best Director category alone, the CCAs nominate 10 helmers while the Academy of Motion Picture Arts and Sciences selects only five. However, it seems as if the industry, which remains at a major inflection point after the pandemic has accelerated audience migration toward streaming, might be pivoting back to a blockbuster-heavy slate of awards contenders in 2023. It's a phenomenon we arguably haven't seen since Lord of the Rings: Return of the King won Best Picture in 2004, including by beating Master and Commander.
This is remarkable for awards bodies' tastes, not to mention prudent. Our modern understanding of what an Oscar movie is actually fairly recent—arguably dating back to around 1999 when Harvey Weinstein's Shakespeare in Love beat the crowdpleasing WWII blockbuster, Saving Private Ryan. Even then the change didn't happen overnight (see again: ROTK). But in less than a decade after the 1999 Oscar season, the Academy went from nominating audience favorites like Saving Private Ryan, and even selecting them for Best Picture over more deserving fare—see Forrest Gump beating Pulp Fiction in 1995 and Titanic beating L.A. Confidential in 1998 for more—to often snubbing hits and audience favorites, including most famously The Dark Knight in 2009.
Of course the awards season has visibly begun changing in recent years. It was only a few years ago when Black Panther became the first superhero movie ever to be nominated for Best Picture. Nevertheless, many of these awards and nominations have felt like consolation prizes: empty gestures intended to get audiences to tune in and avert the declining viewership awards shows endure nearly every year. The Academy even infamously attempted to put populist entertainment at a pseudo-kids table when it was announced there would be a "Best Popular Film" category. That was quickly jettisoned after it proved… unpopular.
Popular films can, indeed, be some of the best movies in any year, but that fact is sometimes harder to reconcile with an industry that appears to be rushing to the lowest common denominator of commodified corporate product (read: content) with industrial-sized blockbusters dominating the box office and sucking up most Hollywood resources, leading to the death of medium budget movies, including the type of adult dramas that used to be awards and audience darlings. Even so, occasionally some of these blockbusters can have a soul and reveal a level of craft and care that is exceptional. Top Gun: Maverick, for one, buttressed the entire summer box office with innovative IMAX cinematography and storytelling that could win over almost anyone's heart, if not necessarily their mind.
Such an achievement is certainly worthy of being in the conversation of what were the best films of 2022? It also proves to be a shrewd move for an industry that may continue to favor challenging cinema that is found in the arthouses, but in 2022 many of those efforts have been particularly despairing—sometimes in terms of subject matter and almost always in terms of box office grosses. Even the type of dramas that used to be the studios and awards season's sweet spot, movies like Steven Spielberg's feel-good The Fabelmans and Maria Schrader's She Said, a probing journalist procedural about #MeToo investigations, have failed to find an audience and as of this week are now on VOD streaming.
For the record, both of those movies are superb and should be seen by more people—and we imagine The Fabelmans will find an audience still on streaming as its profile grows during awards season. However, among the films that actually got audiences into the theater this year, there is an unusually large amount that were more than just Disney product or studio cynicism.
And it definitely won't hurt awards voters, including the Academy, to remember that fact.