Reviews
She Said Review: A Portrait of the First #MeToo Domino's Impact
Carey Mulligan's She Said acts like the first rough draft of history as it recounts the New York Times' investigation into the abuses of Harvey Weinstein.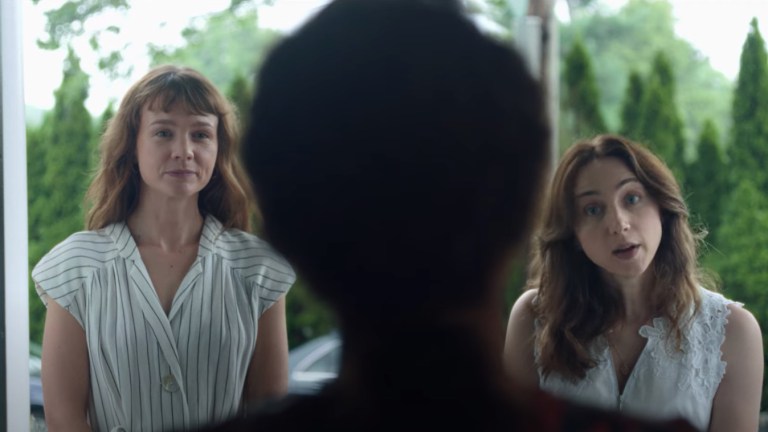 Harvey Weinstein's face is never shown in She Said. He is heard—frequently and insidiously, such as when the movie plays a voice recording of the disgraced Hollywood mogul harassing and pressuring Ambra Battilana Gutierrez to stay in his hotel suite. But during this harrowing moment from recent history, director Maria Schrader's camera only tracks the empty, gilded hotel hallway where the maliciousness took place. The convicted rapist's demons still haunt this space, as well as our collective consciousness, like malignant spirits. We don't see them, however. We simply know they're there.
Also, it must be said, we've seen more than enough of Harvey. As the title promises, She Said is a film driven and told by the women of its story, including the array of voices whose accounts were collected by the New York Times reporters Megan Twohey and Jodi Kantor. And the voices documented are more than just heard by the picture; they're also more than seen… these stories are felt in a quiet yet ultimately devastating 128 minutes that chronicle what many consider to be the first domino of the #MeToo movement.
Not so subtly reaching for the clear-eyed sobriety of great journalism movies like All the President's Men and Spotlight, Schrader and screenwriter Rebecca Lenkiewicz craft what could be considered a snapshot of modern 21st century journalism. A barrage of conference rooms and video calls, disembodied voices over a phone and unglamorous sketches of New York City street corners, She Said seeks to cultivate the intimacy of a daily grind where seemingly antiquated ideas about sources and evidence still matter, even as it's situated in a world that's increasingly lost beneath the sea of internet anonymity and disinformation.
It is here we find Twohey (Carey Mulligan) swimming against what feels like a hopeless current. The movie starts on the eve of the 2016 election when the Times journalist has convinced several women to come forward with claims of being sexually assaulted by then-presidential candidate Donald Trump. Twohey is more than a few months pregnant as she tries to explain why one woman should speak on the record—and that she'd legally be alone if she does. The truth, Twohey insists, will still matter to voters and the public. You don't need the ensuing title card or time jump to know under which presidency Twohey's daughter is born.
She Said thus begins with a pale hush seemingly spreading across the culture. It sounds like despair. However, whether by historical fact or dramatic license (or perhaps both), this despair doesn't quite creep into the newsroom. When the movie jumps forward about six months, the Times offices presided over by executive editor Dean Baquet (Andre Braugher) and assistant managing editor Rebecca Corbett (Patricia Clarkson) are silently seething but unbroken.
New correspondent Jodi Kantor (Zoe Kazan) is encouraged to seek out stories of women who similarly feel their voices, their truth, have been ignored—and it is Kantor who recognizes there's a long brushed over history of rumors and allegations surrounding the Oscar-winning Hollywood heavyweight, Weinstein. The accounts range from the underreported accusations of Battilana in 2015 to popular actors like Rose McGowan whose stories of systemic abuse were trivialized, including in the pages of the Times.
As the film unfolds, Kantor's instinct to tell a story of abuse even in the glamorous heights of Hollywood, and Twohey's fearless tenacity to chase those stories down, even if it means sitting face-to-face in a room with Weinstein, ultimately shift the culture… although the changes therein remain more ephemeral and frustrating than the movie seems to suggest.
As a piece of journalistic procedural, She Said is a fascinating and fastidiously constructed document. The subject matter obviously will have appeal in awards season, and some cynics among my fellow critics might even suggest it was designed solely to benefit from that appeal (a trick Weinstein notoriously exploited). However, there is a deliberate and detail-oriented sophistication to Schrader and Lenkiewicz's approach that defangs such cynicism.
As with the aforementioned landmarks of cinematic muckraking, She Said takes a slightly detached and macro view to the processes and systems Twohey and Kantor pursued in putting together a chilling and yet, in retrospect, blatantly obvious account of abuse. The approach is aided immensely by the performances, particularly Mulligan who suggests a righteous ferocity behind a constantly placid professionalism. Mulligan has participated in #MeToo movies before, including the highly allegorical Promising Young Woman, but She Said might feature the actor's best work to date, and one that, yes, awards voters will clearly take notice of. The sequence wherein Twohey squares off with the former Miramax boss, for instance, is exclusively concerned with Mulligan's ability to visibly compartmentalize and persevere, ever with a look of unmistakable contempt on her crooked smile.
The areas where the film does fall short are likely victims of the subject matter's recency. The close proximity to 2017 allows Schrader's film to have an immense urgency, as well as provide modern insight into the world of journalism as juxtaposed against the movie's blatant influences, but it also has the effect of reading the first report in a story that is ongoing. While it's nice that some of the actual women who spoke with the Times are able to play themselves, including Ashley Judd who was the first woman to go on the record in 2017 with her account of Weinstein's harassment, the story is not over. Weinstein is in prison now—and awaiting further trials in California—but the "reckoning" in Hollywood and beyond remains unfinished, and the systems that have been "reckoned" do not feel as wholly transformed as She Said's denouement optimistically suggests.
She Said is thus more a first draft of history—to steal a phrase from a former publisher of The Washington Post—than complete accounting of it. However, this could also be applied to living through the times we find ourselves in, and even if She Said adds a dollop of its own Hollywood gloss at the end of the story, the tale is still poignant and necessary enough to make this a credible read of developing events.
She Said opens is now playing in theaters.