News
Xbox Games Showcase Live Stream: Watch the Xbox Series X and Halo Infinite Reveals
The Xbox Games Showcase will unveil the games coming to the Xbox Series X as well as give us our first real look at Halo Infinite. Watch it here!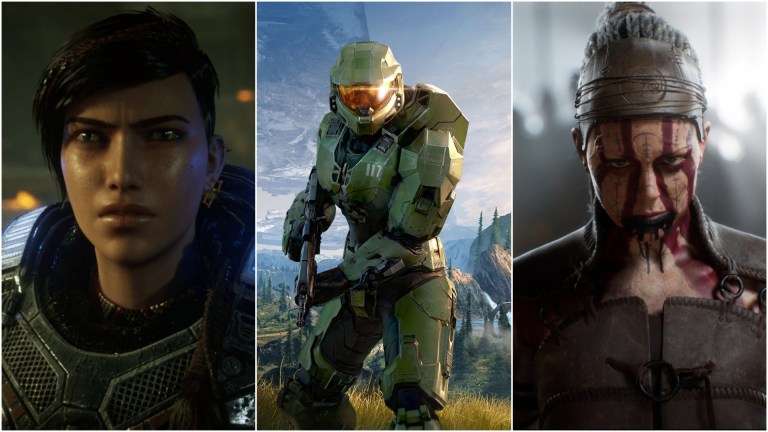 After Sony wowed gamers with the PlayStation 5 in June, it's finally time for Microsoft to take the stage with the games that are coming to the Xbox Series X. July's Xbox Games Showcase will unveil more about Halo Infinite, the Xbox Series X's flagship title, as well as other first-party and third-party titles coming to the next-gen console.
The digital event, which is scheduled for July 23 at 12 pm ET, will be a chance for Microsoft to respond to the PS5, the big headliner of June's IGN Summer of Gaming and Summer Game Fest events. Sony revealed several big exclusives coming to the console during the digital event, including Marvel's Spider-Man: Miles Morales, Horizon Forbidden West, Demon's Souls, Gran Turismo 7, and Ratchet & Clank: Rift Apart. So far, the Xbox Series X only has two big heavy-hitters that you can't get on a PS5: Halo Infinite and Senua's Saga: Hellblade II.
But Microsoft has also spent the last few years acquiring studios to fill out its first-party portfolio. We've yet to see what Obsidian Entertainment, Rare, Double Fine, Compulsion Games, Undead Labs, and the rest of Xbox Game Studios might be working on for the Xbox Series X. Fans should expect to hear from at least a few of these first-party studios during the showcase.
Halo Infinite will likely take up a lot of the air time, though. This isn't only the first mainline Halo game since 2015's Halo 5: Guardians but it's also the first time an Xbox console has launched with a Halo game since the original Xbox. In Halo Infinite, Microsoft may be hoping to once again find that major system-seller that gives the Xbox Series X an early lead over the PS5.
Judging from what we've seen of the game so far, the return of Master Chief might also be a return to the series' roots, complete with an adventure on a new Halo ring as well as plenty of Brutes and other Covenant enemies to turn into mush. We don't know as of yet how Cortana's AI revolution storyline from Halo 5 fits into the new game but we'll hopefully find out a lot more about the game's story during the live stream.
You can watch the event live right here:
Will Microsoft also take this opportunity to unveil the rumored Xbox Series S (aka Lockhart), a disc-less version of the company's next-gen console? Reports in June suggested that Microsoft would host a separate event in August to unveil its digital console to rival the PS5 Digital Edition. There's also the possibility that Microsoft will finally announce the release date or the Xbox Series X as well as open pre-orders to its anxious fans. But as far as we know, these will not be topics of discussion during the games showcase.
First unveiled during the 2019 Game Awards, the Xbox Series X is touted as Microsoft's most powerful console to date. While the first thing you'll notice about the console is its shape, which is unlike any Xbox hardware before it, there's a lot going on inside the machine to excite players.
Microsoft has said that the console's "Velocity Architecture" will "greatly decrease" load times while its Quick Resume feature will "enable players to seamlessly switch between multiple titles and resumes instantly from where you last left off."
According to Microsoft, the Xbox Series X will be able to deliver true 4K gaming and will also be 8K ready for games that are compatible with that resolution in the future. The 12 teraflops of AMD GPU power will also allow players to game at up to 120 fps for some titles. Right now, games that are "Optimized for Series X" — like Assassin's Creed Valhalla — will be to "deliver higher, steadier framerates, with a performance target of 60 frames per second at 4K resolution." DiRT 5 will even be able to hit 120 fps at launch.
Overall, "Optimized for Series X" games will "showcase anything from virtually eliminating load times via the Xbox Velocity Architecture, heightened visuals and hardware-accelerated DirectX ray tracing powered by our custom, next-generation GPU, to steadier and often higher framerates up to 120 fps."
After comparing the specs of each console, we declared the Xbox Series X more powerful than the PS5. If you haven't already, take a look at the console's specs:
The Xbox Series X is currently slated for a Holiday 2020 launch.