News
Horizon Forbidden West: Release Date and Trailer
The Horizon franchise continues on PlayStation 5. Here's what we know about this stunning sequel: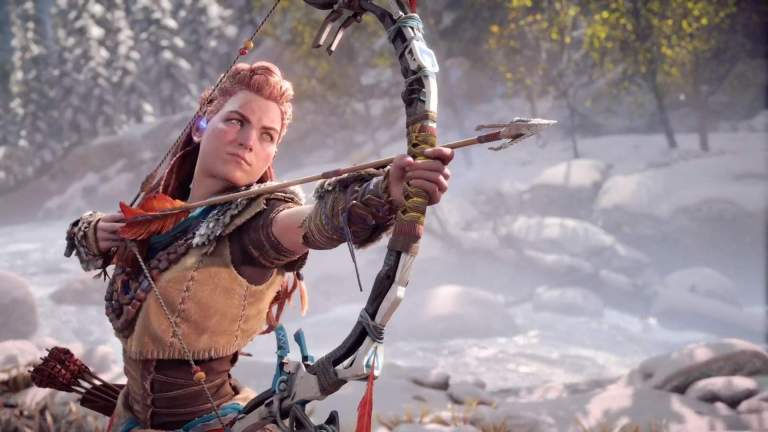 Next-gen gaming's biggest open secret has finally been revealed. June's PlayStation 5 showcase brought us our first look at Horizon Forbidden West.
Members of the Guerrilla Games team have confirmed that the game's title is indeed a reference to protagonist Aloy's journey into the West. As such, this will definitely be a sequel to 2017's Horizon Zero Dawn that seems to pick up right about where the last major game (and its DLC) in the series left off.
Sony said that "Horizon Forbidden West continues Aloy's story as she moves west to a far-future America to brave a majestic, but dangerous frontier where she'll face awe-inspiring machines and mysterious new threats."
To that end, the game's trailer suggests that this journey into the West will reveal some fascinating new landscapes, characters, and cultures that we didn't get a glimpse of the first time around. Based on what we know of this region, it seems likely that some of what we see in this preview is either a snapshot of ancient ruins or otherwise some kind of elaborate tribute to them.
As some have already spotted, this trailer also suggests that certain organic creatures are alive once more (at least in the parts of the world that we see in the trailer). While there's currently no indication of how or why this is the case, we imagine that's a mystery that will be thoroughly explored in what will likely be the PS5's first great open-world exclusive.
Speaking of the trailer, it doesn't leave us with much to go on in terms of pure gameplay. Having said that, a couple of action shots of Aloy riding across the plains and wielding a bow suggest that this sequel's gameplay should be largely familiar to the millions who enjoyed the original experience. While we fully suspect that Forbidden West will feature some twists on that formula, we may have to wait until closer to the sequel's release to discover exactly what they are.
One thing that is becoming clear, though, is that Sony sees Horizon as one of their flagship franchises. Recently, the company shockingly revealed that it intends to bring Horizon Zero Dawn to PC. Given that PlayStation titles typically haven't made their way to PC outside of the PlayStation Now platform, that's a big move for the company and this series.
On top of that, it's rumored that Guerrilla is already thinking about a Horizon trilogy. While such a plan could depend on how well this game does, we suspect that Forbidden West will end up becoming one of the PS5's early hits.
Here's everything else we know about Horizon Forbidden West:
Horizon Forbidden West Trailer
This developer diary dives deeper into Horizon Forbidden West by revealing new gameplay details and some of Guerrilla Games' ambitions for this next-gen sequel. You've got to see it:
Also be sure to watch the game's debut trailer:
Once you're done watching the video, check out our trailer breakdown of some of the story hints we found in the promo.
Horizon Forbidden West Release Date
Horizon Forbidden West will release in 2021. It's coming exclusively to the PlayStation 5.