Features
WWE 2K22 Has One of the Worst and Weirdest Character Rosters Ever
WWE 2K22 is one of the better wrestling games in recent years, but its roster is a bizarre nightmare.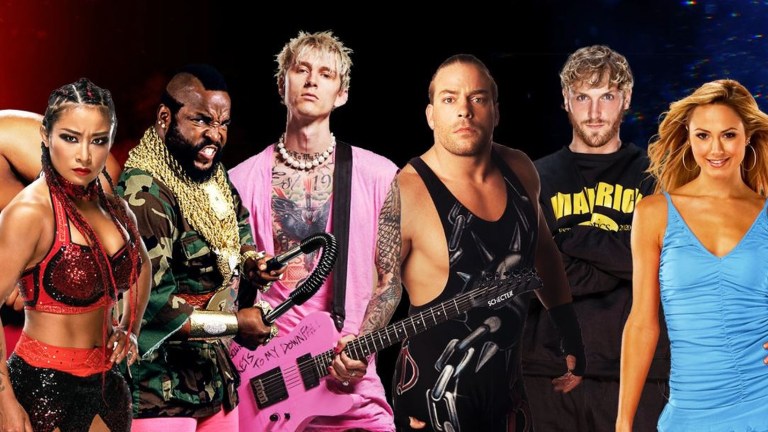 While we haven't been able to spend quite enough time with WWE 2K22 to fairly share something closer to a full verdict on the overall game, it is safe to say that it is absolutely the best WWE game in the last few years from a technical and gameplay perspective. Admittedly, that's a pretty low bar to clear given the many, many issues that have plagued WWE games in recent years, but WWE 2K22's generally improved performance and smart gameplay changes make it significantly easier to appreciate the ways it taps into the simpler pleasures of some of the best wrestling games ever made. 
Having said that, WWE 2K22 also features one of the worst fighting game rosters I've ever seen and certainly one of the worst (and weirdest) rosters in the history of pro wrestling games.
It's always a little odd to call WWE games "fighting games" given that, much like professional wrestling itself, they kind of exist at the intersection of a variety of genres, but there's always been a fighter at the heart of most of those titles. That's especially true of WWE 2K22, which utilizes a new combo system that brings it closer to a more traditional fighting game than the WWE titles have been in recent years.
Compared to other fighting games, WWE 2K22's roster is certainly big enough. I've included the game's full roster of available and upcoming wrestlers at the bottom of this article if you're interested in seeing every name, but for the moment, it's enough to know that there will eventually be over 200 officially available wrestlers to choose from in WWE 2K22. If one of the most important aspects of a great game roster is the sheer size of the roster itself, WWE 2K22 certainly passes that particular eye test. 
However, things start to fall apart once you take a closer look at the specifics of WWE 2K22's roster, especially as it concerns the biggest elephant in the room: the number of wrestlers who have left or been fired from WWE since the last WWE game was released. 
By my count, there are 36 wrestlers on the WWE 2K22 roster who are no longer under contract with WWE (that number doesn't include deceased wrestlers and those likely working under "Legends" deals with the company). While there are always a few wrestlers that end up on these rosters who are no longer actually with WWE by the time these games come out, that is an unusually high number of inaccurate inclusions that reflects the severity of WWE's controversial recent cuts/contract decisions as well as the growing influence of rival wrestling organizations (most notably AEW).
On that note, it's obviously unreasonable to expect WWE 2K22 to feature notable former WWE talents who are now in AEW or elsewhere (such as Bryan Danielson, Jon Moxley, CM Punk, Chris Jericho, Christian, Andrade, Adam Cole, and Malakai Black), but some of the roster decisions in this game involving former talent or Legend talent make absolutely no sense.
For instance, Braun Strowman is in the game as a very highly rated wrestler despite being released by the company in June of last year. Meanwhile, other free agent performers (like Bray Wyatt/The Fiend) are nowhere to be found. I can understand why some wrestlers who very recently left the company (whether on their own terms or otherwise) are still in the game, but I suppose we're just left to assume that WWE and 2K were able to work out deals with some former performers and not others. That, or this is a classic case of someone within WWE holding strange grudges.
Even if that is the case, I'm still left to wonder why certain Legend wrestlers (most notable Lita, Ricky "The Dragon" Steamboat, Molly Holly, Paige, and Kurt Angle) are not in the game despite being in recent WWE games and despite the fact that all of those talents were seemingly working with WWE very recently. The omission of Kurt Angle is especially bizarre considering that Angle and Rey Mysterio had some very important matches together that aren't featured in cover boy Rey Mysterio's special career mode. How do you have a mode highlighting Mysterio's career and not include the wrestler he won his first World Championship in WWE from? 
As for the game's DLC…well, that includes a truly bizarre collection of performers who should have either been in the game in the first place but were seemingly withheld so that you're forced to pay for them or "celebrities" (most notably Logan Paul) who presumably only exist so that you can enjoy beating them up. There's an asterisk next to every DLC character one way or the other.
Even if you're willing to put aside the Legend content that mysteriously isn't included in this game (and there's quite a lot of it) as well as some of the current WWE stars who are nowhere to be found for no good reason, you're still left looking at a roster of available wrestlers that just cannot compete with the rosters included in pretty much every other WWE game released over the last 22 years or so.
While some of the best professional wrestlers in the world can still be found in WWE, increased competition and recent changes in WWE's creative and business strategies (most notably the restructuring of NXT) have deprived the company of quite a few workers who are either considered to be the absolute best in-ring performers in the world by their peers and fans, benefit from some kind of unique character/personality traits, or, in a lot of cases, offer some combination of both those qualities.
Whereas previous WWE game rosters benefited from featuring a larger collection of performers who were able to really make a name for themselves in other organizations where they had more freedom to really establish their own characters and in-ring moves, the fact that a lot of those performers have since moved on from WWE means that anyone who doesn't follow the WWE product week to week is going to be left staring at a lot of unfamiliar faces who feel more at home in the "default" section of create-a-wrestler screen than they do on the roster of the biggest wrestling company in the world. 
That lack of notable personalities already makes the game's roster feel smaller than it technically is, but the bigger problem here might be the size of the "talent" gap between WWE 2K22's available wrestlers and how that gap is, once again, sadly similar to the one that exists in the real-life WWE roster. 
Much like the real WWE, WWE 2K22 treats a few performers (most notably Roman Reigns, Brock Lesnar, and certain Legend performers) like gods and everyone else as either occasional contenders or virtual nobodies designed to fill the runtime and make the stars look better. It's certainly possible to take any wrestler in the game all the way to the top of the company or fantasy book your heart out, but when some of the best technical performers in the world (which includes names like Roderick Strong, Pete Dunne, Ricochet, Sami Zayn, Cesaro, Io Shirai, Johnny Gargano, Keith Lee, Kyle O'Reilly, and Tommaso Ciampa) are stuck with a rating somewhere in the low '80s, you're ultimately left to wonder if the game is trying to punish certain fans/players for liking certain performers or even in-ring styles more advanced than "big move, taunt, repeat." You have too many performers here who are being treated like second-class citizens for no apparent reason and too many performers who you'd probably only pick as a meme or because you're desperate to see some kind of new matchup. 
Now, it must be said that you can obviously create whatever character you want in WWE 2K22 and even download pretty much any wrestler imaginable thanks to the talents of this game's massive creative community. That's obviously a big selling point, but it's more than a little sad that players are more dependent on that feature than ever to access wrestlers who should have been in the game in the first place, gimmicks/designs that should have been in the game in the first place, or just to be able to enjoy more diverse and interesting overall collection of characters.
The tragic joke at the heart of this whole thing is that WWE 2K22's roster is both wildly misrepresentative of the current WWE product so far as the accuracy of the available names goes and tragically representative of the current WWE product in the sense that there are only a few modern wrestlers in the game that are treated like proper stars. The rest are glorified jobbers or performers who are consistently mistreated and overlooked because they don't quite fit the company mold in one way or another despite being exceptional or unique in other ways.
It's hard to imagine a franchise like Street Fighter, Tekken, Mortal Kombat, or Super Smash Bros. ever featuring a roster where most of the competitors were either designed to be significantly weaker than the top characters or are just outright forgettable and interchangeable. In this instance, though, it's just another example of the old "WWE being WWE" saying that wrestling fans have had to mutter under their breath for far too long now. 
WWE 2K22 Full Roster and Ratings
AJ Styles: 91
Akira Tozawa: 75
Alexa Bliss: 84
Alexander Wolfe: 77
André the Giant: 88
Angel Garza: 79
Angelo Dawkins: 80
Apollo Crews: 81
Ariya Daivari: 70
Asuka: 90
Austin Theory: 80
Batista: 88
Bayley: 88
Becky Lynch: 92
Beth Phoenix: 87
Bianca Belair: 87
Big Boss Man: 81
Big E: 87
Billie Kay: 77
Bobby Lashley: 91
Booker T: 88
Braun Strowman: 90
Bret "The Hitman" Hart: 91
Brock Lesnar: 94
Cameron Grimes: 79
Candice LeRae: 77
Carmella: 79
Cedric Alexander: 76
Cesaro: 84
Chad Gable: 76
Charlotte Flair: 90
Chyna: 87
Dakota Kai: 79
Damian Priest: 84
Dana Brooke: 74
Danny Burch: 77
Demon Finn Bálor: 90
Dexter Lumis: 79
Diesel: 87
Dolph Ziggler: 82
Dominik Mysterio: 79
Drew Gulak: 79
Drew McIntyre: 91
Eddie Guerrero: 90
Edge: 91
Elias: 75
Ember Moon: 81
Eric Bischoff (nWo 4-Life Edition): 69
Erik: 80
Faarooq: 88
Fabian Aichner: 80
Fandango: 77
Finn Bálor: 87
Goldberg: 88
Gran Metalik: 79
Happy Corbin: 81
Hollywood Hogan (nWo 4-Life Edition): 92
Hulk Hogan: 91
Humberto Carrillo: 77
Io Shirai: 82
Isaiah "Swerve" Scott: 80
Ivar: 81
Jake "The Snake" Roberts: 85
JBL: 88
Jeff Hardy: 85
Jerry "The King" Lawler: 86
Jey Uso: 85
Jim "The Anvil" Neidhart: 86
Jimmy Uso: 85
Jinder Mahal: 77
Joaquin Wilde: 79
John Cena: 92
John Morrison: 80
Johnny Gargano: 82
Jordan Devlin: 79
Kalisto: 74
Kane: 82
Karrion Kross: 84
Kay Lee Ray: 81
Keith Lee: 80
Kevin Nash (nWo 4-Life Edition): 90
Kevin Owens: 85
Kofi Kingston: 88
Kushida: 79
Kyle O'Reilly: 81
Lacey Evans: 81
Lana: 71
Lince Dorado: 75
Liv Morgan: 77
MACE: 76
'Macho Man' Randy Savage: 88
Mandy Rose: 80
Mansoor: 80
Marcel Barthel: 79
Maryse: 79
Mia Yim: 79
Mickie James: 81
"Million Dollar Man" Ted DiBiase: 85
Montez Ford: 82
Mr. McMahon: 76
Murphy: 77
Mustafa Ali: 77
MVP: 80
Naomi: 79
Natalya: 84
Nia Jax: 82
Nikki A.S.H.: 82
Oney Lorcan: 76
Otis: 77
Papa Shango: 79
Pete Dunne: 81
Peyton Royce: 79
R-Truth: 77
Randy Orton: 88
Raquel González: 81
Raul Mendoza: 79
Razor Ramon: 84
RECKONING: 76
Rey Mysterio: 90
Rhea Ripley: 86
Ric Flair: 88
Ricochet: 82
Riddle: 85
Road Dogg Jesse James: 85
Robert Roode: 81
Roderick Strong: 80
Roman Reigns: 95
Rowdy Roddy Piper: 85
Sami Zayn: 80
Samoa Joe: 86
Santos Escobar: 81
Sasha Banks: 88
Scott Hall (nWo 4-Life Edition): 90
Seth Rollins: 91
Shane McMahon: 79
Shawn Michaels: 88
Shayna Baszler: 84
Sheamus: 85
Shelton Benjamin: 81
Shinsuke Nakamura: 88
Shotzi: 77
SLAPJACK: 71
'Stone Cold' Steve Austin: 92
Sonya Deville: 77
Stephanie McMahon: 77
Syxx (nWo 4-Life Edition): 88
T-BAR: 76
Tamina: 75
Tegan Nox: 79
The Brian Kendrick: 74
The Miz: 86
The Rock: 93
Timothy Thatcher: 80
Titus O'Neil: 76
Tommaso Ciampa: 84
Toni Storm: 80
Trent Seven: 77
Triple H: 91
Trish Stratus: 88
Tucker: 71
Tyler Bate: 82
Tyler Breeze: 77
Ultimate Warrior: 88
Undertaker: 90
Ministry of Darkness (Undertaker Immortal Pack): 93
Phantom Mask (Undertaker Immortal Pack): 88
Boneyard Match (Undertaker Immortal Pack): 91
WALTER: 86
William Regal: 85
X-Pac: 85
Xavier Woods: 86
WWE 2K22 DLC Roster
Banzai Pack
Release Date: April 26
Yokozuna
Umaga
Rikishi
Omos
Kacy Catanzaro

Most Wanted Pack
Release Date: May 17
Cactus Jack
The Boogeyman
Vader
Ilja Dragunov
Indi Hartwell

Stand Back Pack
Release Date: June 7
Hurricane Helms
Stacy Keibler
A-Kid
Wes Lee
Nash Carter

Clowning Around Pack
Release Date: June 28
Doink the Clown
Ronda Rousey
The British Bulldog
Mr. T
Doudrop
Rick Boogs

The Whole Dam Pack
Release Date: July 19
Rob Van Dam
Logan Paul
Machine Gun Kelly
LA Knight
Xia Li
Commander Azeez
Sarray