News
WWE 2K Battlegrounds: Release Date and Trailer
WWE 2K Battlegrounds revives the underrated history of arcade-like WWE games. Here's everything you need to know: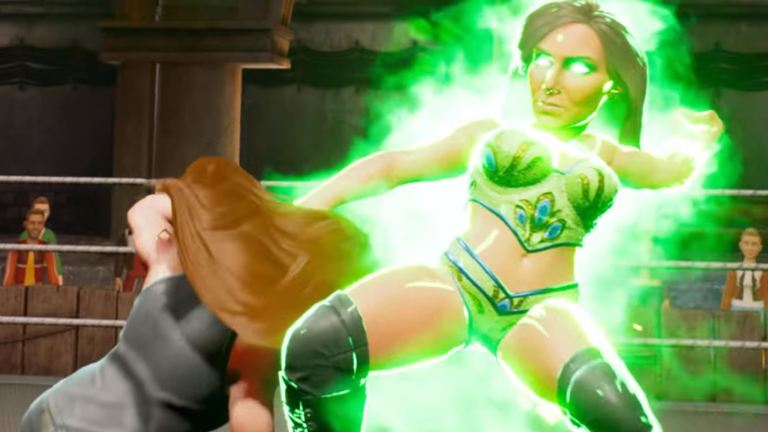 Publisher 2K Games has revealed WWE 2K Battlegrounds: an arcade-like wrestling game that will seemingly replace WWE 2K20 as this year's WWE title.
"We're thrilled to introduce you to WWE 2K Battlegrounds, a completely new WWE gaming experience that will feature arcade-style action and over-the-top Superstar designs, environments and moves," says 2K via a recent press release. "Whether you're a casual gamer just learning the ropes or a passionate fan ready for all the action, WWE 2K Battlegrounds provides another way to enjoy WWE video game action. The game is being developed by Saber Interactive, the studio behind NBA 2K Playgrounds, who have been hard at work on WWE 2K Battlegrounds and are excited to let you smell what they're cookin'."
Battlegrounds will include a roster of 70 playable characters made up of current WWE performers and wrestling legends. There will also be a character creator mode, and developer Mad Dog Games intends to add more characters to the game via post-launch DLC.
Along with an array of Exhibition match options that support local and online multiplayer, Battlegrounds will feature a King of the Battleground mode and single-player campaign.
The campaign sees you pick one of seven wrestlers created solely for the game and work your way through the ranks in the hopes of securing a WWE contract. It sounds like the story structure will be similar to the arcade fighting game tournaments of old, but the developers have stated that there will be branching paths spread throughout the story which should help offer a bit of variety. You'll also unlock new stages, wrestlers, and other items as you progress through the campaign.
King of the Battleground, meanwhile, sounds like a kind of Royal Rumble take on a battle royale mode. It starts with four players in the ring with four more waiting on the outside. The winner is the last player standing, but it's not entirely clear how the rules will balance the experience for those who start in the ring vs. those who start on the outside.
The game includes 8 distinct stages featuring unique environmental hazards. The gameplay, meanwhile, will lean heavily into over-the-top, arcade-like action. Every performer will have access to a variety of incredible moves as well as a variety of melee weapons scattered throughout each area.
To be fair, more arcade-like WWE games have historically be quite enjoyable. We named WWF WrestleFest one of the best wrestling games of all-time, and titles like WWE All Stars and WWF WrestleMania: The Arcade Game remain somewhat underrated wrestling video game experiences.
That said, we're interested in seeing what developer Saber Interactive does with this basic concept. NBA 2K Playgrounds was a bit lacking and, at times, too simple, but there's always a chance that they will learn from their mistakes and, at the very least, deliver something that is fun to play.
Still, the bigger story at the moment is the fact that the 2020 WWE game will be WWE 2K Battlegrounds and not WWE 2K21. As we've previously noted, WWE 2K21 has effectively been canceled as developer Visual Concepts works to retool that franchise and correct some of the significant errors they made with WWE 2K20. It's also entirely possible that the spread of COVID-19 has impacted the team's ability to make said changes to the franchise as well as 2K's willingness to publish such a game in these uncertain times.
WWE 2K Battlegrounds Release Date
WWE 2K Battlegrounds will launch for PC (via Steam), Nintendo Switch, Xbox One, PlayStation 4, and Google Stadia on September 18.
WWE 2K Battlegrounds Trailer
This WWE 2K Battlegrounds trailer focuses on the game's cartoonish style, dangerous environments, and impressive roster.
Also be sure to check out Battlegrounds' debut teaser trailer: