Features
WWE: The History of WrestleMania Battle Royals
Since the second WrestleMania, the show has been home to many over-the-top-rope free-for-alls featuring giants and football players.
Vince McMahon has a lot of negative qualities to him. He's an egomaniacal, out-of-touch, petty sociopath who will chase people around the workplace with soiled underwear on a stick. Despite being an eccentric psycho, Vince still has his positives. One of them is how whenever WrestleMania comes by, he tends to treat the roster like Ebenezer Scrooge treats people on Christmas Day. WrestleMania is the biggest payday of the year and it's a show where they try to get as many people on as possible so that even some of the lowest-ranking folks can earn some big money.
It can take many forms, from ten-man tag matches, Fatal 4-Ways, Money in the Bank, or even just tossing in a bunch of pointless singles matches featuring guys who aren't even feuding. The most tried and true way to get a bunch of wrestlers on the show with little effort is a battle royal. It's a regular waste of time that's become increasingly popular as the years go by.
Unfortunately, there won't be any battle royals for WrestleMania 36, nor will there be any in the near future. Having more than ten people in one setting's a bit of a no-no as of this update. In the meantime, let's look at all the previous entries in WrestleMania history.
I'm not going to include the Hardcore Invitational Battle Royal because, come on, that was as much a battle royal as Gorilla Monsoon was a monsoon of gorillas.
WRESTLEMANIA 2
Featuring (20): Andre the Giant, B. Brian Blair, Big John Studd, Bill Fralic, Bret Hart, Bruno Sammartino, Danny Spivey, Ernie Holmes, Harvey Martin, Hillbilly Jim, The Iron Sheik, Jim Brunzell, Jimbo Covert, Jim Neidhart, King Tonga, Pedro Morales, Russ Francis, Ted Arcidi, Tony Atlas, and William "Refrigerator" Perry
WrestleMania 2 is a gigantic mess for so many reasons, but its battle royal is a fairly good time that's still very watchable. While the 20-man match features former champions, future champions, and obscure 80s names, it's also padded out by including a bunch of NFL players. It's a sensible use of celebrity that doesn't seem to expose the business and as an added bonus, a wrestler actually won! That almost never happens!
A cool factor in this one is how it's the only WrestleMania match to have Bruno Samartino wrestling. It's also the only WrestleMania match that will have you squinting your eyes and wondering, "Is the Fridge wearing a thong unitard or is his shirt just tucked in really weird?"
Fridge gets the most memorable moment, where he's eliminated by Big John Studd and convinces him to shake his hand. Fridge then pulls Studd out of the ring, which is a dick move for a face, but did earn him a spot in the WWE Hall of Fame.
The ending came with Andre the Giant fighting off both members of the Hart Foundation and coming out of it as the last man standing. While the battle royal ultimately meant nothing, Andre's momentum would carry him into being the company's top heel at next year's WrestleMania.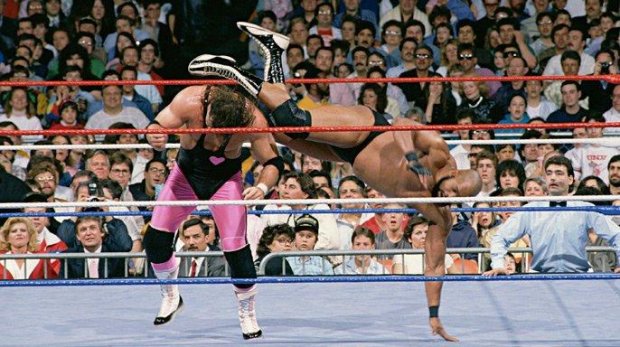 WRESTLEMANIA IV
Featuring (20): Bad News Brown, Boris Zhukov, Bret Hart, Brian Blair, Danny Davis, George Steele, Harley Race, Hillbilly Jim, Jacques Rougeau, Jim Brunzell, Jim Neidhart, Jim Powers, Junkyard Dog, Ken Patera, Nikolai Volkoff, Paul Roma, Raymond Rougeau, Ron Bass, Sam Houston, and Sika
WrestleMania IV is the big, boring tournament show and that understandably doesn't give us a huge pool of talent to play with. While there's a smattering of non-tournament matches, the midcard gets to flourish in the opening battle royal where the winner gets a big trophy. It is probably the least interesting battle royal WrestleMania has ever done as it lacks interesting entrants, memorable spots, or even much reason to exist.
The only truly memorable moment is the end where the final three are Junkyard Dog, Bad News Brown, and Bret Hart. Bad News and Bret are the heels, so of course they team up. The amusing difference is how they act it out. Usually, team-ups in battle royals and Royal Rumbles mean two guys stand too far from each other while pointing around at everything, as if to say, "You and me against him and him? Then it'll just be you vs. me?" Instead, Bad News actually pulls Bret aside to whisper into his ear while Junkyard Dog is left standing around impatiently.
The numbers game succeeds and Junkyard Dog is thrown out. Bret and Bad News make it seem like they've decided to be co-winners and share the winner's purse, only for Bad News to betray Bret, lay him out, and throw him to the floor. Bret turns face in response by attacking Bad News and destroying his trophy. This was apparently supposed to be Bret's singles push, but it never gets off the ground, so the Hart Foundation continue as a newly-face-turned tag team until three years later.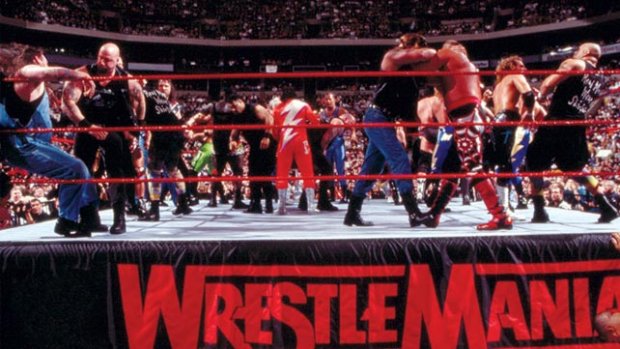 WRESTLEMANIA XIV
Featuring (15 teams): Bradshaw and Chainz, Disciples of Apocalypse (8-Ball and Skull), The Godwinns (Phineas and Henry), The Headbangers (Mosh and Thrasher), LOD 2000 (Hawk and Animal), Los Boricuas (Savio Vega and Miguel Pérez, Jr.), Los Boricuas (Jose Estrada, Jr. and Jesus Castillo), The Nation of Domination (Mark Henry and D'Lo Brown), The Nation of Domination (Faarooq and Kama Mustafa), The New Midnight Express (Bodacious Bart and Bombastic Bob), The Quebecers (Jacques Rougeau and Pierre Ouellet), The Rock 'n' Roll Express (Ricky Morton and Robert Gibson), Steve Blackman and Flash Funk, Too Much (Scott Taylor and Brian Christopher), and The Truth Commission (Recon and Sniper)
In the early Attitude Era, the tag team division is both terrible and plentiful. Even though the New Age Outlaws are facing Cactus Jack and Chainsaw Charlie for the tag titles later that night, there are 15 teams put together for a battle royal where the winners would challenge for the belts at Unforgiven. Sure, there are a couple duos that are just two random guys thrown together (Steve Blackman and Flash Funk, for instance), but there are still an impressive amount of dudes in there.
In this variation of the match, once a wrestler is eliminated, so is his partner. So when, say, Barry Windham does a run-in and eliminates Chainz, Bradshaw is also eliminated. In fact, other than the intro and ending, the only thing of note to happen in this entire fracas is people showing up illegally to eliminate people. Vince Russo liked that idea enough that he mashed the button to repeat.
The final team to enter is LOD 2000. Legion of Doom had broken up a month or so earlier, but here they are with a new look and with Sunny as their new manager, wearing what I can only describe as a flaming, upside-down skirt bra.
LOD 2000 ends things by defeating Bart Gunn and Bob Holly, the New Midnight Express. Hawk and Animal go on to lose their title match at the next PPV and react by beating up the referee. Then Droz joins the team and things get really, really sad.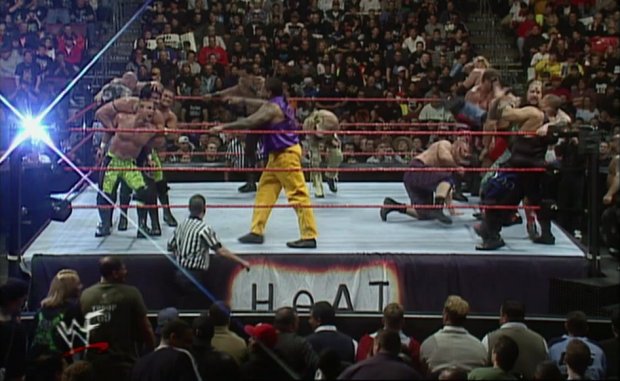 WRESTLEMANIA XV (SUNDAY NIGHT HEAT)
Featuring (21): Animal, Bradshaw, Brian Christopher, D'Lo Brown, Droz, 8-Ball, Faarooq, Gillberg, The Godfather, Hawk, Jeff Hardy, Johnny Grunge, Matt Hardy, Mideon, Rocco Rock, Scott Taylor, Skull, Steve Blackman, Test, Tiger Ali Singh, and Viscera
This is classic Vince Russo in the sense that it starts off as a really cool idea and it unfortunately peters out and leads to nothing but wasted time. An invitational battle royal is put together where the final two left standing will become impromptu tag partners and challenge for the titles against Jeff Jarrett and Owen Hart later in the night. Jarrett and Owen do guest commentary, leading to an argument with Michael Cole and Kevin Kelly about advantages. On one hand, the winners of the battle royal will be fatigued and have no sense of teamwork, but they will have proven their toughness by surviving and will therefore be a challenge.
There's also a handful of established teams in this match, which makes the possibilities more interesting when the landscape continues to whittle down challengers. Though the one team with zero chance of success is Public Enemy, who enter last and gets rushed by everyone else until they're left tumbling to the floor. Even Gillberg outlasts them.
Not much happens in this quick pre-show bout, but the action is fairly crisp and entertaining. A young Jeff Hardy takes quite a bump when backdropped out of the ring.
The ending has D'Lo Brown (face) and Test (heel) fight it out while the Godfather and Droz accidentally eliminate each other. Before D'Lo and Test can figure out they're the winners, the tag champs ambush them and lay them out. Sadly, this wouldn't lead to anything notable as D'Lo and Test fail to work as a team and there's no real feud spun out of it.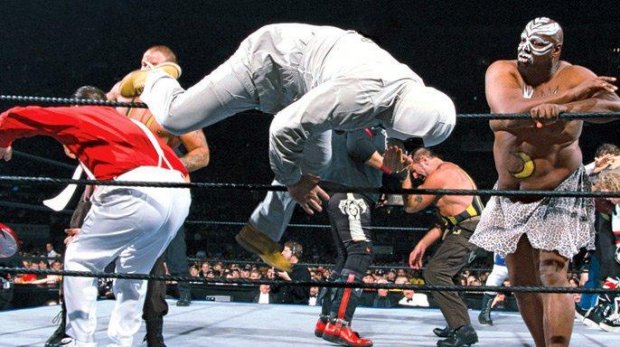 WRESTLEMANIA X-SEVEN
Featuring (19): Brother Love, Bushwacker Butch, Bushwacker Luke, Doink the Clown, Duke Droese, Earthquake, The Gobbledy Gooker, The Goon, Hillbilly Jim, The Iron Sheik, Jim Cornette, Kamala, Kim Chee, Michael Hayes, Nikolai Volkoff, One Man Gang, Repo Man, Sgt. Slaughter, and Tugboat
The most beloved of WrestleManias has one of the strangest exhibition matches you can ask for with the Gimmick Battle Royal. A bunch of old wrestlers in stupid gimmicks are paraded to the ring and fight it out for no real reason. This includes Jim Cornette, who has the wacky gimmick of…being a manager with a tennis racket? I don't know.
Bobby Heenan and Mean Gene do commentary here, which is amazing if only for Heenan razzing Gene so hard during the Gobbledy Gooker's entrance that they cut to the two at the table, silently unable to hide their smiles.
The segment is mostly intros and once the match begins, it's just white noise with colorful characters. It ends with the Iron Sheik winning because he's so old and broken down by this point that he can't handle falling out of the ring. Luckily, he's fine with succumbing to the Cobra Clutch from a disgruntled Sgt. Slaughter after the bell has rung.
One thing that sticks out here is how old everyone looks except for Hillbilly Jim, who has apparently been frozen on and off through the years like Bucky Barnes.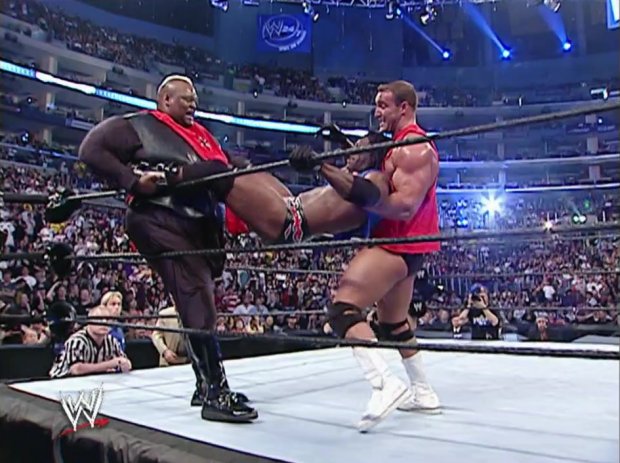 WRESTLEMANIA 21 (PRE-SHOW)
Featuring (30): Akio, Billy Kidman, Booker T, Charlie Haas, Chris Masters, Danny Basham, Doug Basham, Funaki, Hardcore Holly, Heidenreich, The Hurricane, Luther Reigns, Mark Jindrak, Maven, Nunzio, Orlando Jordan, Paul London, Rob Conway, Rosey, Rhyno, Scotty 2 Hotty, Simon Dean, Snitsky, Spike Dudley, Sylvain Grenier, Tajiri, Tyson Tomko, Val Venis, Viscera, and William Regal
We're a couple years into the brand extension and there are just so many wrestlers not on the main card that they're able to do a 30-man battle royal out of it. This time it's not quite all about "every man for itself" as it is "SmackDown vs. Raw." 15 men wear red t-shirts while 15 wear blue and the two general managers stand around outside and act like this matters.
It is a really fun match, all things considered, even if the sea of red and blue makes it hard to figure out who's who at times. We get some great spots like five SmackDown wrestlers holding down Viscera so Scotty 2 Hotty can land the Worm.
One thing that's curious about the whole thing is that for maybe half of it, there's a strong emphasis on Heidenreich. He has a really charming start to the match with the Hurricane and later sort of carries the battle royal for several minutes. He doesn't even make it exceptionally far, but for when he is in the ring, he stands out so much that you almost wonder why he wasn't a bigger deal. He wasn't THAT bad.
The ending has SmackDown's Booker T defeat Raw's Viscera and Chris Masters to become the winner. It's there that you realize how depressing it is that Booker couldn't get a spot on the main show and had to slum it in a dark match. He goes on to win a feud against Kurt Angle and finally make his way towards turning heel, which would lead to his amazing King Booker run.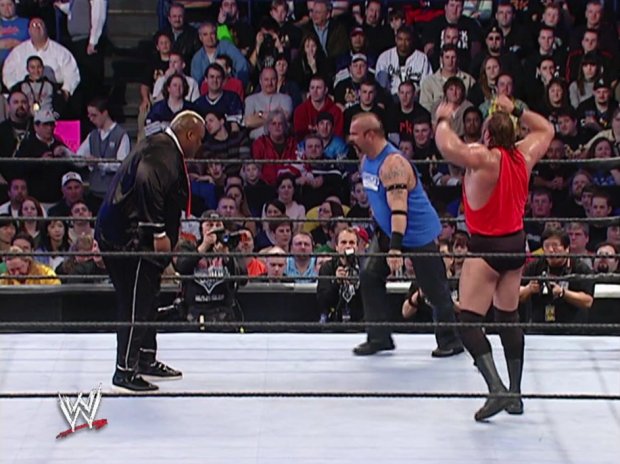 WRESTLEMANIA 22 (PRE-SHOW)
Featuring (18): Eugene, Funaki, Goldust, Joey Mercury, Johnny Nitro, Lance Cade, Matt Striker, Psicosis, The Road Warrior, Rob Conway, Simon Dean, Snitsky, Steven Richards, Super Crazy, Trevor Murdoch, Tyson Tomko, Viscera, and William Regal
It's a retread of the previous year, only with fewer wrestlers and less interest from everyone involved, especially the commentators. If you want to see Michael Cole and Tazz commentate like they're rolling their eyes and making jerk-off motions, this is the match for you.
Simon Dean announces himself, gets kicked in the face, and is thrown out of the ring, which starts the match off. It isn't all that bad for the most part, but it's also not all that good and goes on for maybe a few minutes too long.
It's the ending that's so memorable here. Not for Viscera doing his…uh…rape move on both members of MNM, but for the botched ending. The show is in Chicago and Road Warrior Animal is the final SmackDown representative. He's supposed to defeat Raw wrestlers Viscera and Snitsky, earning him that hometown pop and making him the only man to win two WrestleMania battle royals. Instead, he accidentally falls to the floor instead of eliminating Viscera and suddenly Vis and Snitsky tense up.
The two improvise an ending where Snitsky misses his mark and flies out of the ring, giving us a win for Viscera in front of a deflated crowd. Viscera would go on to wallow in the midcard some more.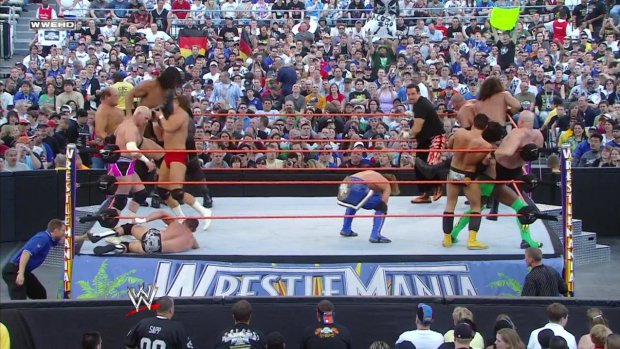 WRESTLEMANIA 24 (PRE-SHOW)
Featuring (24): The Brian Kendrick, Chuck Palumbo, Cody Rhodes, Deuce, Domino, Elijah Burke, Festus, The Great Khali, Hardcore Holly, Jamie Noble, Jesse, Jim Duggan, Jimmy Wang Yang, Kane, Kofi Kingston, Lance Cade, Mark Henry, The Miz, Shannon Moore, Stevie Richards, Snitsky, Tommy Dreamer, Trevor Murdoch, and Val Venis
At the time of the show, Chavo Guerrero is ECW champion. Not only is the ECW brand the redheaded stepchild of WWE programming, but Chavo has only been in its main event as a rival for CM Punk. CM Punk is destined to win that night's Money in the Bank match, making the ECW title beneath him. That means that Chavo is no longer needed as champion and it's time to change things up radically.
Ergo, this pre-show battle royal is for a title shot against Chavo on the main show. The roster is mostly ECW guys, but with a few main roster wrestlers who have nothing else to do like Cody Rhodes. Considering this iteration of ECW is like proto-NXT, it's filled with a lot of guys who are destined to hit it big in time, but aren't there yet, like how Miz's elimination is treated as no big deal.
Despite Great Khali being there before he 100% loses his mystique, the real powerhouse of the match is Mark Henry, who comes off as unstoppable. By the end, he falls short, getting thrown out by Kane.
Kane would go on to win the ECW title against Chavo in mere seconds, allowing the C-show to move on in a new direction. Kane would hold onto the title for a long time until losing it to Mark Henry in a triple threat match. Despite being a heel, Henry's overly happy response to winning the title is hard not to love. Dude gets legit emotional.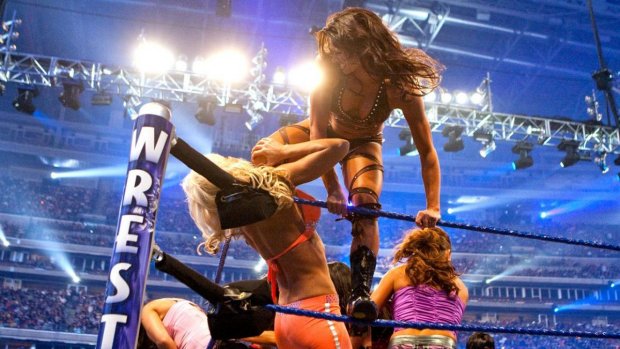 WRESTLEMANIA 25
Featuring: Alicia Fox, Beth Phoenix, Brie Bella, Eve Torres, Gail Kim, Jackie Gayda, Jillian Hall, Joy Giovanni, Katie Lea Burchill, Kelly Kelly, Layla, Maria, Maryse, Melina, Michelle McCool, Mickie James, Molly Holly, Natalya, Nikki Bella, Rosa Mendes, Santina Marella, Sunny, Tiffany, Torrie Wilson, and Victoria
This is what they call a bad look.
WWE puts together a women's battle royal to crown Miss WrestleMania and invites names from the past while Mae Young shows up to ring the bell. It's like the prototype for the 2018 Royal Rumble only without any actual respect for the women involved. Rather than giving each woman an entrance to put a spotlight on the likes of Sunny and Molly Holly, they all just come out at once during a 10-minute Kid Rock medley.
But there's a reason for that. Not noticeable until a couple minutes in, Santino Marella is sneaking around the ring in drag as his sister Santina, based entirely on his jealousy that his girlfriend Beth Phoenix gets to have some of that sweet WrestleMania spotlight. Once Beth throws out Melina, Santina sneaks over and pushes her out of the ring, becoming crowned as the first Miss WrestleMania.
This would cause Santino to break up with Beth and go full-on face. Only upon her firing would Santina be kayfabe revealed to be a separate person.
WRESTLEMANIA XXVI (PRE-SHOW)
Featuring (26): Carlito, Caylen Croft, Chavo Guerrero, Chris Masters, David Hart Smith, Finlay, Goldust, The Great Khali, Jimmy Wang Yang, JTG, Kung Fu Naki, Luke Gallows, Mark Henry, Mike Knox, Primo, Santino Marella, Shad Gaspard, Slam Master J, Trent Barreta, Tyler Reks, Tyson Kidd, Vance Archer, Vladimir Kozlov, William Regal, Yoshi Tatsu, and Zack Ryder
I actually watched this one for the first time for this article and…it's a weird bird. Once everyone gets into the ring, we see Wade Barrett, Daniel Bryan, Skip Sheffield, and the others watching from on top of the stage and I'm like, "Oh, dude! Nexus is here!" Then I realize that my chronology is off and they're still just NXT Season 1 rookies looking on for the sake of looking on.
While being completely throwaway, I highly recommend checking this one out. There's a lot of fun to be had, like when everyone's doing the usual mindless time-waster brawling, William Regal and Finlay are in the middle of the ring stiffing the utter hell out of each other. Mike Knox, during his bearded serial killer phase, starts going ham on running crossbodies and looks more awesome than I remember him being.
Things end in a head-scratching way as Santino does his comedy shtick and Hornswoggle eventually does his comedy shtick to help Finlay, only for both of them to be taken out and we end up with a final two of pre-internet darling Zack Ryder vs. Yoshi Tatsu. Yoshi Tatsu ends up winning, presumably for the sake of playing his extremely happy theme song in the arena.
Tatsu would continue to be a forgettable jobber for the remainder of his career. He's even the first guy eliminated at WrestleMania XXX.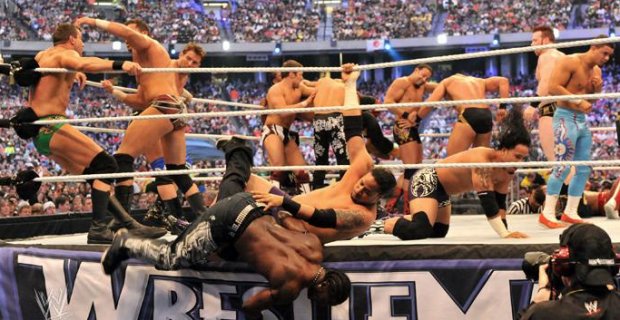 WRESTLEMANIA XXVII (PRE-SHOW)
Featuring (23): Chavo Guerrero, Chris Masters, Curt Hawkins, Daniel Bryan, David Hart Smith, Drew McIntyre, Evan Bourne, The Great Khali, Jey Uso, Jimmy Uso, Johnny Curtis, JTG, Mark Henry, Primo, R-Truth, Sheamus, Ted DiBiase, Trent Barreta, Tyler Reks, Tyson Kidd, William Regal, Yoshi Tatsu, and Zack Ryder
WrestleMania XXVII is one of the all-time worst WrestleManias and this situation is one of the more infuriating parts of it. Daniel Bryan is supposed to challenge for Sheamus' United States Championship, which is turned into a lumberjack match. Without announcing it ahead of time, it not only gets pushed to the non-televised pre-show, but after the lumberjacks get a little too violent with each other, the match gets thrown out and – hold on, playa – Teddy Long restarts it as a battle royal.
The battle royal itself isn't the worst thing ever. There's some cool continuity where Sheamus works alongside his top ally Drew McIntyre while William Regal stands up for his protégé Daniel Bryan. The final minutes has a lot of crisp clashes and eliminations. Unfortunately, while Bryan and Sheamus end up in the final three, the actual winner ends up being the Great Khali. Ugh.
Imagine being excited to see Bryan vs. Sheamus at WrestleMania and then finding out that not only did it happen earlier in the night, but that the Great Khali somehow won. "18 seconds" suddenly doesn't sound all that bad.
WRESTLEMANIA XXX
Featuring (31): Alberto Del Rio, Big E, The Big Show, Brad Maddox, Brodus Clay, Cesaro, Cody Rhodes, Damien Sandow, Darren Young, David Otunga, Dolph Ziggler, Drew McIntyre, Fandango, Goldust, The Great Khali, Heath Slater, Jinder Mahal, Justin Gabriel, Kofi Kingston, Mark Henry, The Miz, R-Truth, Rey Mysterio, Santino Marella, Sheamus, Sin Cara, Titus O'Neil, Tyson Kidd, Xavier Woods, Yoshi Tatsu, and Zack Ryder
Finally, we get to the era of the Andre the Giant Memorial Battle Royal. Instead of coming off as completely throwaway, the battle royal is now an annual tradition that we know we can look forward to. On paper, it should be the Royal Rumble or King of the Ring, where the winner gets a huge boost to superstardom. Unfortunately, most of the winners find themselves reentering the match the following year. Big Show himself has been in the first four iterations of it.
What's curious about the first entry is that they almost definitely wanted to have Sheamus win it by eliminating Big Show last, only to throw a wrench in it last minute. On the pre-show, Cesaro splits from his partner Jack Swagger and turns face. With no explanation whatsoever, the Swiss Superman is entered as the 31st guy in the match.
Cesaro definitely shines in the final minutes, especially when he gets Kofi with the Cesaro Swing for an extended amount of time. Kofi himself does one of his classic elimination-defying moments where he's thrown over the corner post and lands with his feet over the steel steps, keeping him legal. But back to Cesaro, he not only defeats Big Show to win, but he does it by bodyslamming him over the top rope, WHICH IS NUTS.
Sadly, nothing good is done with Cesaro over the next year to the point that Steve Austin has to grill Vince McMahon about it on his podcast. Vince defends himself with some bullshit about brass rings.
The saddest part in all of this? Kofi, Big E, and Xavier Woods are all in this before New Day is a concept, so there's a brief section where Big E and Xavier are attacking each other. It breaks my heart.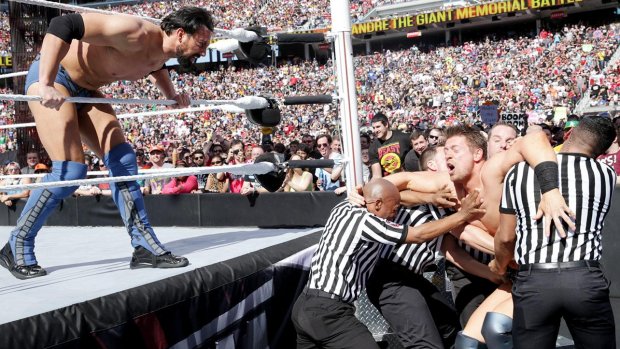 WRESTLEMANIA 31 (PRE-SHOW)
Featuring (30): Adam Rose, Alex Riley, Big E, The Big Show, Bo Dallas, Cesaro, Curtis Axel, Damien Mizdow, Darren Young, Diego, Erick Rowan, Fandango, Fernando, Goldust, Heath Slater, Hideo Itami, Jack Swagger, Jimmy Uso, Kane, Kofi Kingston, Konnor, Mark Henry, The Miz, Ryback, Sin Cara, Titus O'Neil, Tyson Kidd, Viktor, Xavier Woods, and Zack Ryder
The Andre Memorial has been moved to the pre-show and Cesaro's there because being Paul Heyman's afterthought client didn't do gangbusters. This time they start a new tradition to the match where they add in at least one NXT representative. In this case it's Hideo Itami, somewhere in-between his dozens of injuries.
There are mainly two stories in this one. One is how Big Show has "never won a battle royal," which is absolutely not true, but is treated as a talking point. While it's not really a building development, Big Show winning the Andre Memorial is one of those gold watch victories you really should just have in the books because, come on, his whole persona is Andre 2099.
The other story is the breakdown of Miz and Mizdow. Damien Sandow has become completely over due to his association with Miz and it is such a hot storyline that it really should have been a WrestleMania match. Instead, it gets drawn out and watered down to the point that it's a subplot in the pre-show battle royal. There is at least a good moment in there where former Miz subordinate Alex Riley tries to convince Mizdow to turn on his boss, only to get double-teamed and thrown out.
So after Big Show has taken out all of New Day by himself and has avenged his loss to Cesaro, it's down to him, Miz, and Mizdow. This is where things fall apart. Miz has the intelligent idea of going at the super-strong giant two-on-one. Mizdow decides that this is the time to stand up for himself and refuses. Miz rants in his face about how he made Mizdow a star, which isn't really wrong. Mizdow sends Miz to the floor and decides to face Big Show one-on-one like a man.
Wouldn't you know it, Big Show wins anyway. Though one thing that is rather shocking is that one of the close calls is a direct reference to Chris Benoit's Royal Rumble win. Go figure.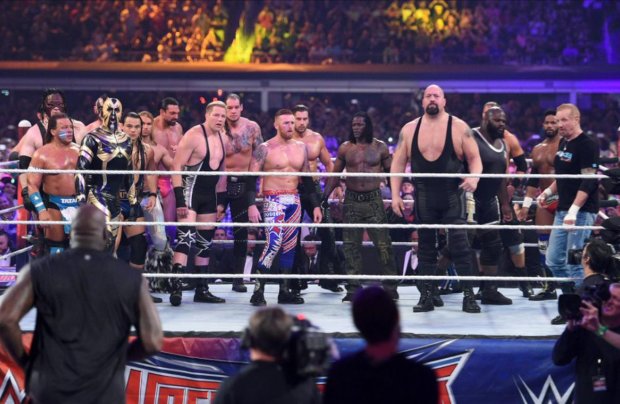 WRESTLEMANIA 32
Featuring (20): Adam Rose, Baron Corbin, The Big Show, Bo Dallas, Curtis Axel, Damien Sandow, Darren Young, Diamond Dallas Page, Fandango, Goldust, Heath Slater, Jack Swagger, Kane, Konnor, Mark Henry, R-Truth, Shaquille O'Neal, Tatanka, Tyler Breeze, and Viktor
This is the first WrestleMania to be a million hours long and I watched it with a friend who was suffering from a nasty fever at the time. That meant that the longer the show lasted, the less sure he was of what he was seeing, like the Rock with a flamethrower or a skinny John Cena. That this match came so late in the show could not have been good for his senses because it's very much insane.
Even though Diamond Dallas Page gets his own intro, Tatanka is already in the ring and doesn't get any fanfare, meaning it takes a while before viewers and commentators even notice that he's there. More importantly, Shaquille O'Neil shows up completely out of nowhere. He and Big Show clear the ring (without eliminating everyone) and strangle each other until everyone shoves them out and they walk backstage together.
To give you an idea of how bad the aftermath to Damien Sandow's turn the year before was, he's treated as a complete jobber afterthought who STILL gets a major pop from the crowd, only to be discarded a moment later. He would be gone from the company shortly after.
Late in the match, the focus goes to the excitable Social Outcasts, who then get mauled by Kane and Baron Corbin. Kane proceeds to clear the ring until Corbin, the token NXT guy, throws him out from behind. Corbin wins the giant trophy and while it is very random, being that this is his first main roster match, at least there aren't any derailed guys in the match who really should have won instead. That's refreshing.
The Big Show/Shaq bit is supposed to build towards a match at WrestleMania 33, but Shaq trains like Damon Wayans in Great White Hype and nothing ever comes out of it. Poor Big Show gets in the best shape of his life in order to be in the Andre Memorial once again.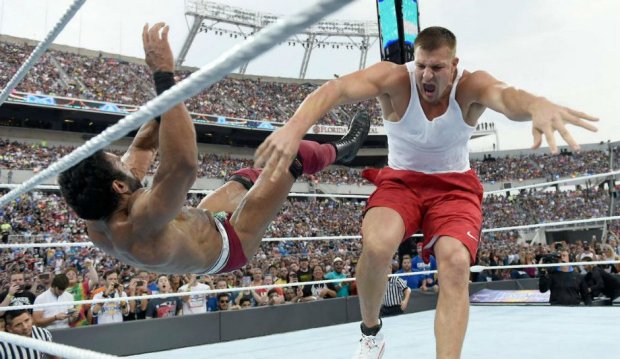 WRESTLEMANIA 33 (PRE-SHOW)
Featuring (33): Aiden English, Apollo Crews, The Big Show, Bo Dallas, Braun Strowman, Chad Gable, Curt Hawkins, Curtis Axel, Dolph Ziggler, Epico, Fandango, Heath Slater, Goldust, Jason Jordan, Jey Uso, Jimmy Uso, Jinder Mahal, Kalisto, Killian Dain, Konnor, Luke Harper, Mark Henry, Mojo Rawley, Primo, R-Truth, Rhyno, Sami Zayn, Simon Gotch, Sin Cara, Tian Bing, Titus O'Neil, Tyler Breeze, and Viktor
In this battle royal, there are three options for who should really win. First off is Braun Strowman, who is on the cusp of being a big deal and has been nothing more than a third wheel in the Roman Reigns/Undertaker build. Second is Sami Zayn, who has been played up as the plucky underdog who just barely got a spot in the match. Then there's Luke Harper, who was a hair away from being in the WWE Championship WrestleMania picture.
After winning a war with Big Show, Braun's taken out by everyone left in the ring. The ring gradually whittles itself down and then should-be winners Luke Harper and Sami Zayn are dumped out to leave the curious trio of NXT's Killian Dain, Mojo Rawley, and pre-title picture Jinder Mahal. All of this is so that Mojo's real life buddy Rob Gronkowski can get in a confrontation with Jinder, though briefly interrupted by a security guard who isn't in the loop and thinks he's just a rowdy fan.
Mojo goes on to eliminate Dain and Jinder, which gives him the momentum to do…nothing, really. While Jinder gets an inexplicable title run, Mojo fades into the background outside of winning a minor feud with tag partner Zack Ryder. But hey, that celebrity cameo, right?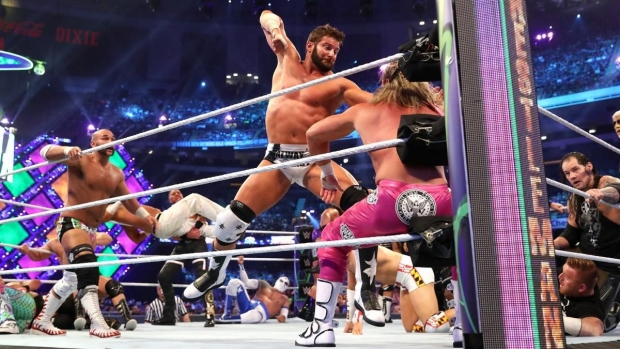 WRESTLEMANIA 34 (MEN'S, PRE-SHOW)
Featuring (30): Karl Anderson, Apollo, Curtis Axel, Shelton Benjamin, Tyler Breeze, Primo Colon, Baron Corbin, Bo Dallas, Scott Dawson, Tye Dillinger, Aiden English, Fandango, Chad Gable, Luke Gallows, Goldust, Matt Hardy, Curt Hawkins, Kane, Mike Kanellis, Konnor, Titus O'Neil, R-Truth, Mojo Rawley, Rhyno, Zack Ryder, Sin Cara, Heath Slater, Viktor, Dash Wilder, and Dolph Ziggler
For this year, there are two battle royals. One for the men and one for the women. The men's one isn't so offensively bad, but it isn't all that interesting. I mean, there's a staredown between Kane and Baron Corbin, so there you go. Some of the better moments include Goldust eliminating R-Truth before dabbing and Zack Ryder about to do his Broski Boot to Dolph Ziggler, only to be pounced into by Mojo and eliminated. Mojo gets way more heat for that one move than he did for his win the year prior.
Former winners Mojo and Corbin end up as finalists along with Matt Hardy. The two heels work over Hardy until the random appearance by Hardy's old nemesis Bray Wyatt. Wyatt helps even the odds and Hardy comes out the winner. Together, the duo would go on to become Raw Tag Team Champions before being usurped by a comedy act and falling into obscurity.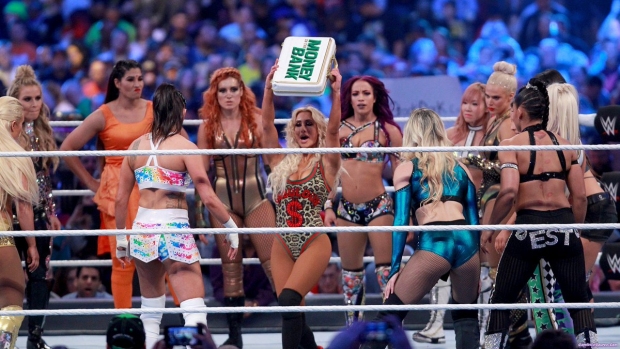 WRESTLEMANIA 34 (WOMEN'S, PRE-SHOW)
Featuring (20): Sasha Banks, Bayley, Bianca Belair, Carmella, Dana Brooke, Taynara Conti, Kavita Devi, Sonya Deville, Mickie James, Dakota Kai, Lana, Sarah Logan, Becky Lynch, Liv Morgan, Naomi, Natalya, Ruby Riott, Mandy Rose, Peyton Royce, and Kairi Sane
Coming off the heels of the first-ever women's Royal Rumble, the women's roster is given their own answer to the Andre the Giant Memorial Battle Royal. This leads to an awkward situation as originally, the match is named after the Fabulous Moolah, who the company constantly puts on a pedestal as the be-all/end-all women's legend. What WWE doesn't talk about is the many, many allegations that Moolah pimped out her students against their will and other horrors. There was enough of a backlash that the sponsor Snickers told them to cut it out. From there, it became the WrestleMania Women's Battle Royal.
It's a bit more entertaining than the male counterpart, at least. It starts off with an all-on-one pack mentality where they go after Carmella, then Natalya. The NXT women see the writing on the wall and unionize against the veterans and things settle into your usual free-for-all.
Towards the end, it builds into the growing resentment between best friends Sasha Banks and Bayley as Bayley stabs Sasha in the bank the same way Sasha treated her at Royal Rumble and Elimination Chamber. This proves to be Bayley's undoing as Naomi shows that she is still in the match and easily finishes Bayley off. Like her male counterparts, Naomi doesn't really get much out of her big win.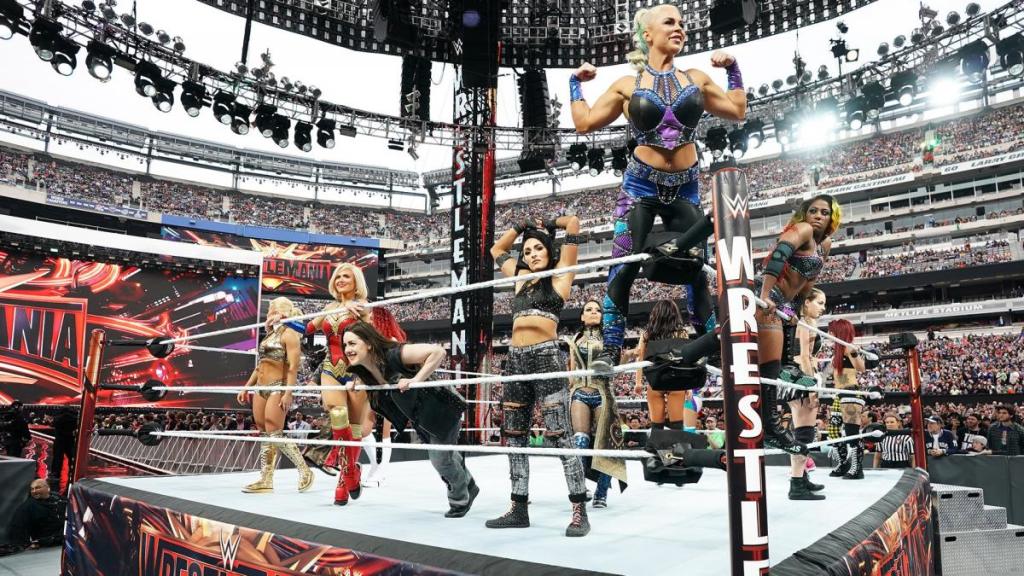 WRESTLEMANIA 35 (WOMEN'S, PRE-SHOW)
Featuring (17): Asuka, Dana Brooke, Carmella, Nikki Cross, Sonya Deville, Mickie James, Maria Kanellis, Lana, Candice LeRae, Sarah Logan, Ember Moon, Liv Morgan, Naomi, Ruby Riott, Mandy Rose, Kairi Sane, and Zelina Vega
This time around, the women's battle royal plays up the fact that despite there being some popular ass-kickers on the face side of things (Asuka, Mickie James, Dana Brooke), the heels have the advantage from having factions. The Riott Squad and Fire & Desire are able to overwhelm the opposition, even when Asuka is at times unstoppable. Things get whittled down and the final three appear to be Sarah Logan and Sonya Deville teaming up against Asuka. Once the smoke clears, it's Sarah Logan left standing.
Except Carmella was never actually eliminated, so she's able to get in there, mix it up with Logan, and superkick her to the floor. In a way, it's a nice payback for the Royal Rumble, where Carmella won the #30 spot, but technically Becky Lynch was the last one to enter anyway.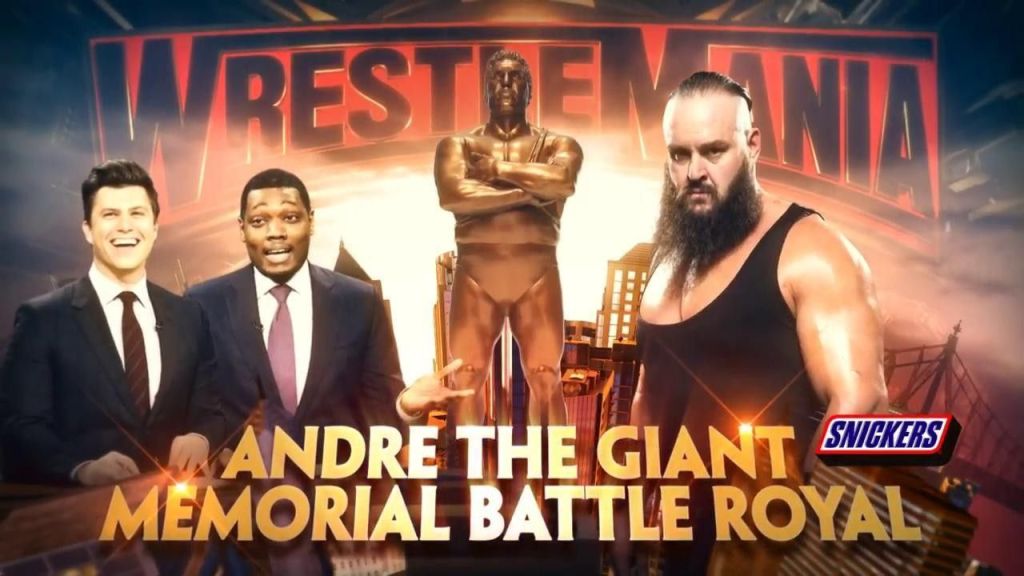 WRESTLEMANIA 35 (MEN'S, PRE-SHOW)
Featuring (30): Ali, Karl Anderson, Andrade, Curtis Axel, Shelton Benjamin, Tyler Breeze, Michael Che, Apollo Crews, Bo Dallas, Lince Dorado, EC3, Chad Gable, Luke Gallows, Jeff Hardy, Matt Hardy, Luke Harper, Colin Jost, Kalisto, Konnor, Jinder Mahal, Gran Metalik, No Way Jose, Titus O'Neil, Otis, Rhyno, Bobby Roode, Heath Slater, Braun Strowman, Tucker, and Viktor
It doesn't matter that the previous year's winner is there or that a former, modern WWE Champion is in it. With all those thirty names in the match, the only three that matter are Braun Strowman and the Weekend Update guys from Saturday Night Live, Michael Che and Colin Jost. It's the feud between Braun and those guys that they've been using as the celebrity connection for WrestleMania 35…outside of Ronda Rousey being in the main event and stuff.
Braun is briefly gone from the ring without going over for a bit, just so everyone else has something to do. When he returns, he's able to singlehandedly eliminate Heavy Machinery. Towards the end, the Hardy Boyz try to suplex him out of the ring. Che and Jost — who have been hiding under the ring all this time — sneak in for the assist. Braun is able to overpower the Hardy Boyz and eliminate them before turning his attention to the SNL guys and Jost's therapist (sure, why not).
Other than a brief hope spot for Jost, Braun easily defeats the two non-wrestlers and wins the big Andre trophy. Of course, by this point, the Andre battle royal means little and you can't help but feel that Braun has more to offer the company's biggest annual show.