News
Wild Hearts Release Time: When Will the Game Be Playable?
Wild Hearts could be the Monster Hunter competitor that gamers have been asking for, but when will you be able to play the game for yourself?
Wild Hearts is shaping up to be one of the first big sleeper hits of 2023, and you won't have to wait long to try it for yourself.
Wild Hearts is scheduled to be released for PlayStation 5 and Xbox Series X/S on February 17 at 12:00 AM in your local time zone. Yes, that means that no time conversion math is required. When it's 12:00 AM wherever you are, you'll be able to play the digital version of Wild Hearts. Of course, you could always use the fabled New Zealand trick to play the game a little sooner in certain areas.
PC players technically get the game a bit earlier than that, though they do have to navigate a tricker release schedule for the privilege. That's because the PC version of the game is utilizing a global rollout strategy rather than the universal release time method. In other words, the game will technically be available at the same time for everyone, but some will naturally get to play the game later than others due to time zone differences.
So, the PC version of Wild Hearts will be available at 7:00 AM PT/10:00 AM ET on February 16, but that means it won't be available in Japan until 12:00 AM on February 17. Again, it can get pretty tricky, so your best bet is to take a look at this handy PC release time map that the Wild Hearts team has provided.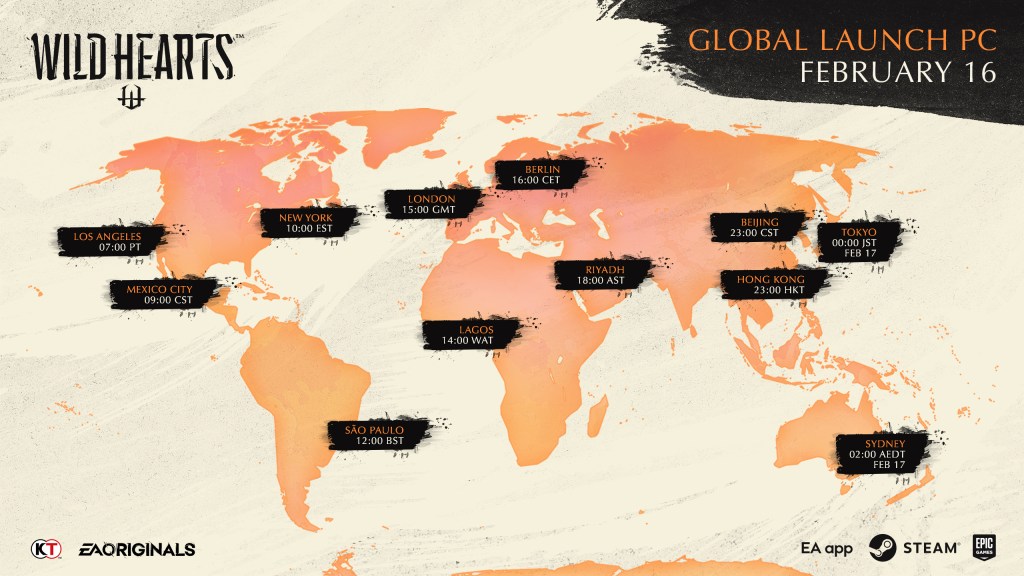 Xbox Game Pass and EA Play subscribers can also access a special 10-hour trial version of the game starting right now. It's basically a demo of the full game, but you'll only be able to play it for 10 hours. Thankfully, your progress in the demo will carry over to the full release.
What is Wild Hearts, you suddenly find yourself asking? Well, it's a new action-adventure game that tasks you with navigating large environments in order to hunt vicious creatures. If that all somehow sounds strangely familiar, that's probably because Wild Hearts was clearly inspired by the Monster Hunter franchise. While it's not hard to see the similarities between those series, the differences are a little more subtle.
For instance, whereas Monster Hunter has traditionally utilized slightly slower forms of combat and navigation, Wild Hearts is a much faster game. It is still designed to emphasize the strategy and thrill of the hunt, but there is a sense that the quicker gameplay could appeal to those who find some of the tedium of the Monster Hunter series to be a turn-off. Based on what we've seen and played so far, it looks to be on the right track.
The 2023 release schedule is shaping up to be one of the best and busiest in recent memory, but don't be surprised if Wild Hearts ends up taking advantage of a brief slow period on the calendar and ends up becoming a bit of a sensation. At the very least, it's certainly the most compelling Monster Hunter alternative in…well, maybe ever.