News
Will Valheim Come to Consoles?
Valheim is the hottest PC game in the world, but will the Viking survival title ever come to PlayStation and Xbox? Here's what we know about its future on consoles: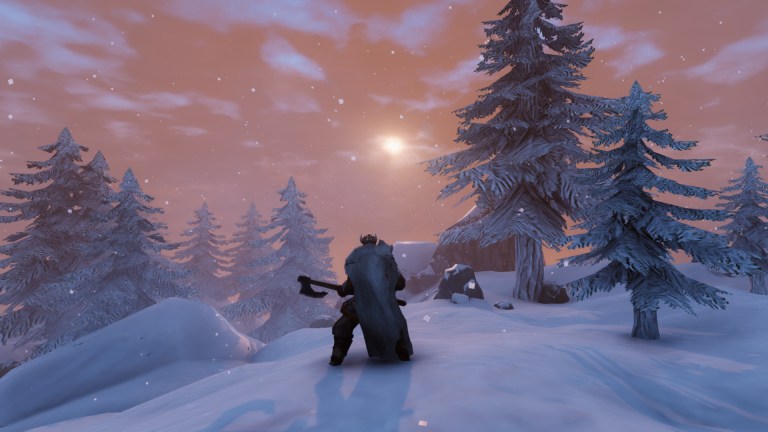 If you've been keeping an eye on the Steam best-seller charts or video game social media over the last few weeks, then you've almost certainly heard the name "Valheim."
Described by developer Iron Gate AB as "A brutal exploration and survival game for 1-10 players, set in a procedurally-generated purgatory inspired by Viking culture," Valheim has quickly become one of the talked about (and played) PC games in the world. Elements of the survival title will instantly be familiar to fans of games like Rust and 7 Days to Die, but merely comparing Valheim to other popular PC survival titles doesn't exactly capture what has helped Valheim sell over 2 million copies before it's even left Early Access.
With its growing community, extensive building and crafting options, enjoyable combat system, subtly impressive visuals, and Viking setting (which also recently elevated interest in the latest Assassin's Creed game), Valheim takes the best of many survival games that came before and directly address some of the most notable flaws that sometimes held those titles back from appealing to those who weren't already invested in the genre. We've seen similar games fall off the cultural radar fairly quickly in the past, but there's a sense that Valheim has a future that may be even bright than its already impressive debut.
For many, though, the big question at the moment is whether or not the future of the game will include console ports that will let PlayStation, Xbox, and maybe even Nintendo gamers get in on the action.
To be blunt, console gamers looking to play Valheim on their preferred platform probably shouldn't hold their breath. Here is developer Iron Gate AB's official statement regarding the possibility of Valheim being ported to other systems:
"A Mac-version will be released if there is any significant demand for it. There are no plans to release on other platforms as of the time of writing, but we won't rule out console versions in the future."
That certainly doesn't sound promising, but the studio's position is understandable considering that Valheim is still in Steam's Early Access program. The time and effort it would take to port the game as it is to other platforms would be incredibly demanding. More importantly, it would almost certainly impact the growth of the project itself. It makes sense that the Valheim team wouldn't want to compromise the growth of the game during this crucial time just to get it on consoles.
The game's early access status inhibits its console prospects in other ways. While the Xbox team has established a fairly robust early access program, PlayStation and Nintendo have comparatively struggled to embrace that concept quite as enthusiastically. To make matters worse, we've seen developers of other survival games take years to port their titles to consoles. Rust won't even be available for Xbox and PlayStation until later this year.
Unless Valheim breaks that trend in a major way, you probably shouldn't expect to see it on consoles for at least a couple of years. There's a possibility that the game could be available on Xbox before then, but for the time being, those who are interested in the game may want to take advantage of Valheim's low system requirements and give the game a shot on PC.