Features
How The Twilight Zone Was Revived as a VR Game
The next Twilight Zone reboot won't be on TV, but in virtual reality. Den of Geek takes a deep dive into the project.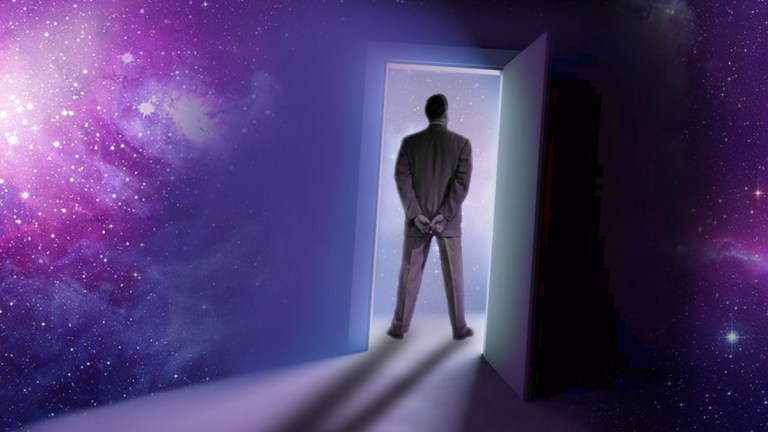 "The Twilight Zone is returning" is a phrase that we love to hear, but it's also one that comes with quite a bit of baggage. This is, after all, a show that's been rebooted no fewer than three times since "The Bewitchin' Pool" concluded the original run in June 1964, with cancellation always lurking nearby, like Mr. Death in "Nothing in the Dark."
But just a year after the latest, Jordan Peele-fronted reboot was cancelled, The Twilight Zone is returning again — but this time as a VR game for Oculus Quest and PSVR. There is an enormous pressure to do justice to the 1960s legacy as producers of the 1985, 2002 and 2019 reboot all learned, but they were working with virtually the same tools as Rod Serling was: TV cameras (albeit color ones). Fun Train, the development studio making a new Twilight Zone game, has the unique power of VR to tell unsettling stories from a whole new and more immersive perspective.
"The Twilight Zone is like the godfather of science fiction on television as far as I'm concerned," Fun Train president Doug Nabors tells Den of Geek. It is, he says, the precursor to everything from Fringe and The X Files to Black Mirror, and the team is determined to do it justice.
"Our challenge is proving games based on a movie or television show can be good, because we always have this fight of past history," he explains, citing the positive response to the studio's past efforts in bringing Tarzan and The Exorcist to virtual reality. Indeed, showing beloved IP like this respect is essential, as it acts as a calling card to be trusted with other legendary franchises. If they "deep six someone's property," doors ultimately slam and remain closed.
Fortunately, Nabors is an old hand at talking to studio decision makers, working in TV (both licencing and on the creative side with 80 episodes of Monk under his belt) before his move to gaming, so The Twilight Zone license was duly acquired after eight months of negotiation with CBS Viacom (the Sony owned music, he tells me, was a lot more work, but ultimately achieved.) The custodians of the fifth dimension, Nabors says, are a dream to work with. "We don't work with people who are too hands on — you can usually tell in the beginning how protective they're going to be."
But acquiring rights doesn't mean you inherit the fanbase, and that's something Nabors is acutely aware of. "That's the hardest: turning a heady academic thought experiment television show into a game," he says. Making it five-star worthy is even harder.
Twists and Turns
Perhaps the best way of measuring true affinity to the show is with a pop quiz question: "What's your favorite episode?" For Nabors, it's "The Invaders," a dialogue-free episode where a woman is (seemingly) being attacked by tiny alien ships.
"That one really resonates with me," Nabors says, calling it "the essence" of the show. "It's a story about miscommunication, misunderstanding, and the inability to communicate between cultures. We lean heavily into that in [the game's] third episode."
Yes, The Twilight Zone VR is just as much an anthology as its source material, with each of the three self-contained stories — "Character Building," "Terror Firma," and "Deadline Earth" — coming in at between 50 and 90 minutes long, depending on your pace. The episodes — penned by the likes of Rob Yescombe (The Invisible Hours, Farpoint) and Dwayne Alexander Smith (Forty Acres) — range from a "Time Enough at Last"-style apocalypse "thought piece" to a space adventure with echoes of The Stanley Parable.
If you want to get an idea of what you should expect from these stories, Den of Geek has an exclusive look at the second episode, "Terror Firma," below:
While Fun Train's licence allows the game to rope in any Rod Serling-created monster, the team has opted for a fresh approach. "Why climb the same set of steps twice?" asks Nabors. "Our goal was to create stories for this game that are worthy of standing beside those classic episodes. We don't want to put those monsters in the game because people have seen those monsters. We want ours."
But the game will still be recognizably Twilight Zone and that means the familiar floaty "white door" and eye intro, a narrator bookending each episode with an opening and closing thoughts, and, of course, twists aplenty.
"You have to have that moment of having the rug pulled out from under you," Nabors says. "It truly is hard to set it up but not give it away while leaving enough breadcrumbs where you can look back and think 'oh yeah, oh yeah.'"
From post-game surveys, the rate of testers seeing the twist coming in each story — assuming players are telling the truth — is about 30%, according to Nabors. The team has used specific feedback about what tipped people off to try and hide the surprises in plain sight without cheating, an attempt to match the most memorable episodes of the TV show and their ability to wow. According to Nabors, "['Character Building'] has such a misdirect in the beginning that it's really going to surprise people.".
Because it's episodic, there's always room to expand the game if it proves successful. And just as Serling was able to lean on other science fiction writers of the day to chip in with interesting scripts, Fun Train hopes to tap up others with stories to tell.
Not all stories make the cut, though. "Episode two was originally called 'Stop Day,' and it was a completely different episode," he recalls. "But we didn't like the way it was going, so we scrapped it. If it's not satisfying us, we know it's not going to satisfy Twilight Zone fans."
The beauty of the franchise is that these stories can be set anywhere at any time: "I want to do an underwater episode," Nabors says. But when I point out the original show's penchant for the wild west, he's a bit more hesitant. "I think that was a factor of the time, because the '50s and '60s were the heyday of the televised western with Have Gun, Will Travel and Gunsmoke, and I think it was leaning into that a little bit."
Never say never though: "A western episode would be incredible – but something that no one has seen before. That's the challenge."
A Third Dimension for the Fifth Dimension
VR helps with this, of course: it's the ideal medium for the kind of disorienting experiences The Twilight Zone, at its best, specializes in. Here, Nabors quotes a bit of feedback he heard that's so simple he wishes he'd coined it himself: "VR isn't even first person: it's in person," he says. "The personal experience is so much more profound, and you're so much more emotionally invested."
Virtual reality, though still a relatively young medium, has come a long way since the early Oculus and PSVR titles which were somewhat on the flimsy "experience" side, closer to proofs of concept for the technology than fully fledged games. But recently developers have started delivering full, meaty gaming experiences like The Walking Dead: Saints and Sinners and Half-Life: Alyx, which tell more sophisticated stories and in more robust, larger environments than ever before.
"There's this push for casual VR gaming, but we want to take you deep, and we want you to remember the experience," Nabors says. "After you take the headset off, we want you to remember the sense of place, where you were standing, what you were hearing, and how you felt."
So important is this sense of immersion that the team changed the game based on feedback from an African American woman who loved the game but found the set of white hands she was allocated jarring. Now there's a skin tone slider, something that was "relatively easy" to add and that Nabors believes is essential. "We want people to go deeper and deeper and to forget this is a game," he says.
It's important to put a ceiling on expectations here, though: unlike Half-Life: Alyx, which was made for top-of-the-line gaming PCs in mind, this is still a game built to run on the Oculus Quest 2, which has the Qualcomm Snapdragon XR2 chipset, roughly equivalent to the 865 used on 2020's best smartphones like the Samsung Galaxy S20. In other words, the Oculus Quest 2 isn't exactly at the cutting-edge of VR technology in terms of graphics or performance.
But to get the most out of this ceiling, the game is embracing relatively new Oculus Quest tech called "Application SpaceWarp," which significantly improves the visuals by dropping to 36fps and extrapolating synthetic frames to fill in the gaps. It's something that Oculus claims can free up 70% of the CPU and GPU for developers, which means considerably better visuals. "You know, it's still new, it's improving, but we definitely needed it to pull off some of the visuals that we were trying to get away with," Nabors says. "The size, scope, and look is so much better."
Of course, since the game went into production in the middle of 2019, another Twilight Zone reboot has come and gone. While the game has absolutely nothing to do with Peele's cancelled production, a flourishing TV show surely would have helped the game along, right?
"That's true," responds Nabors, "but here's my opinion: It doesn't need Jordan Peele or a reboot in order to have merit.
"When we launched Exorcist Legion VR based on the third Exorcist book, the show was on the air on Fox. Then it went off the air, but we kept going. Then guess what? David Gordon Green is making a new Exorcist movie. These brands are so evergreen that they come and go."
In other words, the door to the fifth dimension may not be closed forever, and who knows? Maybe the game will create a whole new generation of fans with an appetite for a fourth reboot.
In the meantime you can enter The Twilight Zone VR on Oculus Quest on July 14, with a PSVR version following at a later date.