News
Spider-Man: Miles Morales, Horizon Forbidden West, and Sackboy: A Big Adventure Coming to PS4
Three major upcoming PS5 games will also be released on PS4.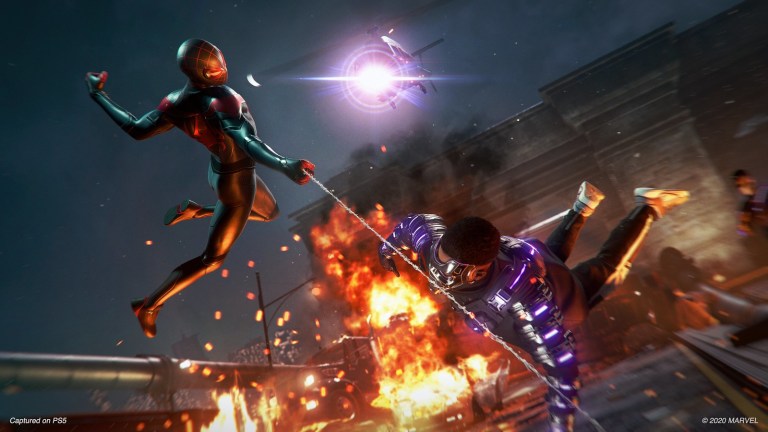 In a somewhat surprising move, Sony has revealed that previously suspected next-gen exclusives Horizon Forbidden West, Sackboy: A Big Adventure, and Spider-Man: Miles Morales will also be released on the PlayStation 4.
"We're also excited today to reveal that Marvel's Spider-Man: Miles Morales will be arriving on both PS5 and PS4," says James Stevenson, community director of Insomniac games, via a PlayStation blog post. "Yes, that's right, we know that some of you may transition to PS5 at different times, which is was why it was important to us to release the latest title in the Marvel's Spider-Man universe on both consoles."
While Stevenson notes that the PS4 version of the game won't feature "the enhancements made possible by the console in the PS5 version" it will still "look beautiful on PS4 and PS4 Pro." The PS4 version of the game will also launch alongside the PS5 version on November 12, and it will seemingly come with a free upgrade option to the PS5 edition should you wish to eventually make that next-gen leap.
We sadly know less information about the PlayStation 4 version of Horizon Forbidden West and Sackboy: A Big Adventure, but the PlayStation team states that those versions of the game will be missing some PS5 exclusive features and upgrades at launch but that both will also feature free next-gen upgrade options whether you decide to purchase the physical or digital editions of the games.
While this update maybe shouldn't necessarily come as too much of a shock given that Microsoft has been pretty aggressive with their plans to ensure that Xbox One owners won't need to immediately upgrade to the Xbox Series X/S just to play the latest exclusives, many did initially suspect that Sony might generationally gatekeep some of their early first-party titles given how important such exclusives have been to the success of the PS4 and the PlayStation brand in general. Now, though, it seems that you may not have to try to get your hands on an elusive first run of PS5 consoles just to enjoy some of Sony's biggest upcoming games.
In any case, policies such as these remain good news for consumers who otherwise will soon find themselves bracing for the arrival of the inevitable $70 AAA game as well as a future that will almost certainly still include aggressive microtransactions and an emphasis on subscription services. Again, though, at least you'll be able to stick with your PS4 for a little longer should you choose to do so.