Sponsored
Why Pirates of the Caribbean: Tides of War Is the Perfect Mobile Game for Halloween
Looking for something frightening to play this Halloween? Drop into the Pirates of the Caribbean: Tides of War mobile game!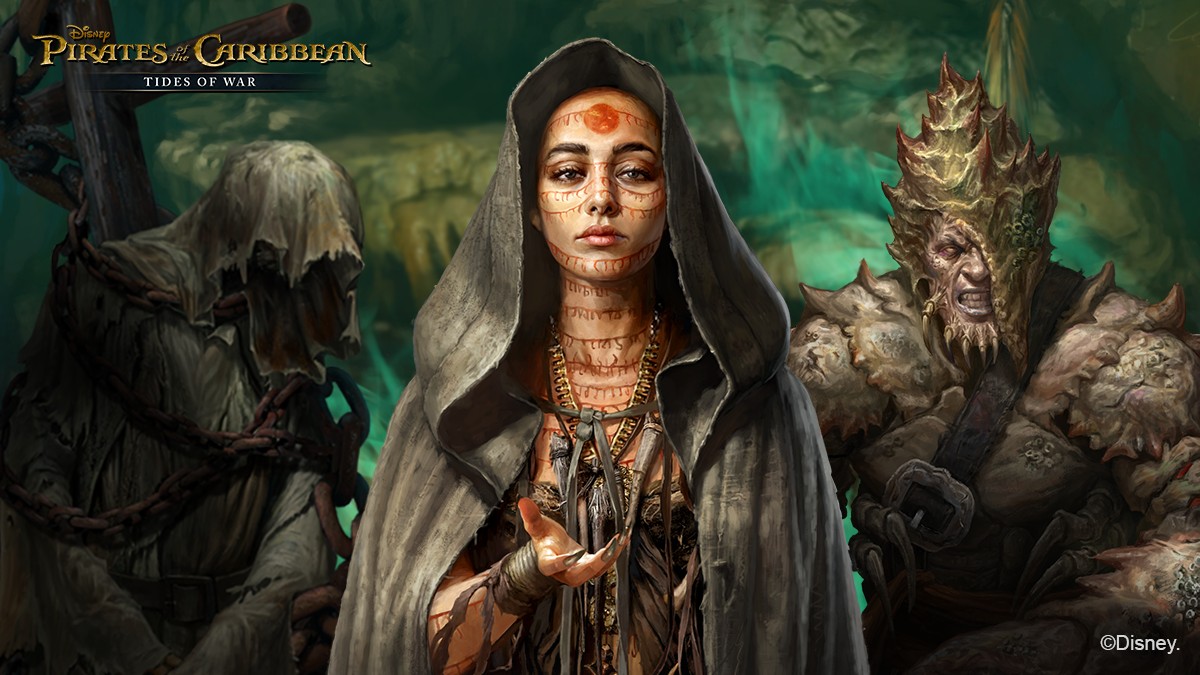 This article is presented by Joycity.
Halloween is one of the best holidays of the year, and spooky season enthusiasts will have to be extra creative to keep the Halloween spirit alive while distancing from family and friends. Luckily, you can dive into the deep, dark waters of Pirates of the Caribbean: Tides of War, Joycity's popular mobile game inspired by Disney's classic movie franchise.
In Pirates of the Caribbean: Tides of War, all of the grotesque villains, monsters, and undead pirates from the movies coalesce into one of the spookiest action-strategy mobile games you can play in celebration of Halloween. The game allows you to build up your headquarters, fortify various defenses and structures, build ships (Davy Jones's ghostly Flying Dutchman), and most importantly, conquer the open seas and fell all manner of terrifying sea creatures raring to rip your fleet to splinters.
My time with the game has been a lot of fun, particularly because the gameplay systems in place are so well-designed and compelling. There's always a building to level up, a new ship to build, a new mission to take on—like the best mobile games, Pirates of the Caribbean: Tides of War can be one heck of a time killer. But what's really compelled me as of late is all of the creepy creatures and enemies you'll find waiting for you during your adventure.
All of the monsters you'll find terrorizing the open seas are fully realized and incredibly detailed. The mutated whale is one of the most intimidating monstrosities you'll encounter, with its open wounds leaving its rib cage exposed, its tentacles and razor-sharp teeth like something out of a nightmare. Mermaids, one of the most common enemies in the game, are revolting—their gaping maws are lined with fangs, and their ghastly gills and fins make them a particularly frightening addition to the game. And don't get me started on the cursed wanderers, who seem to have been lost at sea for so long that they've sprouted lobster claws for hands and sport particularly gross-looking goatees.
Play Pirates of the Caribbean: Tides of War Now
I've been pleasantly surprised at just how fright-forward the art design is. It's nice to interact with all of the protagonists from the films like Captain Jack Sparrow, Elizabeth Swann, Will Turner, and Captain Barbossa, but what drew me in was the fact that the game world surrounding the main characters was so faithful to the darker themes and designs that made the films so compelling. Even the game's menus are creepy, like the smoky, hand-painted backdrops that await you in Shansa's cave.
The most narrative-driven corner of the game, Shansa's cave is something of a story mode that allows you to revisit classic moments, battles, and characters from the films by way of the sea witch delving deep into Jack Sparrow's memories. You'll go head-to-head with Davy Jones and his sea-rotted Flying Dutchman, and even join forces with the slimy scoundrel by adding him and the Dutchman to your fleet. The most recent film in the Pirates of the Caribbean franchise, Dead Men Tell No Tales, is also represented in the campaign, and for my money, Salazar is the most terrifying character in the entire series (his image is featured prominently in the game's menus, and no lie, his pale, crusty face makes my skin crawl every time I see it).
Aside from the game's haunting imagery and overall vibe, what truly makes it such a great game to play leading up to Halloween is its thriving community. I've been a member of my alliance for a while now, and in addition to supporting each other with missions and amassing resources, there's an ongoing chat that allows us to connect in a real-world context. If you're a Halloween enthusiast looking for other people to talk horror movies with or even create a new, Halloween-themed alliance with, I guarantee you you'll be able to find like-minded individuals in Pirates of the Caribbean: Tides of War. Setting sail to hunt down wailing banshees is absolutely better with friends.
Pirates of the Caribbean: Tides of War is a great way to celebrate Halloween this year for no better reason than the fact that, this year, for the very first time, the game is holding a special Halloween event. The game is offering Halloween-themed missions for players to complete in order to earn special Pirate Coins that can be traded in for limited (30-day) Halloween-themed events and Halloween treasure chests. There will also be a special Halloween nametag available for purchase with gems (in-game purchase) and completion of a special event. 
There will be several in-game events and opportunities to earn Pirate Coins as well as a special Halloween-day package, which gives players the opportunity to add the Crimson Dragon to their fleet by collecting blueprints.
Now is a great time to jump into Pirates of the Caribbean: Tides of War, earn some sweet rewards, and spread the Halloween spirit while you're at it!