Sponsored
How Pirates of the Caribbean: Tides of War Became a Great Social Tool for Gamers
Pirates of the Caribbean: Tides of War is more than just a game. It's becoming a great social tool used by gamers to connect with others in the age of social distancing.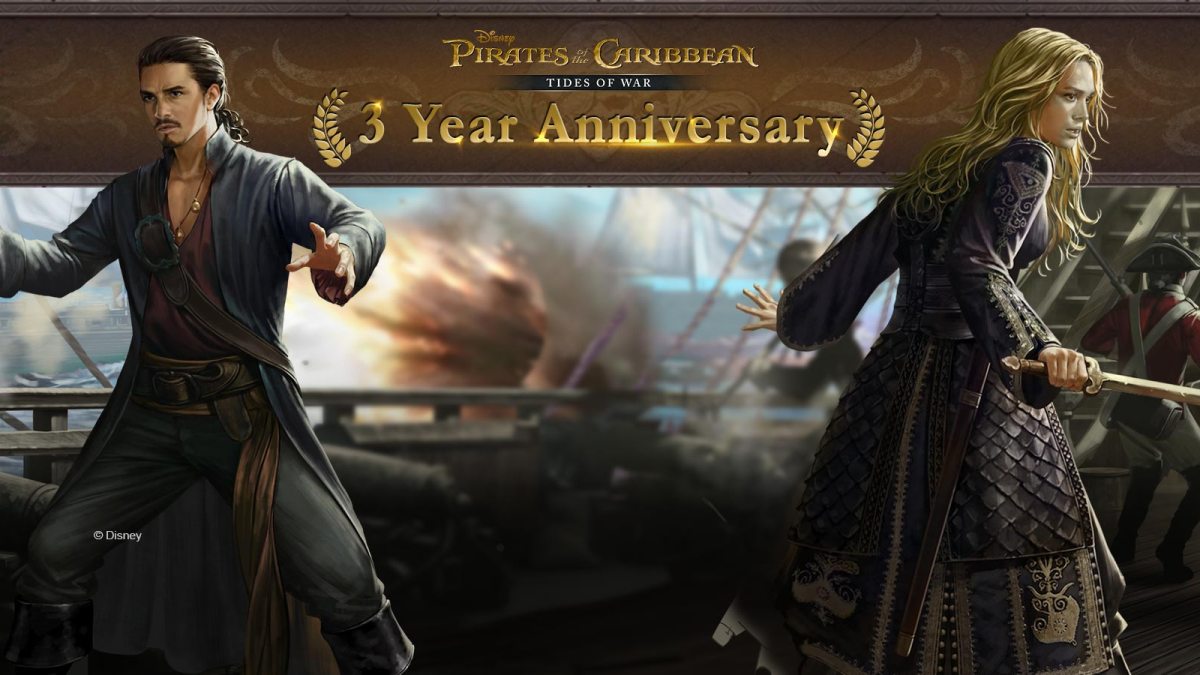 This article is sponsored by Joycity.
Escapism is as important as ever in these trying times, as is making meaningful human connections. Pirates of the Caribbean: Tides of War, which is celebrating its third anniversary, is one of the best ways to escape the real world while making meaningful human connections with players from across the globe.
The game's Alliance system is the beating heart of the experience, giving players a platform to chat with others, share stories, crack jokes, and work together towards the common goal of dominating the high seas amid a roiling cacophony of sea monsters, the dastardly forces of the East India Trading Company, and of course, rival alliances. The game is a wonderful social tool because it's set in the fantastical world of Pirates of the Caribbean, which allows you to meet new people and forge friendships without the weight of real-world events tarnishing the experience. And if you're a big fan of the franchise, you'll also get to play with people who love this universe of treasure-hunting pirates as much as you do!
While working alongside your alliance, you're also tasked with managing your own island, leveling up its structures, building a fleet of ships, hiring pirates, and sending them out to search the sea for treasures and loot. Developing your island takes time and resources, which can be a slow process. Thankfully, you'll receive a constant stream of support from your Alliance—they can band together to help speed up your construction and upgrade times, send you valuable trade rate info on goods, and even send you gift treasure boxes full of resources and oh-so-valuable time speed-ups. And of course, you can support your alliance right back, helping with their base building as well as pitching in resources toward Alliance research.
Download and Start Playing Pirates of the Caribbean: Tides of War for Free Right Now!
Having your Alliance back you up and helping them with their projects is a really fun way to engage with others. But in this unprecedented time of isolation and social distancing, these small, in-game acts of kindness are actually more profound than one might expect. It's nice receiving a steady stream of notifications telling you that your Alliance members are helping you along your journey, and the emotional connections you can make in the game's fictional setting can actually be very, very real.
It's not uncommon for people to form bonds in Pirates of the Caribbean: Tides of War. Last Thanksgiving, the game's Facebook page asked players to share stories about how the game has connected them with others, and the responses were heartening. One player shared in the comments that she met a player whom she had a lot in common with. "It's a small world. We grew up in the same city, went to the same school…our Alliances merged and we became one happy gaming extended family." Another player described how invaluable her fellow Alliance member has been in her life, saying they have "been by my side all these years through all the good, the bad and the ugly…couldn't ask for a better friend to have."
Another player described how the game had provided the escape and second family he needed: "I was searching for a second home, a second family where to refuge from the difficulty of real life. I was lucky to find and be accepted in Asgard Empire. I am lucky to know you all. Love you all."
Like everyone else, my life has gone through a drastic change as a result of sheltering in place, so connecting with other players in a supportive, cooperative way lifted my spirits, too. Pirates of the Caribbean: Tides of War helped me step outside of my bubble, meeting other players while working toward a common goal in the game. And the fact that this is a mobile game made it easy to re-engage with my alliance whenever we needed to band together to conquer a new obstacle or simply wanted to chat.
Of course, the strongest point of connectivity between players is the source material, the long-running Disney franchise starring some of the best pirate characters ever brought to the big screen. Pirates of the Caribbean: Tides of War features many of the movie characters you love to root for and many of the ones you love to hate, too.
While you'll already find many of the series' staples in the game, ready to help you or stop you in your tracks, Pirates of the Caribbean: Tides of War is always adding new characters to the experience. In fact, two of the series' main stars, Orlando Bloom's Will Turner and Keira Knightly's Elizabeth Swann, have recently been made available as tacticians as well, each with unique buffs and abilities that unlock when they're paired: Elizabeth can attack multiple enemies at once, while Will can cripple enemy ships, preventing them from recovering durability.
If you're a fan of the films, it's quite a jolt of nostalgia sending the trio of Will, Elizabeth, and Captain Jack on missions to conquer territories and do battle with the East India Trading Company. Will Turner may be doomed to captain the Flying Dutchman for all eternity in the movies, but in the game, he and Elizabeth are free to captain any ship you want them to. It almost feels like you're directing and taking part in your own sequel starring the franchise's very best couple!
There are other perks that come with playing Pirates of the Caribbean: Tides of War, including some real-life treasure. From May 22 through June 16, the game's developer, Joycity, will be holding its "3+1 Sweepstakes," with three iPads (silver, 128GB) and one pair of AirPod Pros up for grabs. You'll need a free Pirates of the Caribbean: Tides of War account to enter. Then, simply like and share Joycity's giveaway post with your in-game name and server number on Twitter or Facebook and tag or mention two of your friends in the game. The contest is open to individuals in the United States who are of legal age at the time of entry.