News
Can a Pikmin Mobile Game Recreate the Magic of Pokemon Go?
Niantic and Nintendo are working on a mobile game based on the Pikmin franchise, but does it have a chance of becoming the next Pokemon Go?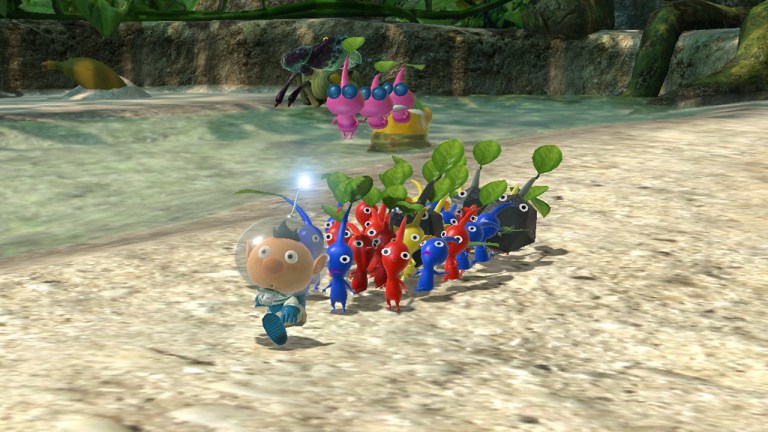 In a somewhat surprising move, Nintendo and Pokemon Go Niantic have revealed that they're teaming up to develop a new mobile AR game based on the Pikmin franchise. That game will formally mark the start of a new partnership between the companies that both sides hope will eventually result in a series of AR games based on famous Nintendo franchises.
"As we continue to expand our games portfolio, it was a natural next step to team up with Nintendo," said Niantic chief executive officer, John Hanke. "We're looking forward to shaping the future of AR together, bringing Nintendo's beloved game characters to life for mobile game players around the world."
Nintendo legend Shigeru Miyamoto expanded on that optimistic outlook by saying that "Niantic's AR technology has made it possible for us to experience the world as if Pikmin are secretly living all around us" and that the game will be "based on the theme of making walking fun."
We don't know much else about the game beyond a vague 2021 release date, but all we really need to know is that this will be a Nintendo-based AR game developed by Niantic: the team responsible for the biggest gaming sensation of 2016, Pokemon Go. While Niantic has tried to recreate the success of that game with projects like Harry Potter: Wizards Unite (which enjoyed mixed success), we know what this company can do when they work with a major Nintendo franchise.
Still, considering that Niantic has tried to recreate the success of Pokemon Go in the past and given that Pokemon Go itself burned brightly for a relatively short amount of time (even if the game remained successful), you've really got to wonder whether or not Niantic will be able to recreate the magic of Pokemon Go and turn this Pikmin game into a bonafide phenomenon.
At a glance, the odds seem stacked against them. Actually, Pikmin's biggest hurdle is the Pikmin franchise itself. While Pikmin is certainly popular among Nintendo fans, the franchise has historically struggled to break into the mainstream. Sales figures (especially for Nintendo games) are often spotty, but most figures suggest that no Pikmin game has sold over two million units so far. By comparison, there are 10 Pokemon games released to date that have sold over 20 million units each.
Even if you look past the popularity of the franchises from a pure sales standpoint, you have to consider how the popularity of Pokemon convinced so many people to give Pokemon Go a shot on the basis of the concept alone. After all, who among the millions of Pokemon fans over the years could resist the call of being able to capture Pokemon in the real world with help from a then very novel piece of mobile gaming technology?
That initial hook and the way it drew so many people in generated momentum for Pokemon Go that propelled the game to absurd heights. While I'd argue that Pikmin's core concept better lends itself to a more substantial mobile game (the idea of collecting Pikmin in the real world and using them to complete AR generated assignments is fairly close to the premise of the games themselves), I don't know if that really matters. Like it or not, Pokemon Go wasn't initially popular because it was a substantial game. It was popular because it offered a compelling novelty. I don't think you can effectively argue that any version of a Pikmin mobile game that offers an experience at least somewhat similar to the original games will ever be able to offer that kind of irresistible gimmick.
Not all hope is lost, though. If a Pikmin mobile game doesn't have the inherent benefits that Pokemon Go enjoyed, it will enjoy at least one significant (if strange) advantage that Pokemon Go didn't necessarily have in 2016: the state of the times it's going to be released during.
While the idea of a game that promotes the joy of walking sounds like one of those strange things that Shigeru Miyamoto says from time to time, that core concept feels like far more than an oddity in this particular situation. . The hope is that by 2021, most of the global quarantine restrictions implemented in response to the COVID-19 pandemic will have been lifted. When that happens, people across the world are likely going to want to spend a lot of time being outside and enjoying the company of others.
I don't know if all of those people are going to suddenly decide to spend their time outside playing a mobile Pikmin game, but I can tell you that the idea of playing what such a game could end up being is significantly more appealing to me at this moment than it would have been even a year ago.
The unique nature of the Pokemon Go phenomenon makes it highly unlikely that any game will be able to recreate that "magic," but Pikmin's mobile game could very much prove to be a worthwhile idea in its own right that may even help bolster Nintendo's largely uninspiring mobile game library. At the very least, it will give Nintendo fans something to look forward to as the release dates for major new Switch games like Breath of the Wild 2, Metroid Prime 4, and yes, Pikmin 4 remain unknown.