Reviews
NBA 2K21 Review: Not Really an Upgrade
NBA 2K21 is as fantastic on the court as ever, but too little has changed to get excited about the latest edition of the franchise.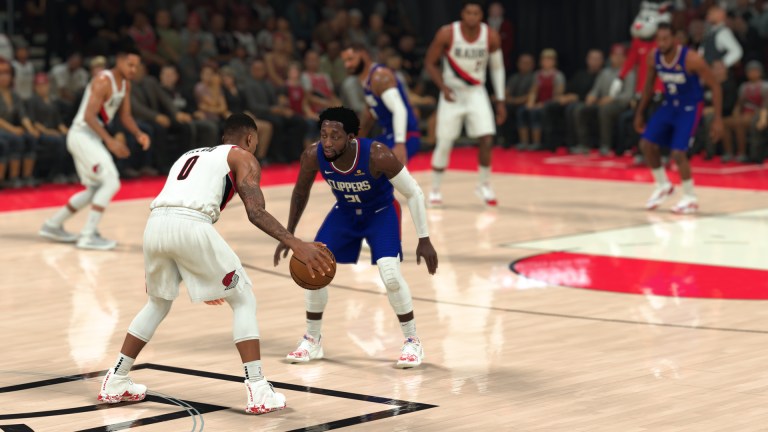 Every game in the decades-old NBA 2K series has hit consoles between September and November in time for the leadup to the next NBA season. Makes sense, right? But what happens when, come early September, the pros are still trying to complete the previous campaign because of, oh, I don't know, a global pandemic that has disrupted just about everything in the world in one way or another? You get NBA 2K21, a game that feels too much like last year's model.
The game actually makes for a great metaphor for the 2019-20 NBA season. The on-court action is as good as ever, both in the league's bubble at Disney's Wide World of Sports in Orlando, Florida and in 2K21. The virtual basketball is just as smooth as the real thing. Quality simulation gameplay has always been the hallmark of the franchise, and that's no different this year.
But that metaphor works two ways because, just like the real thing, NBA 2K21 is stuck in last season. With no NBA Draft to bring in an influx of new, young talent, there are no rookies. Offseason player movement hasn't occurred yet, either. Nobody can accuse NBA 2K21 of being just a roster update from the previous game, because it isn't even that.
The fact that there are no rookies yet created an embarrassing situation when I dipped into MyLeague, the almost completely ignored — from an upgrade standpoint — suite of modes. Playing through MyGM, I guided the Toronto Raptors through a fantastic 2020-21 regular season, having upgraded my lineup with an early-season trade for perennial All-Star Blake Griffin and locking up the best record in the NBA. Upon completion of the 82-game campaign, I looked through some of the awards honorees to find that none of the players on my 68-win team were honored as either All-NBA or All-Defensive selections. Okay, sure, that can happen I guess. Unusual, but not bizarre.
Here's where it gets strange. I had skipped past the Rookie of the Year winner because I didn't have any rookies. Turns out that the other teams didn't have any either. In fact, the options for one of the NBA's more notable postseason awards were so low that the Cleveland Cavaliers' Dylan Windler took home the trophy. Windler, a second-round pick in the 2019 NBA Draft who missed this season due to injury, remained a rookie because he didn't appear in any games, unlike real-life winner Ja Morant or No. 1 overall pick Zion Williamson. What makes Windler such a strange award winner are his season averages: 0.0 points, 0.3 rebounds, 0.0 assists, 0.0 steals, 0.0 blocks.
The MyLeague modes offer no alternative to starting in the 2020-21 season without any new rookies. Well, it does present an option to "Start In Offseason," but it is designated as "NOT AVAILABLE" for some reason. That means you can't opt to do a 2020 NBA Draft to inject new blood with made-up players. For that matter, there's no free agency period before the season starts, and all upcoming free agents are treated as if they signed one-year deals. My Raptors had just one player still under contract after winning the championship: Pascal Siakam. Every other roster spot was open.
I know MyLeague and MyGM get short shrift every year, but NBA 2K21 highlights how much of an afterthought these modes were. I know plenty of people who love the series but haven't bought a new edition in years because so little has changed in these modes. I don't blame them, and I would encourage anyone looking to play these modes in the new game to think twice about buying.
All of the non-gameplay development effort went into new ways to interact with the card-collecting, microtransaction-soliciting MyTeam. And, to be fair, those who are all about MyTeam should be pleased with what's new in NBA 2K21. Dedicated players can chase rewards during new seasons, which seem to last about 40 days or so judging by the initial offering. Those who can earn 150,000 XP before time runs out will be rewarded with a 96-rated Stephen Curry, plus 39 other rewards levels along the way. It's the kind of tangible loot chase that's much more tolerable than relying on RNG to deliver something useful from packs purchased with in-game MyTeam currency or Virtual Currency (VC).
VC deserves it's own paragraph, although it might be more apropos to talk about VC in every paragraph owing to its invasive presence in most modes of play in NBA 2K21. This is not a new complaint about the series, which has never settled for the cash flow that comes from being one of the perennial top sellers in console gaming in terms of units sold. Whether upgrading your MyCareer player or looking to buy a MyTeam pack, VC is in your face.
I accept microtransactions in the card-collecting modes that take center stage in NBA 2K21 and other sports games. It's not my thing, but I won't knock the hustle. By when every time I look to add a few attributes to my MyPlayer feels like a transaction, it sucks me out of what should be a fun experience.
At least the actual basketball is still so sharp that NBA 2K21 isn't a total bust. Pro Stick modifications have opened up the array of dribbling moves, making for smoother movement around defenders. Sometimes, changes like this don't register with me as a big deal, but this one is a solid win for us all.
But that change hasn't received as much attention as the addition of a targeting system for shooting as an option. After holding the Pro Stick down, you'll enter your shooting motion, but the new mechanic doesn't require timing. Now, it's dependent on aligning the stick itself with the center of the bar, or as close to it as possible. For me, the learning curve has been steep, but I do like the idea of it. It's a great option to include in case it resonates with players, but its success will be determined in how many people care to use it. Timing shots can still be performed with button presses instead of the stick, or by turning the shot meter off altogether in order to use the Pro Stick instead. Personally, I've had too many airballs on yellow-meter shots with the targeting system to stick with it. Back to timing shots I go.
That's the big stuff new to NBA 2K21. There's also 2K Beach, the new version of Neighborhood that's about the same as the old one with a different aesthetic. MyCareer's pre-NBA narrative, called The Long Shadow, was par for the course, although I'm always happy to see Michael K. Williams (The Wire) and Djimon Hounsou (Blood Diamond) in supporting roles. And now we have the option of creating "oversized" 6-foot-8 point guards, thanks to a request from cover athlete Damian Lillard. Sorry if you wanted to make a Magic Johnson-like 6-9 floor general, or match Philadelphia 76ers PG Ben Simmons' 6-10 frame, because 6-8 is tall enough, evidently. Go figure.
Ultimately, as terrific as the action is on the court, it's hard for me to give NBA 2K21 a strong recommendation. That's especially true if you own 2K20. Or at least wait until the 2020-21 NBA season begins, when rookies are in the mix. It'll be cheaper then, anyway.