Sponsored
Why MSI Gaming Laptops Are Perfect for Any Kind of Gamer
MSI's GE, GS, GL, and GF series laptops all offer serious bang for your buck. Here's why you should consider making your next gaming laptop an MSI laptop.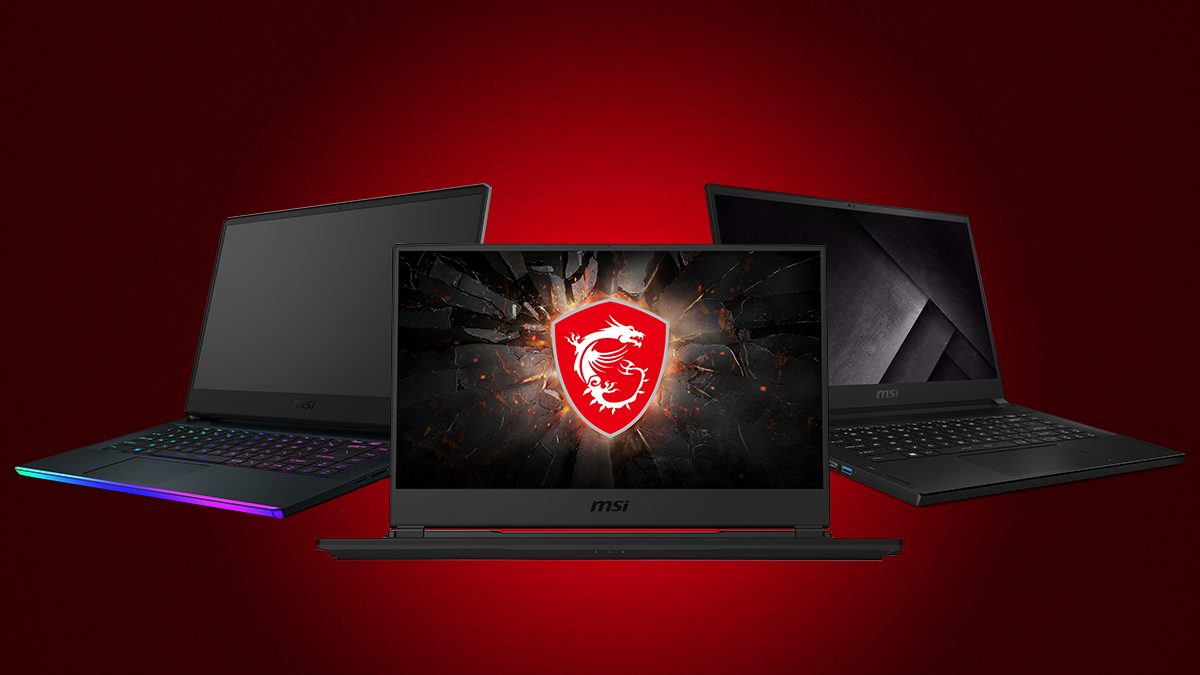 This article is presented by MSI.
Let's face it: gaming laptops can be pricey, which is why it's good to do your research before buying one. It's important to take stock of the specs you'll need to play the latest games as well as the components that make those specs possible.
Almost as important as the specs is the company you're buying the laptop from. As far as that goes, it's easy to recommend MSI. The firm has been in the computer business for over 30 years, making it one of the most trusted gaming laptop manufacturers in the world.
One of the best things about MSI is the myriad choices they offer to gamers looking to buy a new portable. But with several laptops across four different series — GE, GS, GL, and GF — picking the right one for you might seem daunting. So let's break down what you need to know, starting with what specs and components you need to look for in 2020 before jumping into what each MSI series has to offer.
Picking the Best Components
I'm going to break this down into four sections: CPU, RAM, GPU, and screen. Yes, other components are important, but these are the ones that'll impact your gaming the most, and if you're weighing up cost against performance, these are the key areas you're going to want to concentrate on.
CPU
Intel processors come in four flavors: Core i3, Core i5, Core i7, and Core i9. All you really need to know is that the higher the number on the end, the better the performance – provided you're comparing chips from the same generation. Given MSI's new gaming laptops all use the latest and greatest 10th-generation CPUs, that's a moot point, so we don't need to get into the nitty-gritty here.
You can also discount the Core i3 chip, which is a budget processor not really suited for gaming. Thankfully, MSI agrees – none of their models cut corners by packing an i3. All of MSI's latest laptops provide the CPU power you need to get gaming.
With that in mind, the i5 is very much the entry-level chip and more than powerful enough for most games, but may prove a bottleneck as the years go by. The i9, by contrast, is top of the line if you're interested in future-proofing your laptop – and it has a cost to match. For us, the happy medium is the i7 chip: enough processing power to run the latest games smoothly without breaking the bank.
RAM
RAM is also vital to gaming performance. This is where your computer stores data for quick access, and as games get more demanding, more is better.
While most games list 4GB of RAM as the minimum requirement for a good gaming experience, MSI sensibly starts its range at 8GB, going all the way up to 32GB for its top-of-the-range models. For almost all gamers, 16GB is fine and probably will be in the immediate future. Upping to 32GB will help some games – demanding flight sim Digital Combat Simulator World recommends it for more complex missions – but it's far from essential in 2020.
But, hey: a bit of future-proofing is always nice.
Graphics
If you want to splurge on any single component, this is the place to do it. Your graphics chip – or GPU – has the most say over what resolution you can play with and how high you can push that detail.
MSI's laptops come with NVIDIA GTX or RTX chips, but we'd highly recommend the latter. Not only are RTX 20-series GPUs faster but they also support ray tracing, which renders lighting effects like shadows and reflections in real time for unprecedented realism in supported games. To put it simply, ray tracing is the latest innovation in gaming graphics and you should seriously consider buying a laptop with a GPU designed to deliver those advanced graphics.
It's not that GTX GPUs are slow, and they'll be more than enough for most titles in the short to medium term. But if you want to push triple-figure frame rates, then you'll want an RTX card. If your budget doesn't stretch that far, then at least opt for a GTX 1660-series card over a 1650 one. The difference between the two is sizable.
Each NVIDIA card comes in two or three classes: regular, Super, and Ti. Ti is the fastest, followed by Super, with the vanilla card in last. Just be aware that a regular chip will beat the Ti version of the generation before it – in other words a 1660 is still better than a 1650 Ti.
Screen Specs
The most important thing to keep in mind with laptop screens is the refresh rate, measured in Hertz (Hz), and response time measured in milliseconds (ms). The former is how often the image on a screen can be redrawn in a second, while the latter is how quickly a display's pixels can switch from being active to inactive.
Or to put it another way, refresh rate puts a cap on the number of frames per second you can game at, while a lower response time prevents image ghosting. Most of MSI's 2020 gaming laptops come with reassuringly low response times of 3ms, while the refresh rate is 120Hz – meaning you can comfortably hit the standard of 120 fps. The higher-spec laptops can go as high as 300Hz, which means you can theoretically hit a buttery smooth 300fps in games – although this, of course, depends on the power of your other internals.
Resolution is also a factor, but all of MSI's laptops have FHD screens rather than pushing 2K or even 4K. This is sensible from a performance point of view: not only is 1080p gaming smoother, it's also less of a drain on battery life.
Meet MSI's Gaming Laptops
Starting at $799, you'll be pleased to hear that MSI's 2020 gaming laptops more than deliver when it comes to the above specs and components. Every laptop comes with at least an Intel Core i5 CPU, 8GB RAM, and a 120Hz screen to give you the best gaming experience possible.
But with four different series to choose from, it can get a little confusing to know which laptop is right for you. So what's the difference between the GS, GL, GE and GF series? Well according to this chart, courtesy of MSI, you can divide them like this:
So, MSI's GS and GF laptops are designed with portability in mind, while GE and GL machines are prepped for performance? That's a useful broad categorization but it doesn't quite do these laptops justice, given the GS66 10SGS-031 comes with an Intel Core i9 processor and top-of-the-line RTX 2080 Super GPU on board!
MSI's gaming laptops are quite stylish, forgoing the over-the-top design that some gaming brands favor for something understated but modern that can blend in at both LAN parties and in class.
The GS line is the real standout here: a deserving winner of 2020 design awards from both iF and Red Dot, its thin frame exudes quality in sandblasted black, with a laser-etched MSI logo on the back.
If you want to make more of a statement, then the RGB-lit GF line might be up your alley. An iF Design Award winner last year, its brushed aluminum stylings certainly catch the eye, and its 0.1-inch bezels won't distract you from the game, either. At just 0.8 inches thick when closed, and tipping the scales at just 4.1 pounds, it's clearly designed to be at your side wherever you need it.
These 0.1-inch bezels are adopted by both the weightier GL and GE designs too – and the latter is the one to go for if you want to turn heads. The Dragon Armor carving on the base gives it a whole lot of personality, while the RGB lighting strip along the front can turn to any of 16.7 million colors to match your game or mood.
As there's some crossover in terms of design and components, it's probably best to assess the laptops by their relative price points. Here's a quick breakdown of what you can expect from each series as well as our picks for each category:
Entry Level
$799 to $1200
At this price point, you're almost exclusively looking at the GF series, but it's still no slouch. The $799 GF75 10SCXR-003 comes with a 10th-generation i5 processor, 8GB RAM, and a GTX 1650 GPU – more than enough to run games like Fortnite at 1080p with graphics quality set to "high."
But spend a little more and things improve dramatically. If you can reach $1199, your frame rates will thank you: both the GF75 10SCXR-055 and GL65 10SDR-221 feature Core i7 processors, double the RAM, and the GTX series' top-of-the-line 1660 Ti GPU, which will make mincemeat of today's top titles.
Standard Level
$1200 to $1500
If you've got this kind of money to burn, things open up considerably: a Core i7 processor and 16GB RAM is a given, and you can begin to consider the super-powerful RTX ray tracing Nvidia GPUs. These machines are all unambiguously VR ready, too – happy days!
The cheapest machines with RTX graphics start at $1399. There's the GF75 10SER-257, which comes with a Core i7 processor, 16GB RAM, a ray tracing RTX 2060 GPU, a 1TB NVMe SSD, and a massive 17.3" screen.
But the pick of the bunch is the GL65 10SFK-062 for $1399. This laptop packs a RTX 2070 GPU for that extra graphical performance where it really counts as well as a 15.6" screen for a bit more portability.
Enthusiast Level
$1500+

If you have over $1500 to spend, then you can really let loose. MSI laptops at this price point offer serious power, and you should expect to push high FPS in even the most demanding games. Most of these laptops also offer screens of 240Hz and over as well!
Almost without exception, at the enthusiast level, you're getting at least RTX 2070-level graphics. For example, the $1799 GS66 10SF-005 comes with a Core i7 CPU, a RTX 2070 GPU, and 15.6" 240Hz screen.
And if you break the $2000 barrier things get really powerful. The $2199 GE66 10SFS-048 takes the foundations of the GS66 and packs a 32GB RAM and a RTX 2070 Super GPU.
If money is no object, and you want to make everyone extremely jealous, then both the GS66 10SGS-031 and GE66 10SGS-057 are simply as good as gaming laptops get at $2999. Both come with a 10th-generation Intel Core i9 processor, 32GB RAM, an RTX 2080 Super GPU, 1TB of fast NVMe storage, and a 300Hz display. This kind of setup will tackle any game you throw at it with ease, even if you turn things up to Ultra detail and add in ray tracing.

To be clear, all of the laptops highlighted above will play the latest games in some form, but with gaming laptops, there's a cast-iron rule: the more you spend, the better the performance.

So always shoot for your maximum budget. If not for the immediate framerate gains, think about how long you want your laptop to last for – and more importantly, the jealous looks from your friends as you comfortably hit triple-figure framerates on all the latest ray traced games.
You can learn more about MSI's complete range of laptops here.