News
Marvel's Avengers Roadmap Shows How Bad Spider-Man's PlayStation Exclusivity Really Is
Marvel's Avengers upcoming content roadmap is clearly dependent on the game's controversial PlayStation exclusive Spider-Man DLC.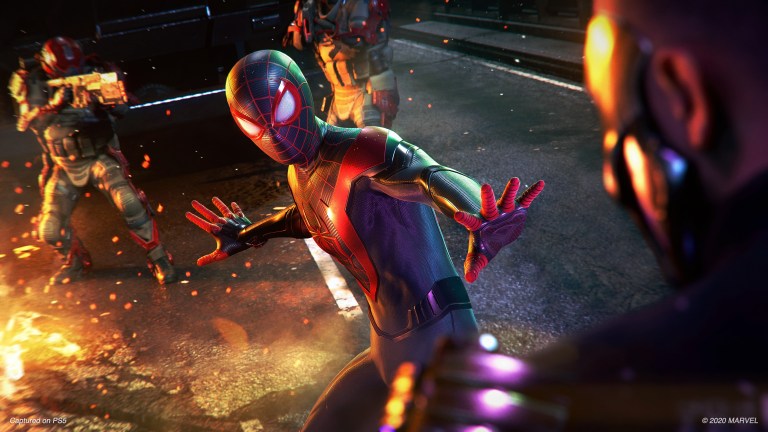 The Marvel's Avengers team has revealed the game's upcoming content roadmap, and the relatively thin release schedule really goes to show just how dependent the game's immediate future is on its controversial PlayStation exclusive Spider-Man DLC.
The big stars of Marvel's Avengers' upcoming content release schedule (which you can find below) are the game's first raid and the long-awaited addition of Spider-Man to the online action game's roster of playable Marvel heroes. Otherwise, it seems that the biggest things that Marvel's Avengers fans have to look forward to until 2022 are some recycled events, a power level cap increase, "earnable cosmetics," and something called the "Hawkeye Nameplate Challenge" that is already inspiring memes by virtue of how sad it sounds.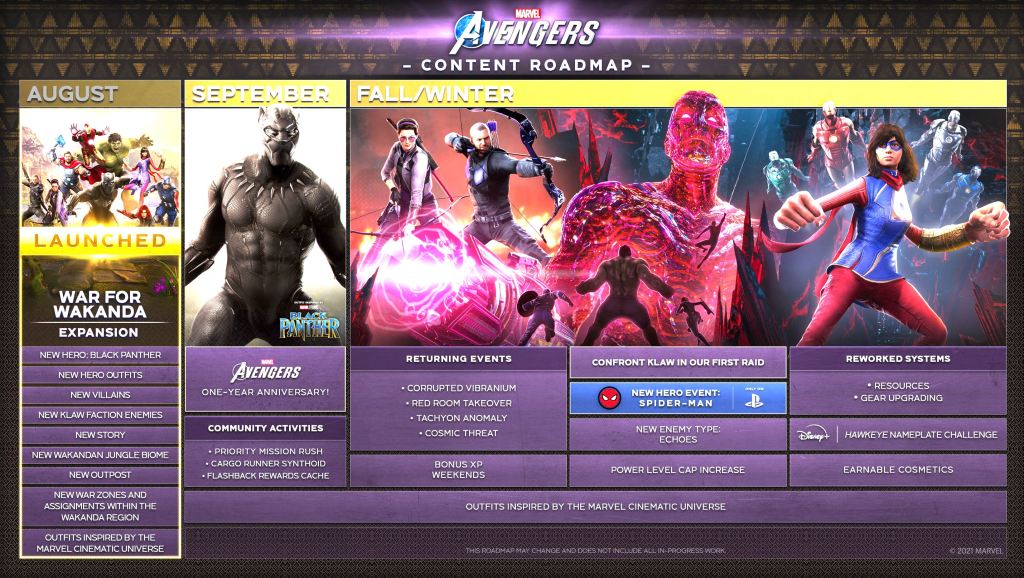 While that new raid is certainly a welcome addition to the game (and has the potential to be a lot of fun), the biggest problem with it and pretty much every other piece of DLC on this roadmap is that nobody really knows when it will be released, how much content it will actually offer, and how it will interact with the vague promises of changes and improvements this roadmap (and corresponding blog) hints at but fails to expand upon in meaningful ways.
What about Spider-Man, though? Well, it's certainly nice that one of Marvel's biggest stars is joining the game, but as we learned last year, Spider-Man will only be available to PlayStation owners. Crystal Dynamics head Scot Amos previously said that the character's platform exclusivity is the result of "the relationship Sony and PlayStation have with Marvel," which most people immediately took to mean "Sony prevented Spider-Man from appearing on other platforms."
Spider-Man's PlayStation exclusivity has always been a point of contention among those who aren't even being offered the opportunity to pay to play as him while PlayStation owners will get the character for free. Not only does that mean that Xbox and PC gamers can't play as one of the most beloved superheroes in the world, but it raises serious questions about whether or not players on two out of the three platforms that support this game will ever get anything close to the full experience. It certainly doesn't help that Square Enix and Crystal Dynamics haven't even hinted at any plans to make Spider-Man available to Xbox and PC gamers anytime in the near future.
This DLC roadmap really highlights just how rough that exclusivity is for everyone who can't take advantage of it. Even with the Spider-Man DLC, this upcoming roadmap looks a little thin and is currently dependent on release dates and details that haven't been revealed yet. Without it…well, it's fair to say Marvel's Avengers fans are struggling to find enough to look forward to.
That last tweet is certainly the biggest talking point at the moment. Despite recent successes (such as the generally well-received Black Panther DLC), Marvel's Avengers is still trying to climb out of the smoking crater caused by its disappointing launch. While everyone knew it was going to take time to get there (and that the Covid-19 pandemic almost certainly impacted the team's ideal 2021 release schedule), those who have stuck with this game until this point are now facing the full impact of the decision to gate one of the game's only significant upcoming pieces of content behind a platform.
That decision was always going to be disappointing to those who couldn't download Spider-Man (at least right away), but when that exclusive release is now being treated as one of the game's only major content selling points until sometime next year…well there's a reason we've compared Avengers to Anthem in the past.
Of course, it's very much worth reiterating that there's no guarantee that even PlayStation owners are safely able to look forward to playing the Spider-Man DLC in 2021 as none of this upcoming content has a release date beyond vague seasonal windows. At the very least, we already know that Marvel's Avengers will not be featured during the upcoming PlayStation showcase.
There was a time when the idea of Spider-Man as PlayStation exclusive DLC was an annoyance in what many people hoped would be an otherwise promising future for a Marvel game with a lot of potential. Now, though, the Spider-Man situation is a painful reminder that Marvel's Avengers road to recovery is a long one that only gets longer with every consumer-unfriendly decision made along the way.