News
Marvel's Avengers: Hawkeye Confirmed as DLC Hero, Beta Dates Revealed
Hawkeye joins the Marvel's Avengers roster as one of the game's first DLC characters.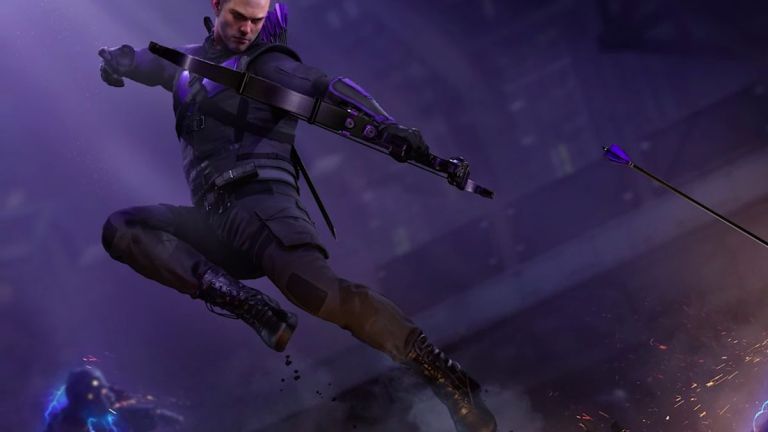 The Marvel's Avengers team has revealed that Hawkeye will be added to the game as a post-launch DLC character.
Based on what we learned during the latest Avengers livestream, and the recently released Hawkeye trailer, it seems that the Marvel's Avengers version of Hawkeye will be relatively familiar to anyone who has enjoyed (or, let's be honest, not enjoyed) the character over the years. He comes equipped with his trademark bow and various arrows that will allow him to effectively deal with different kinds of enemies.
What's especially interesting is how Hawkeye will be implemented in the game. Once you've downloaded Hawkeye, you'll be able to enjoy a series of exclusive campaign missions related to the character which will apparently be playable in either solo or co-op modes. That's quite surprising to hear considering that it was previously indicated that the base game's campaign missions will only be accessible as single-player experiences. That leaves the door open for more co-op campaign-style missions to be added in the future.
Eagle-eyed fans also noticed that the logo used to reveal Hakweye's addition to the game as a DLC character occupied one of four similar logo spots. That would seem to suggest that the Marvel Avengers' team currently intends to add at least four characters to the game as part of the initial DLC wave.
Hawkeye's logo even occupied the second of the four available icon spots which some have taken to mean that he may not even be the first character added to the game as DLC. However, that's purely speculation at this time as Square Enix has not confirmed the release date for Hawkeye or any other future DLC characters.
If you want a (cinematic) look at Hawekeye in action, then this is the trailer for you:
Speaking of release dates, Square Enix confirmed that Marvel's Avengers beta will run throughout August. The beta will feature the Golden Gate bridge prologue sequence that we've seen in some of the game's early demos. After that is completed, you'll have access to two additional single-player missions (one of which features a boss fight with Abomination).
Along with the aforementioned solo content, you'll also have the option to play as Iron Man, Hulk, Black Widow, and Ms. Marvel as part of co-op missions that can be played with friends or alone with an AI companion. Co-op content includes HARM Rooms, Warzones, and Dropzones, which will all offer between 15 minutes to two hours of gameplay based on the content you choose and the skill level of the participants.
For a better look at what's included in the Marvel's Avengers beta be sure to check out this deep dive footage:
The Marvel's Avengers' beta will be available to those who pre-ordered the game on PlayStation 4 from August 7-9. Following that, another beta will be made available to all PlayStation 4 players, as well as those who pre-ordered the game on Xbox and PC, from August 14-16. Finally, an open beta for all players across all platforms will run from August 21-23. Anyone who finishes the beta will earn a Hulk Smashers pickaxe in the PlayStation 4 and Xbox One versions of Fortnite.