News
Hawkeye TV Series: Everything You Need to Know
Marvel is developing a Hawkeye TV series with Jeremy Renner for Disney+. Here's everything you need to know.
The onslaught of Marvel streaming TV shows continues, and Hawkeye will be one of the plethora of secondary characters getting their chance to shine on the small screen. Variety first broke the news that the series will deal with Clint Barton passing the mantle of Hawkeye on to Kate Bishop, familiar to fans of Marvel's various Young Avengers series. Hawkeye will join other Marvel series on Disney+ including Falcon and The Winter Soldier, WandaVision, and Loki.
Now Hawkeye has gotten a showrunner tasked with telling Clint and Kate's story. According to The Hollywood Reporter, Disney+ has chosen Jonathan Igla as writer, executive producer, and de facto showrunner on Hawkeye. Igla previously served as a writer and story editor on Mad Men. He doesn't have a lot of superhero work on his C.V., but then again neither did a lot of the MCU's storytellers when they signed on. 
Watch everything Marvel and more with a FREE Disney+ TRIAL, right here!
Here is everything else we know about Hawkeye.
Hawkeye TV Show Release Date
Marvel announced during their SDCC 2019 appearance that Hawkeye will arrive in Fall of 2021. The full Marvel TV Release Schedule can be found here.
Hawkeye TV Show Cast
Jeremy Renner will presumably be back to star as the title character. But way more importantly and excitingly, it looks like Hailee Steinfeld may play Kate Bishop!
Hawkeye hasn't exactly had the easiest time of it in the MCU. Having been little more than a supporting player in the first two Avengers movies, he was absent entirely from Avengers: Infinity War. It was only Avengers: Endgame that revealed that he had not only survived Thanos' snap, but had forged himself a brand new identity (with a slick costume) as Ronin. And then he lost his best friend. So yeah, Clint will be in an interesting state whenever we catch up with him on this show.
Hawkeye TV Show Story
The story will focus on Clint Barton training Kate Bishop to be the new Hawkeye. Why would anyone think that Hawkeye could sustain his own series, I hear you say? I'm glad you asked!

Because Matt Fraction, David Aja, and Javier Pulido's Hawkeye comic book series was nothing less than a masterpiece. It primarily dealt with Clint Barton on his "off days" from the Avengers, and depicted him as a hard luck, constantly beaten up, half awake, often unlucky guy (I feel this) helping keep his neighborhood safe, getting swept into side missions, and getting made fun of by Kate Bishop. If you haven't read it, fix that.
No word yet on whether Pizza Dog, his equally hard luck and super adorable mutt, will make an appearance. He had better. No Pizza Dog, no peace.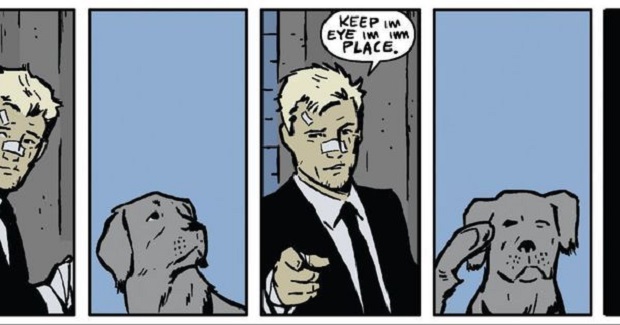 Mike Cecchini is the Editor in Chief of Den of Geek. You can read more of his work here. Follow him on Twitter @wayoutstuff.