News
Is Marvel's Avengers Cross-Platform?
Will you be able to play Marvel's Avengers with your friends regardless of what platform you're playing on? Here's what you need to know about the game's cross-platform support.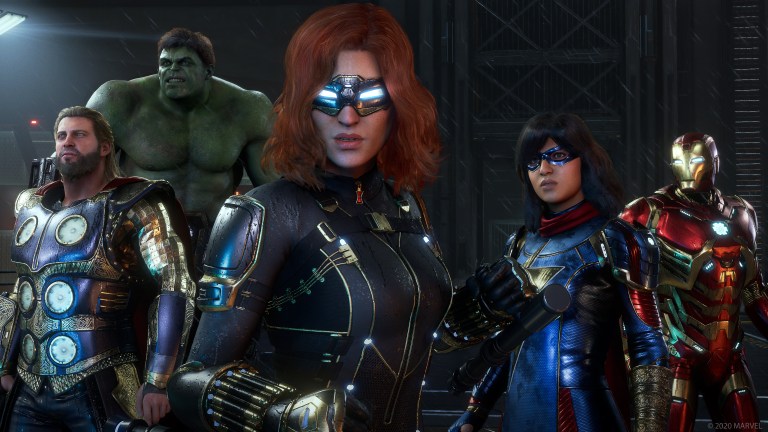 Marvel's Avengers, the new action-adventure game that pits Earth's Mightiest Heroes against an evil tech corporation that has replaced superheroes, is shaping up to be one of the biggest releases of the fall. Developed by Crystal Dynamics, in collaboration with Eidos Montreal, the game lets you take control of a number of Marvel's greatest heroes to take down MODOK and Advanced Idea Mechanics in both a single-player campaign as well as a multiplayer mode featuring four-player cooperative play. That means you and three of your friends can team up to complete more than 80 multiplayer missions as any combination of Iron Man, Thor, Black Widow, Ms. Marvel, Captain America, and Hulk, with more heroes to be added post-launch.
The game is currently available on Xbox One, PlayStation 4, Google Stadia, and PC, and next-gen ports for the PlayStation 5 and Xbox Series X are also set to release this holiday. Best of all, Marvel's Avengers will support cross-generation play, meaning that if you get a next-gen Xbox or PlayStation you'll still be able to play the game with your friends even if they haven't upgraded yet. That said, XSX will only be cross-generational with XBO and PS5 with PS4. You won't, for example, be able to play the XSX version of the game with someone who has a PS4 or PS5, and vice versa.
This has left some players wondering whether the game will support cross-platform play between Xbox, PlayStation, Stadia, and PC at all. In other words, will you be able to play Marvel's Avengers with your friends regardless of what platform they're on? Publisher Square Enix says no in an official blog post. If you want to play with a specific group of friends when the game releases on Friday, you'll all need to buy Marvel's Avengers on the same platform.
The decision is both surprising but also expected. While many popular online games such as Fortnite, PUBG, and Call of Duty Warzone support cross-play today, most of them didn't start out that way. In fact, Apex Legends has been out for over a year and is only just preparing to roll out cross-play support in the coming weeks. So it's very possible that, while Marvel's Avengers doesn't support cross-platform play right now, it could at some point in the future.
Now, if you have more than one platform and are trying to figure out which version of the game to buy, I'd recommend the PS4 edition since it's the only one that's getting Spider-Man as a playable DLC character, a major exclusive for PlayStation to be sure. Square Enix told us in an interview that there are no plans to bring Spidey to any other platform in the future, so you should really get the game on PS4 just to be safe — unless all of your friends are on another platform or you just don't care about the webslinger.
As far as quality of the game itself goes, we've found the opening hours of Marvel's Avengers to be surprisingly strong, especially after the beta left us a bit worried about the experience. We'll have way more thoughts on the game in our review next week.