Reviews
This iiyama G-Master Monitor Will Satisfy Your Gaming Needs
A big, high-contrast gaming monitor for a good price. It's not responsive enough for fast-paced esports, but it's a great all-rounder.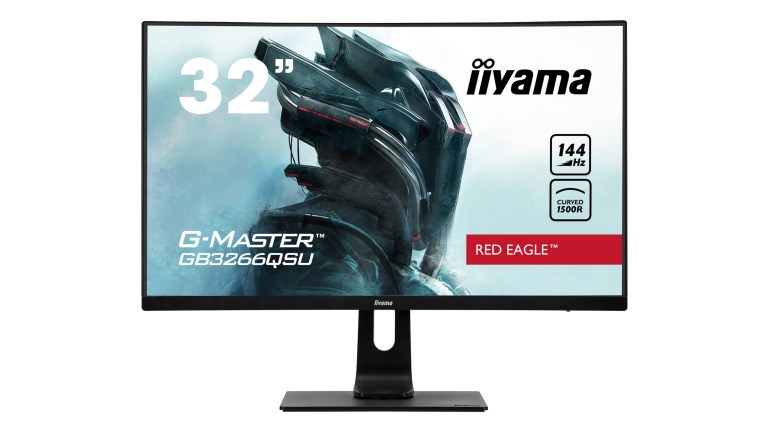 This review comes courtesy of:

Subscribe to the magazine here.
The iiyama G-Master GB3266QSU monitor (£366) combines a large 32-inch screen with a 2,560 x 1,440 resolution and a high-contrast VA panel. The end result should be ideal for up-close gaming and desktop use, as well as sitting back and enjoying fantastic-looking video and games.
When it comes to styling, though, the all-black plastic construction tips towards mundane and utilitarian rather than minimalist sleekness. That said, the curve of its impressively slim panel does give it a certain elegance. That curve also helps ensure you get an optimal viewing angle, even for the edges of the screen, which is a legitimate concern for a panel this size.
While it may not have a flashy design, this display houses an impressive feature set. The stand offers height, pivot, rotation, and tilt adjustment, while around the back are four video inputs, consisting of two DisplayPort and two HDMI inputs (one is limited to 75Hz at the screen's full resolution). Four is the magic number for USB ports too, with two USB 3 and two USB 2 sockets. Add a headphone jack and two 5W speakers that sound better than the typical 2-3W speakers and you're left wanting for little.
Meanwhile, the 32in screen and 2,560 x 1,440 resolution make for a modest pixel density of 91ppi. As such, up close it's not the sharpest display, and text can look a little rough, but it's great for gaming and watching video.
Out-of-the-box image quality is good too, with no obvious color imbalance or a sense of a washed-out or overly dark image. In most regards, the display impressed in our tests, hitting a perfect gamma score of 2.2 and decent delta E color accuracy.
Its contrast of 3,505:1 is decent for a VA panel and comfortably outclasses IPS and TN panels, while its maximum brightness of 427 nits impresses. However, the default color temperature was just 5,971K, which is a fair way away from the ideal of 6500K. Also, the display hits 206 nits even at minimum brightness, which is a touch too bright in very dark environments.
Manually adjusting the color balance only helped us to improve the colour temperature to 6,159K, and a full software calibration was required to pull it back into line. However, once calibrated there was only a slight difference in color to the naked eye, so we feel comfortable saying that the GB3266QSU's out-of-the-box state is good enough for most people's needs.
The uniformity of the panel is middling, with an average brightness variance of 5.83 percent and a spot in the bottom right corner dropping by 20 percent. That's not a major problem for casual use but not ideal for image editing.
In gaming tests, the iiyama displayed the typical long ghosting trails of VA panels, making it not ideal for fast-paced competitive gaming. However, its 144Hz refresh rate means you still get smooth motion, and its backlight strobing blur reduction at least helps to sharpen the image in fast motion.
VERDICT
With its big, bold, high-contrast image and solid 144Hz gaming performance, the iiyama GB3266QSU is a great option for those seeking a large screen but don't want to stretch to a 4K resolution. It also has a solid selection of features for a decent price. Its responsiveness will hold back esports fanatics, but it's otherwise a good all-rounder.
PROS

+ Large screen for modest price

+ High contrast and good default image quality

+ Solid gaming performance

CONS

– Chunky pixel density

– Sluggish response time
SPECS
Screen size
32in
Resolution
2,560 x 1,440
Panel technology
VA
Max refresh rate
144Hz
Response time
1ms
Max brightness
400cd/m²
Backlight zones
1
Stated contrast ratio
3,000:1
Adaptive sync
FreeSync and G-Sync
Display inputs
2 x DisplayPort, 2 x HDMI
Audio
2 x 5W speakers, headphone out
Stand adjustment
Height, pivot, rotation, tilt
Extras
100 x 100mm VESA mount, 4-port USB hub (2 x USB 3 up to 900mA, 2 x USB 2 up to 500mA)