Reviews
HP Omen 17 Laptop Review: A Gaming Powerhouse
Large, fast, and well featured for the money, the HP Omen 17 is excellent if you don't mind having a large machine.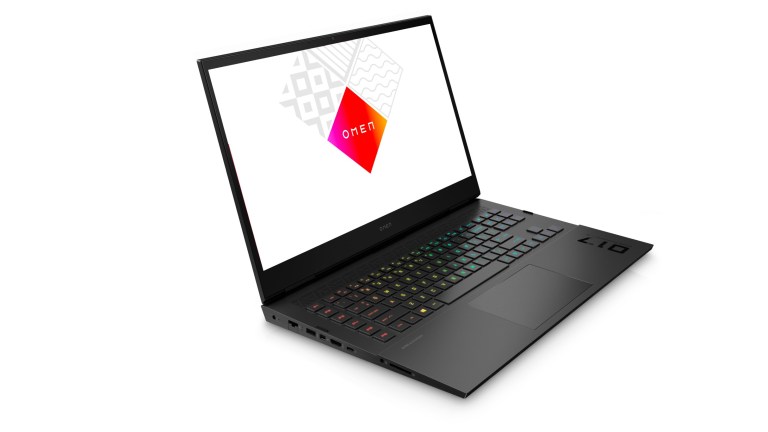 This review comes courtesy of:

Subscribe to the magazine here.
Most laptop companies concentrate on 15.6in and 16in screens these days, but HP's new Omen 17 ( $1,850/£1,499) shows that there's still plenty to like about larger devices. Its 17.3in screen is immediately immersive, and the 2,560 x 1,440 resolution gives you more pixels than conventional 1080p panels. Combine the resolution with the 165Hz refresh rate and 3ms response time, and you've got a screen that's well suited to gaming, despite the lack of adaptive sync.
Quality levels impress too. The brightness level of 375cd/m² and black point of 0.31cd/m² are ample, and the contrast ratio of 1,210:1 provides good depth and vibrancy. The delta E of 1.83 and color temperature of 6,424K ensure accurate colors, and the panel rendered 94.1 percent of the sRGB gamut, so it can produce virtually every tone required by games. The speakers are reasonable as well – the bass is weak, but they're loud, and a strong mid-range means games sound punchy. 
HP's large screen sits above high-end internals. The GeForce RTX 3070 GPU has 5,120 stream processors and 8GB of memory, and by default it has a generous 130W power limit that improves by 10W with the laptop's Performance mode engaged. Meanwhile, Intel's 8-core i7-11800H is a reliable CPU, and there's 16GB of DDR4 memory running at 3200MHz. You get decent storage too, with a 1TB Samsung PM9A1 SSD offering rapid read and write speeds of 7,046MB/sec and 5,140MB/sec, and there's dual-band 802.11ax Wi-Fi as well.
The Omen looks like a serious bit of kit, with a matte black finish used across the aluminium base and plastic lid. This sizable machine has good external connection options too, with one Thunderbolt 4 connector that supports DisplayPort and charging, alongside three Type-A USB ports. It also has Gigabit Ethernet, mini-DisplayPort, and HDMI 2.1, plus an SD card slot. Users can also remove the base panel to access pairs of SODIMM and M.2 sockets. 
That's all good, but the HP's design isn't flawless. Its webcam doesn't have a privacy shutter and doesn't support Windows Hello, so this device has no biometric sign-in options. Build quality is mostly good thanks to the aluminium base, but the display flexes a little too much. Not surprisingly, this isn't a slim or light machine either – it weighs a hefty 6.12 pounds, it's 27mm thick, and it's nearly 400mm wide. 
Meanwhile, the keyboard has impressive typing action thanks to fast, consistent buttons with plenty of travel – they're good for gaming and not far removed from low-profile, mechanical switches that you'll find on pricier portables. The keyboard has six macro keys, a button to open HP's Omen Gaming Hub, and full-sized cursor keys. 
Disappointingly, the HP has no numberpad, its RGB LED lighting only extends to four zones, and the Power button sits on the keyboard itself, meaning you can accidentally switch off the machine if you slip. The hollow-feeling trackpad buttons aren't much good, either, but any serious gamer will use a USB mouse.
HP's Omen 17 squares up against our favorite affordable laptop – the Lenovo Legion 5 Pro. Both cost £1,499 and use the RTX 3070 with identical power levels, but Lenovo's machine has an AMD Ryzen 7 5800H CPU and a 16in display with a 16:10 aspect ratio, marginally better image quality and a higher resolution. It also has a numberpad, a webcam with a privacy shutter, and more USB connections.
Performance
The GeForce RTX 3070 can just about handle smooth gaming at the Omen 17's native 2,560 x 1,440 resolution. It delivered 99th percentile minimums of 43fps in Assassin's Creed Valhalla and 37fps in Cyberpunk 2077, while averaging 140fps in Doom Eternal. That's enough pace to play single-player games at solid frame rates, especially if you drop the settings a little, and undemanding games can run at high frame rates on the 165Hz display too. 
This GPU will run most ray-traced games with DLSS too. If you're willing to play at 1080p, the situation is even better – here, the HP averaged 195fps in Doom and beyond 60fps elsewhere. HP's machine outpaced the Lenovo in Assassin's Creed Valhalla and Cyberpunk 2077, and the two exhibited similar speeds in Metro Exodus and Doom Eternal. 
The Omen's Intel processor did a tremendous job in application benchmarks too. It outpaced Lenovo's AMD chip in our Handbrake and multi-tasking tests and only fell behind in the image editing benchmark. Its overall result of 222,712 easily beat the Lenovo, and matched the best results we've ever seen from the 5800H. Switching over to the Omen's Performance mode improved that overall score to 234,777, with big gains in multi-threaded tasks but no noticeable boost to single-core speeds.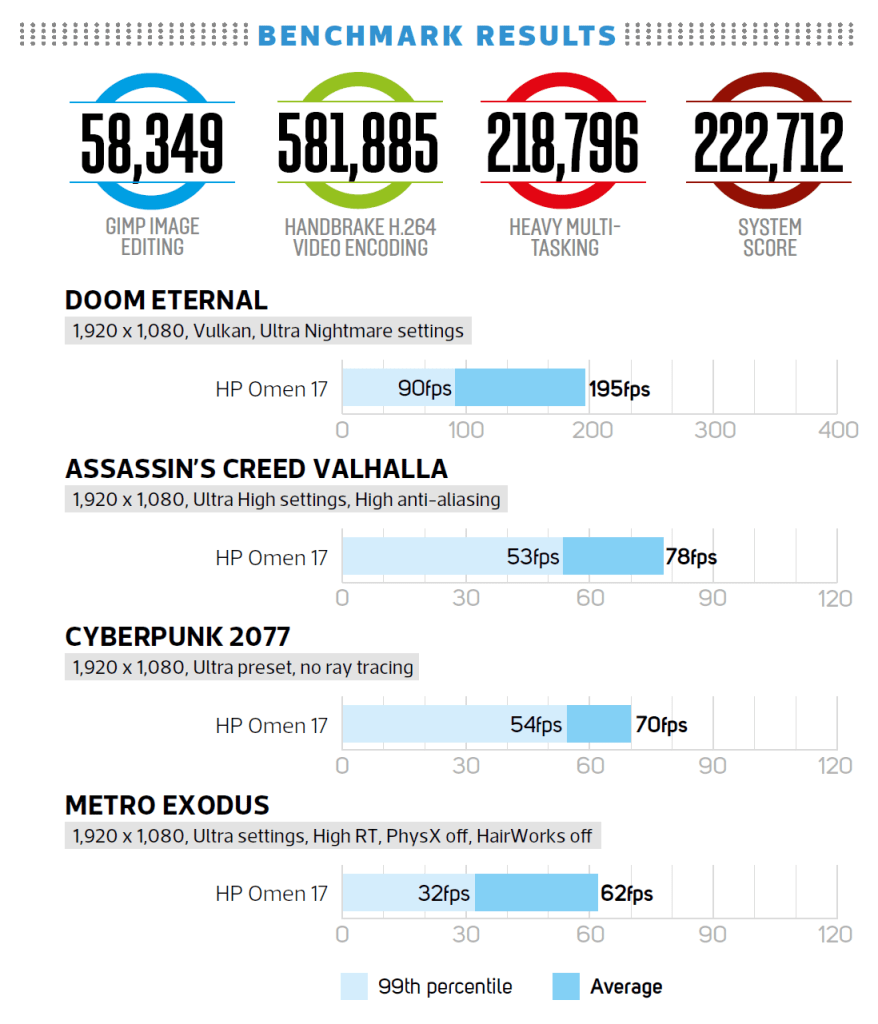 The HP's sizable chassis helped it to perform well in thermal tests. When gaming in its 130W operating mode, the noise levels were modest, the exterior wasn't warm and the GPU's delta T of 50°C was good. In both multi-core and single-core workload benchmarks, noise and heat levels remained low, and we've no complaints about the CPU's 54°C delta T. 
In terms of clock speed, the CPU's single-core benchmark speed of 4.5GHz was good, but its multi-core pace of 3.3GHz was mediocre. That issue was resolved in Performance mode, where the chip reached 4.2GHz without much extra fan noise. We wouldn't recommend Performance mode for games though – the speed boost is minor and the noise increases considerably.
HP's machine also has an Undervolt mode that intelligently reduces CPU power consumption. This mode reduced the Omen's benchmark result to 205,046 with even less noise, so it's ideal if you want to reduce power consumption and noise levels. The Undervolt option feels a bit buggy though – it caused the Omen's working battery result to decline from five hours, 41 minutes to under three hours. Battery life is middling elsewhere – the HP's best result came with a video playback lifespan of over six hours, but it only lasted for 90 minutes of gameplay.
Verdict
HP's machine is a bit of a throwback, but that's not necessarily bad. Its large screen is immersive, its chunky chassis largely keeps down noise, and it has loads of power, a satisfying keyboard, and good connection options. The slimmer, lighter Lenovo remains a more practical choice for most people, especially thanks to its high-quality 16:10 display. However, if you're happy to have a larger laptop for mostly deskbound gaming and work, the Omen is an excellent option that offers more performance for the same price.

Pros
+   Fast in games and applications
+   Large, high-quality screen
+   Good thermal performance
+   Satisfying typing and decent connection options
Cons
– Thicker and heavier than rivals
– Some missing features
– Lid is a bit weak
Specs
CPU
2.3GHz Intel Core i7-11800H
Memory
16GB 3200MHz DDR4
Graphics
Nvidia GeForce RTX 3070 Laptop 8GB
Screen
17.3in 2,560 x 1,440 IPS 165Hz
Storage
1TB Samsung PM9A1 M.2 SSD
Networking
Gigabit Ethernet, dual-band 802.11ax Wi-Fi, Bluetooth 5
Weight
2.8kg
Ports
1 x Thunderbolt 4/USB-C/DisplayPort, 3 x USB 3.2 Gen 1, 1 x audio, 1 x mini-DisplayPort, 1 x HDMI 2.1, 1 x SD card reader
Dimensions (mm)
397 x 262 x 27 (W x D x H)
Operating system
Windows 10 Home 64-bit
Warranty
One year parts and labor return to base