News
Hogwarts Legacy: Early Access Start Time and How to Join
Can't wait for your owl to fly by with an invitation to Hogwarts? Well if you bought the right Hogwarts Legacy edition, you can start your wizarding lessons a few days early.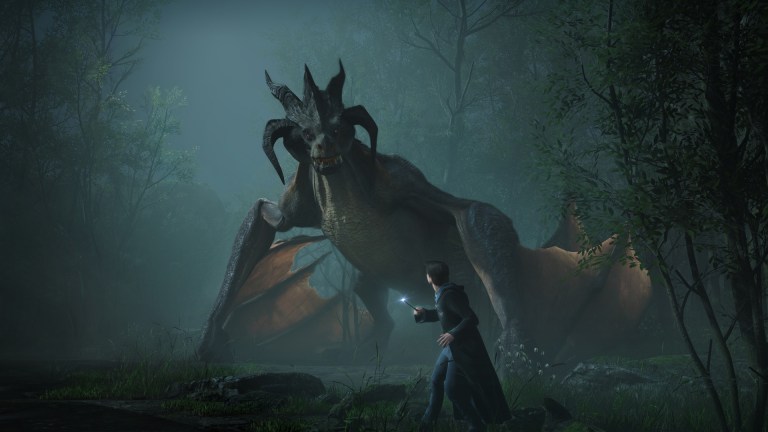 Hogwarts Legacy is based on the Wizarding World universe created by J.K. Rowling. You can read more about Rowling's history of transphobic remarks as well as find resources to support LGBTQ organizations here.
Hogwarts Legacy has been a long time coming. Avalanche Software officially announced the game in 2020, although development on the project started much earlier than that. The studio originally aimed for a 2021 release window, but delays forced the game into 2023. Currently, PS5, Xbox Series X/S, and Nintendo Switch players can expect to access the game on February 10, 2023. If you purchased the Deluxe Edition, though, you'll be able to play it even earlier than that thanks to a special Early Access promotion.
Anyone who pre-ordered the Hogwarts Legacy Deluxe Edition will get to play the game starting on February 7. Unfortunately, this Early Access bonus is locked behind current-gen versions (i.e., PC, Xbox Series X/S, and PlayStation 5). Then again, it would prove difficult to play Hogwarts Legacy on Xbox One/PS4 or Nintendo Switch early since those versions are delayed until April 4 and July 25, respectively.
Hogwarts Legacy PC players will be able to participate in the game's early access period starting on February 7th at 10 AM PST/1 PM EST. Those are the official times the Hogwarts Legacy team recently shared, and there's been no indication that the Early Access times will be changed in the near future.
PS5 and Xbox Series X gamers have it even better. According to the Hogwarts Legacy team, they'll be able to jump into the game's Early Access period on February 7th at midnight in whatever region they are located in. That also means that you'll likely be able to utilize some version of the "New Zealand trick" to start playing the game even sooner than that.
Of course, this raises the question of whether gamers who order the Deluxe Edition on the Xbox One, PS4, or Nintendo Switch will receive their own Early Access periods at that time. Sadly, the answer is a definitive "No." The official Hogwarts Legacy FAQ explicitly states the previous-gen versions will launch without Early Access, which implies the Switch version will also release without one.
As for pre-loading, anyone who pre-ordered the Xbox version can download the game right now, while PS5 owners will have to wait 72 hours before release. Yes, anyone with Early Access permissions will get to download Hogwarts Legacy 72 hours before their 72-hour bonus window (meaning you should be able to start pre-loading them on February 4). Unfortunately, PC players won't be so lucky. According to PCGamesN, the Steam and Epic versions of Hogwarts Legacy won't ship with a pre-load function. So anyone who bought a console version will technically get more time with the game since they won't have to wait for the Early Access period to start just to download it.
While the Early Access is the Deluxe Edition's main selling point, this special edition has more going for it than just a 72-hour head start. As is tradition these days, the Deluxe Edition will also include some exclusive goodies. These items include a Thestral mount, as well as a Dark Arts-themed cosmetic set and battle arena that will let them channel their inner Death Eater…or whatever the 1890s wizarding equivalent of them was. Of course, anyone who wants even more magical little goodies will have to pre-order the right Deluxe Edition.
Anyone who pre-orders Hogwarts Legacy will also receive an Onyx Hippogriff mount, whether or not they purchased the Deluxe Edition. However, gamers who buy the PlayStation version will also receive access to a special Haunted Hogsmeade Shop quest. If they pre-ordered the game, they will also acquire the Felix Felicis Potion recipe, and if a player just so happens to buy the Deluxe Edition digitally, their order will throw in a free Dark Arts Garrison hat to go with their Dark Arts cosmetics. And yes, all of these items will be available if you play the game during its Early Access period.