News
Hearthstone: Festival of Legends Release Time and Updates
The only thing heavier than the oversized pauldrons of Azeroth's heroes are the riffs players will get to use in Hearthstone once Festival of Legends launches.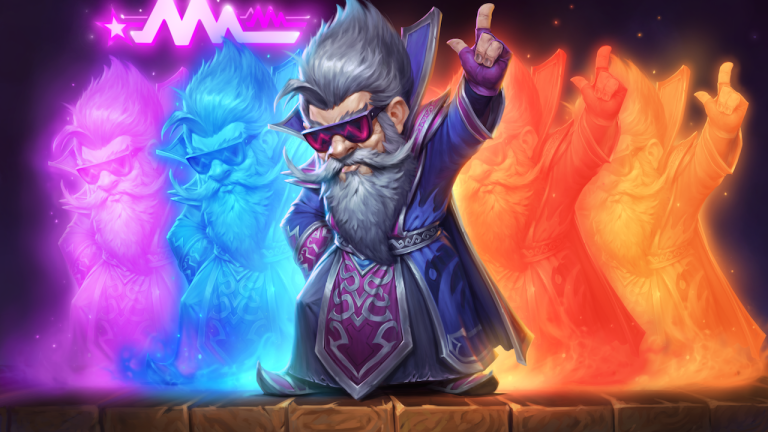 Music and Hearthstone fans unite! The Festival of Legends expansion is almost ready to deafen your eardrums with killer riffs, rowdy roadies, and a banjo-playing dinosaur for good measure. It's gonna give new meaning to the phrase "battle of the bands."
On March 14th, Blizzard officially announced Festival of Legends: a music-themed expansion for Hearthstone. The card set's website promises additions such as minions with special effects that only trigger if they're alone on your side of the stage, as well as spells that get stronger if they use up your remaining mana resources. Unfortunately, the FAQ only provides a general release date of "this April," and the month is almost half done. But if you look elsewhere, you can find a more definitive answer.
Hearthstone's Festival of Legends expansion will launch globally on April 11. Since patches for previous game expansions have gone live at 10 am PDT/1 pm EST on their respective release dates, it's safe to assume Festival of Legends will stick to the same schedule (barring technical issues). Can't keep those fans waiting, you know?
If this is the first time you are reading about Festival of Legends, then we are disappointed to tell you that you have missed the expansion's pre-release weekend, which let players participate in special Tavern Brawls and get a sneak peek of the Festival of Legends cards in action. However, if you want to get a head start on amassing a mosh pit of new cards, you can still pre-purchase Festival of Legends bundles for $50 and $80.
The $50 bundle includes 60 Festival of Legends card packs, two random legendary cards, and a special card back. Meanwhile, the $80 bundle includes 80 card packs, 10 golden packs, two random golden legendary cards, and both the card back and a priest hero skin. Between that and the new Overheal ability, Blizzard must really want to give Priests a leg up on the competition. Unfortunately, if you missed out on the pre-release weekend, you won't get to open any Festival of Legends packs until the expansion releases, but since launch day is tomorrow, you don't have to wait long.
Festival of Legends is also the first Hearthstone expansion of 2023, dubbed the Year of the Wolf. That also means that Festival of Legends will rotate out previous Hearthstone expansions (Forged in the Barrens, United in Stormwind, and Fractured in Alterac Valley) as well as refresh the game's Core set of cards. In other words, Hearthstone's Standard mode is going to look a lot different after Festival of Legends drops. If you want to get ahead of the chaos, be sure to check out our guide on the best Festival of Legends decks on day one.
Assuming Blizzard can keep up the pace of previous years, then we can probably expect two more Hearthstone expansions in early August and late November/early December, respectively. Fingers crossed they have as much charm as an Azerothian Woodstock festival