Features
GTA Trilogy Definitive Edition: Every Cheat Code
The GTA trilogy wouldn't be the GTA trilogy without a few cheat codes. Here's every cheat code we've found in the remaster so far.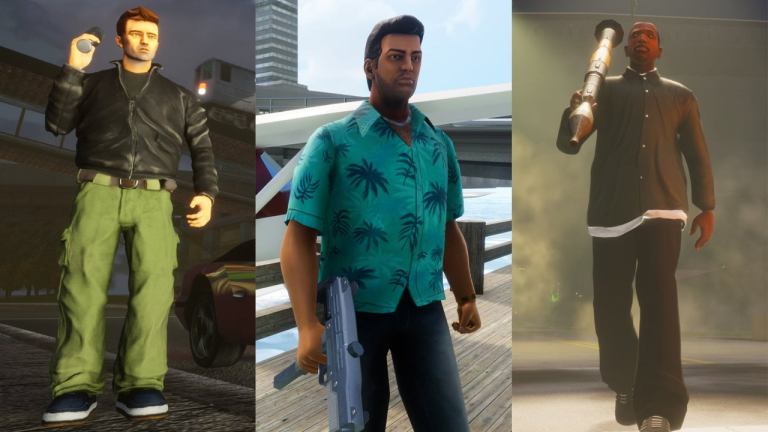 Grand Theft Auto: The Trilogy – The Definitive Edition has finally been released, and it's safe to say that these remasters don't quite live up to their full potential. However, they do give gamers of a certain era an appealing excuse to revisit these revolutionary titles.
Of course, for many GTA fans, properly revisiting these games means playing them with cheat codes enabled. As we've discussed in a previous look at the best video game cheat codes, the GTA games were really some of the last major titles to emphasize and celebrate cheat codes in such a clear way. Some people simply can't imagine playing these games without turning on at least a couple of cheat codes.
We know that you're ready to just dive into the cheats themselves, but before we get there, here are a few notes to consider:
We know that some classic GTA cheats don't work on every version of the game, but since the games are a bit of a mess (the PC versions are literally unplayable at the moment), we're waiting to test these games a bit further. As such, you may run into a code or two that isn't "remaster ready."
Historically, there have been some PC-exclusive GTA cheats, but since we cannot access that version of the game at the moment, we've left those off the list until they can be tested
Be sure to let us know if you discover any new cheats!
GTA 3 Definitive Edition – Every PlayStation, Xbox, Nintendo Switch, and PC Cheat Code
All Weapons
PlayStation: R2, R2, L1, R2, Left, Down, Right, Up, Left, Down, Right, Up
Xbox: RT, RT, LB, RT, Left, Down, Right, Up, Left, Down, Right, Up
Switch: ZR, ZR, L, ZR, Left, Down, Right, Up, Left, Down, Right, Up
PC: GUNSGUNSGUNS
Full Health
PlayStation: R2, R2, L1, R1, Left, Down, Right, Up, Left, Down, Right, Up
Xbox: RT, RT, LB, RB, Left, Down, Right, Up, Left, Down, Right, Up
Switch: ZR, ZR, L, R, Left, Down, Right, Up, Left, Down, Right, Up
PC: GESUNDHEIT
Full Armor
PlayStation: R2, R2, L1, L2, Left, Down, Right, Up, Left, Down, Right, Up
Xbox: RT, RT, LB, LT, Left, Down, Right, Up, Left, Down, Right, Up
Switch: ZR, ZR, L, ZL, Left, Down, Right, Up, Left, Down, Right, Up
PC: TORTOISE
Receive $250,000
PlayStation: R2, R2, L1, L1, Left, Down, Right, Up, Left, Down, Right, Up
Xbox: RT, RT, LB, LB, Left, Down, Right, Up, Left, Down, Right, Up
Switch: ZR, ZR, L, L, Left, Down, Right, Up, Left, Down, Right, Up
PC: IFIWEREARICHMAN
Raise Wanted Level
PlayStation: R2, R2, L1, R2, Left, Right, Left, Right, Left
Xbox: RT, RT, LB, RT, Left, Right, Left, Right, Left
Switch: ZR, ZR, L, ZR, Left, Right, Left, Right, Left
PC: MOREPOLICEPLEASE
Lower Wanted Level
PlayStation: R2, R2, L1, R2, Up, Down, Up, Down, Up, Down
Xbox: RT, RT, LB, RT, Up, Down, Up, Down, Up, Down
Switch: ZR, ZR, L, ZR, Up, Down, Up, Down, Up, Down
PC: NOPOLICEPLEASE
Change Outfit
PlayStation: Right, Down, Left, Up, L1, L2, Up, Left, Down, Right
Xbox: Right, Down, Left, Up, LB, LT, Up, Left, Down, Right
Switch: Right, Down, Left, Up, L, ZL, Up, Left, Down, Right
PC: ILIKEDRESSINGUP
Armed Pedistrians
PlayStation: R2, R1, Triangle, X, L2, L1, Up, Down
Xbox: RT, RB, Y, A, LT, LB, Up, Down
Switch: ZR, R, X, B, ZL, L, Up, Down
PC: WEAPONSFORALL
Angry Pedistrians
PlayStation: Down, Up, Left, Up, X, R1, R2, L1, L2
Xbox: Down, Up, Left, Up, A, RB, RT, LB, LT
Switch: Down, Up, Left, Up, B, R, ZR, L, ZL
PC: NOBODYLIKESME
Rioting Pedistrians
PlayStation: Down, Up, Left, Up, X, R1, R2, L2, L1
Xbox: Down, Up, Left, Up, A, RB, RT, LT, LB
Switch: Down, Up, Left, Up, B, R, ZR, ZL, L
PC: ITSALLGOINGMAAAD
Speed Up Time
PlayStation: Circle (x3), Square (x5), L1, Triangle, Circle, Triangle
Xbox: B (x3), X (x5), LB, Y, B, Y
Switch: A (x3), Y (x5), L, X, A, X
PC: MADWEATHER
Faster Gameplay
PlayStation: Triangle, Up, Right, Down, Square, L1, L2
Xbox: Y, Up, Right, Down, X, LB, LT
Switch: X, Up, Right, Down, Y, L, ZL
PC: TIMEFLIESWHENYOU
Slower Gameplay
PlayStation: Triangle, Up, Right, Down, Square, R1, R2
Xbox: Y, Up, Right, Down, X, RB, RT
Switch: X, Up, Right, Down, Y, R, ZR
PC: BOOOOORING
Improved Handling
PlayStation: R1, L1, R2, L1, Left, R1, R1, Triangle
Xbox: RB, LB, RT, LB, Left, RB, RB, Y
Switch: R, L, ZR, L, Left, R, R, X
PC: CORNERSLIKEMAD
Flying Cars
PlayStation: Right, R2, Circle, R1, L2, Down, L1, R1
Xbox: Right, RT, B, RB, LT, Down, LB, RB
Switch: Right, ZR, A, R, ZL, Down, L, R
PC: CHITTYCHITTYBB
Spawn Tank
PlayStation: Circle (x6), R1, L2, L1, Triangle, Circle, Triangle
Xbox: B (x6), RB, LT, LB, Y, B, Y
Switch: A (x6), R, ZL, L, X, B, X
PC: GIVEUSATANK
Clear Weather
PlayStation: L1, L2, R1, R2, R2, R1, L2, Triangle
Xbox: LB, LT, RB, RT, RT, RB, LT, Y
Switch: L, ZL, R, ZR, ZR, R, ZL, X
PC: SKINCANCERFORME
Cloudy Weather
PlayStation: L1, L2, R1, R2, R2, R1, L2, Square
Xbox: LB, LT, RB, RT, RT, RB, LT, X
Switch: L, ZL, R, ZR, ZR, R, ZL, Y
PC: ILIKESCOTLAND
Rainy Weather
PlayStation: L1, L2, R1, R2, R2, R1, L2, Circle
Xbox: LB, LT, RB, RT, RT, RB, LT, B
Switch: L, ZL, R, ZR, ZR, R, ZL, A
PC: ILOVESCOTLAND
Foggy Weather
PlayStation: L1, L2, R1, R2, R2, R1, L2, X
Xbox: LB, LT, RB, RT, RT, RB, LT, A
Switch: L, ZL, R, ZR, ZR, R, ZL, B
PC: PEASOUP
Big Head Mode
PlayStation: Up, Up, Down, Down, Left, Right, Left, Right, Circle, X
Xbox: Up, Up, Down, Down, Left, Right, Left, Right, B, A
Switch: Up, Up, Down, Down, Left, Right, Left, Right, A, B
GTA Vice City Definitive Edition: Every PlayStation, Xbox, Nintendo Switch, and PC Cheat Code
Full Body Armor
PlayStation: R1, R2, L1, X, Left, Down, Right, Up, Left, Down, Right, Up
Xbox: RB, RT, LB, A, Left, Down, Right, Up, Left, Down, Right, Up
Switch: R, ZR, L, B, Left, Down, Right, Up, Left, Down, Right, Up
PC: PRECIOUSPROTECTION
Full Health
PlayStation: R1, R2, L1, Circle, Left, Down, Right, Up, Left, Down, Right, Up
Xbox: RB, RT, LT, B, Left, Down, Right, Up, Left, Down, Right, Up
Switch: R, ZR, L, A, Left, Down, Right, Up, Left, Down, Right, Up
PC: ASPIRINE
Raise Wanted Level
PlayStation: R1, R1, Circle, R2, Left, Right, Left, Right, Left, Right
Xbox: RB, RB, B, RT, Left, Right, Left, Right, Left, Right
Switch: R, R, A, ZR, Left, Right, Left, Right, Left, Right
PC: YOUWONTTAKEMEALIVE
Remove Wanted Level
PlayStation: R1, R1, Circle, R2, Up, Down, Up, Down, Up, Down
Xbox: RB, RB, B, RT, Up, Down, Up, Down, Up, Down
Switch: R, R, A, ZR, Up, Down, Right, Up, Left, Down, Right, Up
PC: LEAVEMEALONE
Obtain Weapon Set #1
PlayStation: R1, R2, L1, R2, Left, Down, Right, Up, Left, Down, Right, Up
Xbox: RB, RT, LB, RT, Left, Down, Right, Up, Left, Down, Right, Up
Switch: R, ZR, L, ZR, Left, Down, Right, Up, Left, Down, Right, Up
PC: THUGSTOOLS
Obtain Weapon Set #2
PlayStation: R1, R2, L1, R2, Left, Down, Right, Up, Left, Down, Down, Left
Xbox: RB, RT, LB, RT, Left, Down, Right, Up, Left, Down, Down, Left
Switch: R, ZR, L, ZR, Left, Down, Right, Up, Left, Down, Down, Left
PC: PROFESSIONALTOOLS
Obtain Weapon Set #3
PlayStation: R1, R2, L1, R2, Left, Down, Right, Up, Left, Down, Down, Down
Xbox: RB, RT, LB, RT, Left, Down, Right, Up, Left, Down, Down, Down
Switch: R, ZR, L, ZR, Left, Down, Right, Up, Left, Down, Down, Down
PC: NUTTERTOOLS
Spawn A Tank
PlayStation: Circle, Circle, L1, Circle, Circle, Circle, L1, L2, R1, Triangle, Circle, Triangle
Xbox: B, B, LB, B, B, B, LB, LT, RB, Y, B, Y
Switch: A, A, L, A, A, A, L, ZL, R, X, A, X
PC: PANZER
Instant Death
PlayStation: Right, L2, Down, R1, Left, Left, R1, L1, L2, L1
Xbox: Right, LT, Down, RB, Left, Left, RB, LB, LT, LB
Switch: Right, ZL, Down, R, Left, Left, R, L, ZL, L
PC: ICANTTAKEITANYMORE
Turn All Traffic Lights Green
PlayStation: Right, R1, Up, L2, L2, Left, R1,L1, R1, R1
Xbox: Right, RB, Up, LT, LT, Left, RB,LB, RB, RB
Switch: Right, R, Up, ZL, ZL, Left, R, L, R, R
Slow Down Gameplay
PlayStation: Triangle, Up, Right, Down, Square, R2, R1
Xbox: Y, Up, Right, Down, X, RT, RB
Switch: X, Up, Right, Down, Y, ZR, R
PC: BOOOOOORING
Speed Up Gameplay
PlayStation: Triangle, Up, Right, Down, L2, L1, Square
Xbox: Y, Up, Right, Down, LT, LB, X
Switch: X, Up, Right, Down, ZL, L, Y
PC: ONSPEED
Speed Up Game Clock
PlayStation: Circle, Circle, L1, Square, L1, Square, Square, Square, L1, Triangle, Circle, Triangle
Xbox: B, B, LB, X, LB, X, X, X, LB, Y, B, Y
Switch: A, A, L, Y, L, Y, Y, Y, L, X, A, X
Play As Candy Suxxx
PlayStation: Circle, R2, Down, R1, Left, Right, R1, L1, X, L2
Xbox: B, RT, Down, RB, Left, Right, RB, LB, A, LT
Switch: A, ZR, Down, R, Left, Right, R, L, B, ZL
PC: IWANTBIGTITS
Play As Hillary King
PlayStation: R1, Circle, R2, L1, Right, R1, L1, X, R2
Xbox: RB, B, RT, LB, Right, RB, LB, A, RT
Switch: R, A, ZR, L, Right, R, L, B, ZR
PC: ILOOKLIKEHILARY
Play As Ken Rosenberg
PlayStation: Right, L1, Up, L2, L1, Right, R1, L1, X, R1
Xbox: Right, LB, Up, LT, LB, Right, RB, LB, A, RB
Switch: Right, L, Up, ZL, L, Right, R, L, B, R
PC: MYSONISALAWYER
Play As Lance Vance
PlayStation: Circle, L2, Left, X, R1, L1, X, L1
Xbox: B, LT, Left, A, RB, LB, A, LB
Switch: A, ZL, Left, B, R, L, B, L
PC: LOOKLIKELANCE
Play As Love Fist Guy #1
PlayStation: Down, L1, Down, L2, Left, X, R1, L1, X, X
Xbox: Down, LB, Down, LT, Left, A, RB, LB, A, A
Switch: Down, L, Down, ZL, Left, B, R, L, B, B
PC: ROCKANDROLLMAN
Play As Love Fist Guy #2
PlayStation: R1, L2, R2, L1, Right, R2, Left, X, Square, L1
Xbox: RB, LT, RT, LB, Right, RT, Left, A, X, LB
Switch: R, ZL, ZR, L, Right, ZR, Left, B, Y, L
PC: WELOVEOURDICK
Play As Mercedes
PlayStation: R2, L1, Up, L1, Right, R1, Right, Up, Circle, Triangle
Xbox: RT, LB, Up, LB, Right, RB, Right, Up, B, Y
Switch: ZR, L, Up, L, Right, R, L, Right, Up, A, X
PC: FOXYLITTLETHING
Play As Phil Cassady
PlayStation: Right, R1, Up, R2, L1, Right, R1, L1, Right, Circle
Xbox: Right, RB, Up, RT, LB, Right, RB, LB, Right, B
Switch: Right, R, Up, ZR, L, Right, R, L, Right, A
PC: ONEARMEDBANDIT
Play As Ricardo Diaz
PlayStation: L1, L2, R1, R2, Down, L1, R2, L2
Xbox: LB, LT, RB, RT, Down, LB, RT, LT
Switch: L, ZL, R, ZR, Down, L, ZR, ZL
PC: CHEATSHAVEBEENCRACKED
Play As Sonny Forelli
PlayStation: Circle, L1, Circle, L2, Left, X, R1, L1, X, X
Xbox: B, LB, B, LT, Left, A, RB, LB, A, A
Switch: A, L, A, ZL, Left, B, R, L, B, B
PC: IDONTHAVETHEMONEYSONNY
Cars Can Fly
PlayStation: Right, R2, Circle, R1, L2, Down, L1, R1
Xbox: Right, RT, B, RB, LT, Down, LB, RB
Switch: Right, ZR, A, R, ZL, Down, L, R
Destroy Nearby Cars
PlayStation: R2, L2, R1, L1, L2, R2, Square, Triangle, Circle, Triangle, L2, L1
Xbox: RT, LT, RB, LB, LT, RT, X, Y, B, Y, LT, LB
Switch: ZR, ZL, R, L, ZL, ZR, Y, X, A, X, ZL, L
Cars Can Drive On Water
PlayStation: Right, R2, Circle, R1, L2, Square, R1, R2
Xbox: Right, RT, B, RB, LT, X, RB, RT
Switch: Right, ZR, A, R, ZL, Y, R, ZR
Improved Vehicle Handling
PlayStation: Triangle, R1, R1, Left, R1, L1, R2, L1
Xbox: Y, RB, RB, Left, RB, LB, RT, LB
Switch: X, R, R, Left, R, L, ZR, L
PC: GRIPISEVERYTHING
Change Weather to Clear
PlayStation: R2, X, L1, L1, L2, L2, L2, Triangle
Xbox: RT, A, LB, LB, LT, LT, LT, Y
Switch: ZR, B, L, L, ZL, ZL, ZL, X
PC: APLEASANTDAY
Change Weather To Foggy
PlayStation: R2, X, L1, L1, L2, L2, L2, X
Xbox: RT, A, LB, LB, LT, LT, LT, A
Switch: ZR, B, L, L, ZL, ZL, ZL, B
PC: CANTSEEATHING
Change Weather To Stormy
PlayStation: R2, X, L1, L1, L2, L2, L2, Circle
Xbox: RT, A, LB, LB, LT, LT, LT, B
Switch: ZR, B, L, L, ZL, ZL, ZL, A
PC: CATSANDDOGS
Change Weather To Very Cloudy
PlayStation: R2, X, L1, L1, L2, L2, L2, Square
Xbox: RT, A, LB, LB, LT, LT, LT, X
Switch: ZR, B, L, L, ZL, ZL, ZL, Y
PC: ABITDRIEG
BIG HEAD MODE
PlayStation: Up, Up, Down, Down, Left, Right, Left, Right, Circle, X
Xbox: Up, Up, Down, Down, Left, Right, Left, Right, B, A
Nintendo Switch: Up, Up, Down, Down, Left, Right, Left, Right, A, B
GTA San Andreas Definitive Edition: Every PlayStation, Xbox, Nintendo Switch, and PC Cheat Code
Weapon Set #1
PlayStation: R1, R2, L1, R2, Left, Down, Right, Up, Left, Down, Right, Up
Xbox: RB, RT, LB, RT, Left, Down, Right, Up, Left, Down, Right, Up
Switch: R, ZR, L, ZR, Left, Down, Right, Up, Left, Down, Right, Up
PC: THUGSARMOURY
Weapon Set #2
PlayStation: R1, R2, L1, R2, Left, Down, Right, Up, Left, Down, Down, Left
Xbox: RB, RT, LB, RT, Left, Down, Right, Up, Left, Down, Down, Left
Switch: R, ZR, L, ZR, Left, Down, Right, Up, Left, Down, Down, Left
PC: PROFESSIONALSKIT
Weapon Set #3
PlayStation: R1, R2, L1, R2, Left, Down, Right, Up, Left, Down (x3)
Xbox: RB, RT, LB, RT, Left, Down, Right, Up, Left, Down (x3)
Switch: R, ZR, L, ZR, Left, Down, Right, Up, Left, Down (x3)
PC: NUTTERSTOYS
Get $250,000 Cash, Full Health & Full Armor
PlayStation: R1, R2, L1, X, Left, Down, Right, Up, Left, Down, Right, Up
Xbox: RB, RT, LB, A, Left, Down, Right, Up, Left, Down, Right, Up
Switch: R, ZR, L, B, Left, Down, Right, Up, Left, Down, Right, Up
PC: INEEDSOMEHELP
Instant Death
PlayStation: Right, L2, Down, R1, Left, Left, R1, L1, L2, L1
Xbox: Right, LT, Down, RB, Left, Left, RB, LB, LT, LB
Switch: Right, ZL, Down, R, Left, Left, R, L, ZL, L
PC: GOODBYECRUELWORLD
Infinite Ammo
PlayStation: L1, R1, Square, R1, Left, R2, R1, Left, Square, Down, L1, L1
Xbox: LB, RB, X, RB, Left, RT, RB, Left, X, Down, LB, LB
Switch: L, R, Y, R, Left, ZR, R, Left, Y, Down, L, L
PC: FULLCLIP
Infinite Health
PlayStation: Down, X, Right, Left, Right, R1, Right, Down, Up, Triangle
Xbox: Down, A, Right, Left, Right, RB, Right, Down, Up, Y
Switch: Down, B, Right, Left, Right, R, Right, Down, Up, X
PC: INEEDSOMEHELP
Infinite Lung Capacity
PlayStation: Down, Left, L1, Down, Down, R2, Down, L2, Down
Xbox: Down, Left, LB, Down, Down, RT, Down, LT, Down
Switch: Down, Left, L, Down, Down, ZR, Down, ZL, Down
PC: MANFROMATLANTIS
Raise Wanted Level
PlayStation: R1, R1, Circle, R2, Right, Left, Right, Left, Right, Left
Xbox: RB, RB, B, RT, Right, Left, Right, Left, Right, Left
Switch: R, R, A, ZR, Right, Left, Right, Left, Right, Left
PC: TURNUPTHEHEAT
Lower Wanted Level
PlayStation: R1, R1, Circle, R2, Up, Down, Up, Down, Up, Down
Xbox: RB, RT, LB, RT, Left, Down, Right, Up, Left, Down, Right, Up
Switch: R, R, A, ZR, Up, Down, Up, Down, Up, Down
PC: TURNDOWNTHEHEAT
Lock Wanted Level
PlayStation: Circle, Right, Circle, Right, Left, Square, Triangle, Up
Xbox: B, Right, B, Right, Left, X, Y, Up
Switch: A, Right, A, Right, Left, Y, X, Up
PC: IDOASIPLEASE
Maximum Fat
PlayStation: Triangle, Up, Up, Left, Right, Square, Circle, Down
Xbox: Y, Up, Up, Left, Right, X, B, Down
Switch: X, Up, Up, Left, Right, Y, A, Down
PC: WHOATEALLTHEPIES
Maximum Muscle
PlayStation: Triangle, Up, Up, Left, Right, Square, Circle, Left
Xbox: Y, Up, Up, Left, Right, X, B, Left
Switch: X, Up, Up, Left, Right, Y, A, Left
PC: BUFFMEUP
Maximum Respect
PlayStation: L1, R1, Triangle, Down, R2, X, L1, Up, L2, L2, L1, L1
Xbox: LB, RB, Y, Down, RT, A, LB, Up, LT, LT, LB, LB
Switch: L, R, X, Down, ZR, B, L, Up, ZL, ZL, L, L
PC: WORSHIPME
Super Jump
PlayStation: Up, Up, Triangle, Triangle, Up, Up, Left, Right, Square, R2, R2
Xbox: Up, Up, Y, Y, Up, Up, Left, Right, X, RT, RT
Switch: Up, Up, X, X, Up, Up, Left, Right, Y, ZR, ZR
PC: KANGAROO
Super Punch
PlayStation: Up, Left, X, Triangle, R1, Circle (x3), L2
Xbox: Up, Left, A, Y, RB, B (x3), LT
Switch: Up, Left, B, X, R, A (x3), ZL
PC: STINGLIKEABEE
Armed Pedestrians
PlayStation: R2, R1, X, Triangle, X, Triangle, Up, Down
Xbox: RT, RB, A, Y, A, Y, Up, Down
Switch: ZR, R, B, X, B, X, Up, Down
PC: SURROUNDEDBYNUTTERS
Angry Pedestrians
PlayStation: Down, Up, Up, Up, X, R2, R1, L2, L2
Xbox: Down, Up, Up, Up, A, RT, RB, LT, LT
Switch: Down, Up, Up, Up, B, ZR, R, ZL, ZL
PC: STOPPICKINGONME
Rioting Pedestrians
PlayStation: Down, Left, Up, Left, X, R2, R1, L2, L1
Xbox: Down, Left, Up, Left, A, RT, RB, LT, LB
Switch: Down, Left, Up, Left, B, ZR, R, ZL, L
PC: STATEOFEMERGENCY
Elvis Pedestrians
PlayStation: L1, Circle, Triangle, L1, L1, Square, L2, Up, Down, Left
Xbox: LB, B, Y, LB, LB, X, LT, Up, Down, Left
Switch: L, A, X, L, L, Y, ZL, Up, Down, Left
PC: BLUESUEDESHOES
Ninja Pedestrians
PlayStation: X, X, Down, R2, L2, Circle, R1, Circle, Square
Xbox: A, A, Down, RT, LT, B, RB, B, X
Switch: B, B, Down, ZR, ZL, A, R, A, Y
PC: NINJATOWN
No Pedestrians
PlayStation: X, Down, Up, R2, Down, Triangle, L1, Triangle, Left
Xbox: A, Down, Up, RT, Down, Y, LB, Y, Left
Switch: B, Down, Up, ZR, Down, X, L, X, Left
PC: GHOSTTOWN
Faster Gameplay
PlayStation: Triangle, Up, Right, Down, L2, L1, Square
Xbox: Y, Up, Right, Down, LT, LB, X
Switch: X, Up, Right, Down, ZL, L, Y
PC: SPEEDITUP
Slower Gameplay
PlayStation: Triangle, Up, Right, Down, Square, R2, R1
Xbox: Y, Up, Right, Down, X, RT, RB
Switch: X, Up, Right, Down, Y, ZR, R
PC: SLOWITDOWN
Improved Handling
PlayStation: Triangle, R1, R1, Left, R1, L1, R2, L1
Xbox: Y, RB, RB, Left, RB, LB, RT, LB
Switch: X, R, R, Left, R, L, ZR, L
PC: STICKLIKEGLUE
Aggressive Traffic
PlayStation: R2, Circle, R1, L2, Left, R1, L1, R2, L2
Xbox: RT, B, RB, LT, Left, RB, LB, RT, LT
Switch: ZR, A, R, ZL, Left, R, L, ZR, ZL
PC: ALLDRIVERSARECRIMINALS
Flying Cars
PlayStation: Square, Down, L2, Up, L1, Circle, Up, X, Left
Xbox: X, Down, LT, Up, LB, B, Up, A, Left
Switch: Y, Down, ZL, Up, L, A, Up, B, Left
PC: CHITTYCHITTYBANGBANG
Flying Boats
PlayStation: R2, Circle, Up, L1, Right, R1, Right, Up, Square, Triangle
Xbox: RT, B, Up, LB, Right, RB, Right, Up, X, Y
Switch: ZR, A, Up, L, Right, R, Right, Up, Y, X
PC: FLYINGFISH
All Cars Have NOS
PlayStation: Left, Triangle, R1, L1, Up, Square, Triangle, Down, Circle, L2, L1, L1
Xbox: Left, Y, RB, LB, Up, X, Y, Down, B, LT, LB, LB
Switch: Left, X, R, L, Up, Y, X, Down, A, ZL, L, L
PC: SPEEDFREAK
All Taxis Have NOS
PlayStation: Up, X, Triangle, X, Triangle, X, Square, R2, Right
Xbox: Up, A, Y, A, Y, A, X, RT, Right
Switch: Up, B, X, B, X, B, Y, ZR, Right
PC: VKYPQCF
Drive On Water
PlayStation: Right, R2, Circle, R1, L2, Square, R1, R2
Xbox: Right, RT, B, RB, LT, X, RB, RT
Switch: Right, ZR, A, R, ZL, Y, R, ZR
PC: GKPNMQ
Pink Cars
PlayStation: Circle, L1, Down, L2, Left, X, R1, L1, Right, Circle
Xbox: B, LB, Down, LT, Left, A, RB, LB, Right, B
Switch: A, L, Down, ZL, Left, B, R, L, Right, A
PC: PINKISTHENEWCOOL
Black Cars
PlayStation: Circle, L2, Up, R1, Left, X, R1, L1, Left, Circle
Xbox: B, LT, Up, RB, Left, A, RB, LB, Left, B
Switch: A, ZL, Up, R, Left, B, R, L, Left, A
PC: SOLONGASITSBLACK
Spawn Tank
PlayStation: Circle, Circle, L1, Circle (x3), L1, L2, R1, Triangle, Circle, Triangle
Xbox: B, B, LB, B (x3), LB, LT, RB, Y, B, Y
Switch: A, A, L, A (x3), L, ZL, R, X, A, X
PC: TIMETOKICKASS
Spawn Jetpack
PlayStation: Left, Right, L1, L2, R1, R2, Up, Down, Left, Right
Xbox: Left, Right, LB, LT, RB, RT, Up, Down, Left, Right
Switch: Left, Right, L, ZL, R, ZR, Up, Down, Left, Right
PC: ROCKETMAN
Spawn Monster Truck
PlayStation: Right, Up, R1 (x3), Down, Triangle, Triangle, X, Circle, L1, L1
Xbox: Right, Up, RB (x3), Down, Y, Y, A, B, LB, LB
Switch: Right, Up, R (x3), Down, X, X, B, A, L, L
PC: MONSTERMASH
Spawn Parachute
PlayStation: Left, Right, L1, L2, R1, R2, R2, Up, Down, Right, L1
Xbox: Left, Right, LB, LT, RB, RT, RT, Up, Down, Right, LB
Switch: Left, Right, L, ZL, R, ZR, ZR, Up, Down, Right, L
PC: LETSGOBASEJUMPING
Spawn Bloodring Banger
PlayStation: Down, R1, Circle, L2, L2, X, R1, L1, Left, Left
Xbox: Down, RB, B, LT, LT, A, RB, LB, Left, Left
Switch: Down, R, A, ZL, ZL, B, R, L, Left, Left
PC: OLDSPEEDDEMON
Spawn Caddy
PlayStation: Circle, L1, Up, R1, L2, X, R1, L1, Circle, X
Xbox: B, LB, Up, RB, LT, A, RB, LB, B, A
Switch: A, L, Up, R, ZL, B, R, L, A, B
PC: 18HOLES
Spawn Dozer
PlayStation: R2, L1, L1, Right, Right, Up, Up, X, L1, Left
Xbox: RT, LB, LB, Right, Right, Up, Up, A, LB, Left
Switch: ZR, L, L, Right, Right, Up, Up, B, L, Left
PC: ITSALLBULL
Spawn Hotring Racer (1)
PlayStation: R1, Circle, R2, Right, L1, L2, X, X, Square, R1
Xbox: RB, B, RT, Right, LB, LT, A, A, X, RB
Switch: R, A, ZR, Right, L, ZL, B, B, Y, R
PC: VROCKPOKEY
Spawn Hotring Racer (2)
PlayStation: R2, L1, Circle, Right, L1, R1, Right, Up, Circle, R2
Xbox: RT, LB, B, Right, LB, RB, Right, Up, B, RT
Switch: ZR, L, A, Right, L, R, Right, Up, A, ZR
PC: JUSTTRYANDSTOPME
Spawn Hunter
PlayStation: Circle, X, L1, Circle, Circle, L1, Circle, R1, R2, L2, L1, L1
Xbox: B, A, LB, B, B, LB, B, RB, RT, LT, LB, LB
Switch: A, B, L, A, A, L, A, R, ZR, ZL, L, L
PC: OHDUDE
Spawn Hydra
PlayStation: Triangle, Triangle, Square, Circle, X, L1, L1, Down, Up
Xbox: Y, Y, X, B, A, LB, LB, Down, Up
Switch: X, X, Y, A, B, L, L, Down, Up
PC: JUMPJET
Spawn Limo
PlayStation: R2, Up, L2, Left, Left, R1, L1, Circle, Right
Xbox: RT, Up, LT, Left, Left, RB, LB, B, Right
Switch: ZR, Up, ZL, Left, Left, R, L, A, Right
PC: CELEBRITYSTATUS
Spawn Quad Bike
PlayStation: Left, Left, Down, Down, Up, Up, Square, Circle, Triangle, R1, R2
Xbox: Left, Left, Down, Down, Up, Up, X, B, Y, RB, RT
Switch: Left, Left, Down, Down, Up, Up, Y, A, X, R, ZR
PC: FOURWHEELFUN
Spawn Rancher
PlayStation: Up, Right, Right, L1, Right, Up, Square, L2
Xbox: Up, Right, Right, LB, Right, Up, X, LT
Switch: Up, Right, Right, L, Right, Up, Y, ZL
PC: DOUGHNUTHANDICAP
Spawn Stunt Plane
PlayStation: Circle, Up, L1, L2, Down, R1, L1, L1, Left, Left, X, Triangle
Xbox: B, Up, LB, LT, Down, RB, LB, LB, Left, Left, A, Y
Switch: A, Up, L, ZL, Down, R, L, L, Left, Left, B, X
PC: FLYINGTOSTUNT
Spawn Tanker
PlayStation: R1, Up, Left, Right, R2, Up, Right, Square, Right, L2, L1, L1
Xbox: RB, Up, Left, Right, RT, Up, Right, X, Right, LT, LB, LB
Switch: R, Up, Left, Right, ZR, Up, Right, Y, Right, ZL, L, L
PC: HITTHEROADJACK
Spawn Trashmaster
PlayStation: Circle, R1, Circle, R1, Left, Left, R1, L1, Circle, Right
Xbox: B, RB, B, RB, Left, Left, RB, LB, B, Right
Switch: A, R, A, R, Left, Left, R, L, A, Right
PC: TRUEGRIME
Spawn Vortex
PlayStation: Triangle, Triangle, Square, Circle, X, L1, L2, Down, Down
Xbox: Y, Y, X, B, A, LB, LT, Down, Down
Switch: X, X, Y, A, B, L, ZL, Down, Down
PC: IWANTTOHOVER
Morning Sky
PlayStation: R2, X, L1, L1, L2 (x3), Square
Xbox: RT, A, LB, LB, LT (x3), X
Switch: ZR, B, L, L, ZL (x3), Y
PC: PLEASANTLYWARM
Night Sky
PlayStation: R2, X, L1, L1, L2 (x3), Triangle
Xbox: RT, A, LB, LB, LT (x3), Y
Switch: ZR, B, L, L, ZL (x3), X
PC: NIGHTPROWLER
Cloudy Weather
PlayStation: L2, Down, Down, Left, Square, Left, R2, Square, X, R1, L1, L1
Xbox: LT, Down, Down, Left, X, Left, RT, X, A, RB, LB, LB
Switch: ZL, Down, Down, Left, Y, Left, ZR, Y, B, R, L, L
PC: DULLDULLDAY
Rainy Weather
PlayStation: R2, X, L1, L1, L2 (x3), Circle
Xbox: RT, A, LB, LB, LT (x3), B
Switch: ZR, B, L, L, ZL (x3), A
PC: STAYINANDWATCHTV
Foggy Weather
PlayStation: R2, X, L1, L1, L2 (x3), X
Xbox: RT, A, LB, LB, LT (x3), A
Switch: ZR, B, L, L, ZL (x3), B
PC: CANTSEEWHEREIMGOING
Sandstorm
PlayStation: Up, Down, L1, L1, L2, L2, L1, L2, R1, R2
Xbox: Up, Down, LB, LB, LT, LT, LB, LT, RB, RT
Switch: Up, Down, L, L, ZL, ZL, L, ZL, R, ZR
PC: SANDINMYEARS
Big Head Mode
PlayStation: Up, Up, Down, Down, Left, Right, Left, Right, Circle, X
Xbox: Up, Up, Down, Down, Left, Right, Left, Right, B, A
Nintendo Switch: Up, Up, Down, Down, Left, Right, Left, Right, A, B