Features
GTA 6 Location Rumors: Vice City, London, Tokyo, Liberty City, and More
The next Grand Theft Auto game is in development but we don't yet know where the game is set. Here are a few locations we've heard rumors about.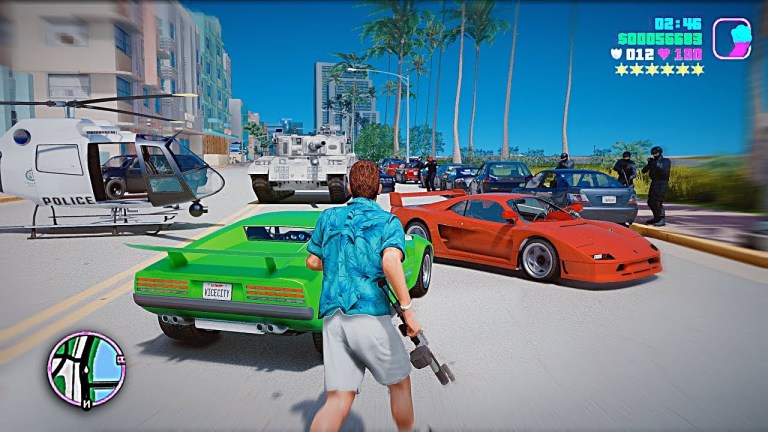 GTA 6 is finally in development at Rockstar Games, which means that fans of the series can look forward to another crime-filled romp across a massive map full of banks to rob and cars to steal. While the game is allegedly in the early stages of production, and likely a few years away from release, there have been several rumors over the past few years that suggest that Rockstar has already laid out a few key things about the highly-anticipated sequel.
There have been several rumors that suggest that Rockstar already knows where the next game is going to take place — some obvious choices, including the franchise's trifecta of cities, as well as some surprising locations that could take the series in a new direction.
While none of these locations are confirmed as of yet, we've compiled a list of what we've heard so far:
Liberty City
Liberty City, Rockstar's analog for New York City, has long been the capital of the Grand Theft Auto series. It was one of the original cities featured in the first game and was the setting of the installment that put the franchise on the map, 2001's Grand Theft Auto III, the first 3D GTA game. Considering Rockstar has rotated between Liberty City and San Andreas for the last three major entries in the series, it's not farfetched at all to expect the next game to take place in the East Coast city.
As far as rumors go, most internet chatter points to an old screenshot from 2016 that shows a landmark from Liberty City remade in Grand Theft Auto V's RAGE engine. The screenshot was found in the LinkedIn portfolio of a Rockstar employee and has led many fans to speculate that this was, in fact, the start of the studio exploring a new Liberty City-set game. It's more likely that this screenshot was just part of a tech demo, but as we said, it wouldn't be the biggest surprise if the franchise were to return to its most famous setting.
London
London was first introduced to the franchise in the 1999 standalone expansion for the original GTA, which was titled Grand Theft Auto: London 1969. Unlike its predecessor, which is set in the present day, this expansion took the action back to the '60s, giving the game its own unique aesthetic.
Some rumors suggest that GTA 6 could bet set to return to the London of the 1960s. This would be an interesting departure from the more modern entries in the series, and even Rockstar co-founder Dan Houser noted in an interview that London is a setting the studio would be interested in exploring further.
"I think for us, my gut feeling is, GTA London was cool for the time, but games were more limited then," Houser told The Guardian in 2013. "These days I think we would love to set a game in the UK, set in London, whatever, but I don't know if it would be a GTA game. I think there are plenty of great stories we could tell about the UK, great environments to showcase, great gameplay mechanics that could have a UK bent to them—I just don't think it would be a GTA necessarily."
Houser also told Polygon in 2013 that the GTA franchise isn't tied to American locations: "At the moment, it feels like GTA's DNA is contemporary-ish, American-ish, English-speaking-ish, because that's what it has been. But that doesn't necessarily limit it to those, that's just what we've done so far."
Could GTA 6 finally be the moment when Rockstar takes us across the pond once again? We'll see.
Tokyo
In 2016, Tech Radar ran a report suggesting that Rockstar had considered setting the next game in the GTA series in Tokyo. According to the outlet's sources, the studio visited the city to "take pictures, meet locals, and generally get a feel for the area," but decided that it was not a suitable location for GTA 6 due to the "road system," which "was seen to be problematic."
The outlet also reported that Rockstar filed trademarks for "GTA: Tokyo," "GTA: Bogota," and "GTA: Sin City" (we assume this would be an analog for a casino city) in 2013. While we've not heard anything about the GTA 6 being set in any of these cities, it's possible Rockstar has changed course since 2016 and decided on Tokyo after all.
Vice City
Completing the GTA location trifecta is the Miami analog Vice City. It's another logical choice considering Liberty City and San Andreas have received a lot of attention in the last few years. And it's definitely about time we got in too deep with the Vice City cartels once again.
Former Rockstar North president Leslie Benzies told Digital Trends in 2012 that the studio would one day be interested in creating a modern version of Vice City as part of a much bigger game world that would include all of the franchise's major cities (more on this later).
"Of course at some point we would like to have one big world containing all our cities and let the player fly between them and revisit their favorite areas, and in that context reimagining Vice City would be very interesting."
Benzies is no longer with the company, though, which means that this ambitious possibility may no longer be in play at Rockstar. Still, there have been rumors in the years since that GTA 6 will take place in Vice City. One rumor suggests that the new game is actually called "Grand Theft Auto VI(CE) City," which seems like a bit of a stretch, but Rockstar loves taking risks, so who knows.
Mexico
The same rumor that suggests that "GTA VI(CE) City" is a thing also mentions Mexico as a second location in the game. This bit of speculation is based on a topographical map of the "Height of Society" race track that was released for GTA Online in March 2020. Some fans suggest that certain elements of the map are Rockstar's cheeky way of teasing Mexico as the second location of GTA 6, with players flying between cities.
And there's a third location…
Chicago
Another part of the "Height of Society" race track seems to reference Chicago and the Great Lakes area of the U.S. A prohibition-era GTA game set in the 1920s could be interesting, but it's very unlikely Rockstar would pick a time period so close to the Red Dead Redemption games, which are set between 1899 and 1911. Of course, a present-day Chicago setting is also possible.
Rio de Janeiro
A 70s or 80s Rio de Janeiro-inspired city has also been floated around as the possible location of GTA 6. A deleted Reddit post (via PC Gamer) from 2019 claimed that Rockstar was working on the next GTA, which is allegedly codenamed "Project America." The user alleged that the game would take place across two cities, Vice City and the Rio analog, and would focus on the drug trade, with the main character managing a cartel throughout the story. This rumor also suggests the game is heavily inspired by the Netflix series Narcos.
San Andreas
Then again, GTA V was such a massive success for Rockstar that it's possible that the studio will choose to build on the foundation it already put in place and make an even more detailed and bustling version of the city. San Andreas brought to life with next-gen technology is certainly an enticing idea.
But Rockstar is also a studio known for taking big risks. Rehashing the location of the last game would be very unlike this studio.
GTA World
What if Rockstar's plans for GTA 6 go far beyond one central location? What if the next game were to connect all of the major cities of the franchise to form one massive game world unlike anything players have seen before? One very unlikely fan theory from 2015 even suggests that the game could span all 50 states of the United States. We'll believe that when we see it.
GTA isn't a game set in a largely empty world like the America-spanning Death Stranding. Creating an open-world game of that scale that's also bustling and full of things to do and people to meet is probably impossible. That said, Benzies' suggestion to Digital Trends that GTA could eventually allow players to fly to different locations around the world could be one way to make fans feel like they have access to a map that big.