News
Goose Goose Duck Is Becoming the Next Among Us With Help From BTS
A BTS member has helped Goose Goose Duck shoot up the Steam charts, though there is more to this Among Us-like game than meets the eye.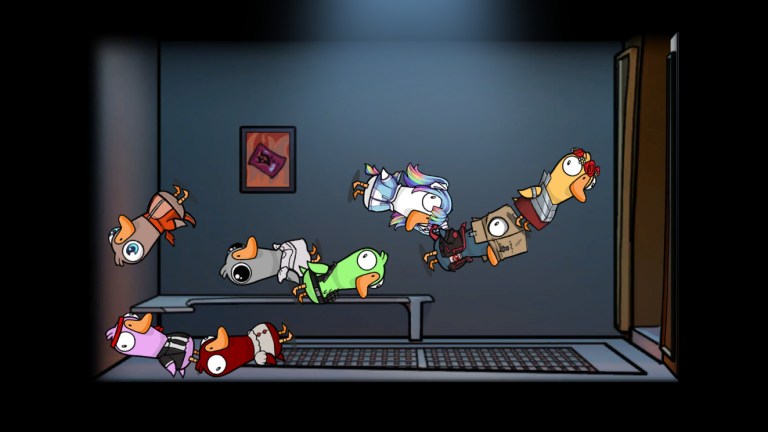 2018's Among Us has to be one of the most unlikely hits in recent gaming history. That social deduction multiplayer title didn't start strong, but it eventually became a best-seller that has made quite a cultural impact. Alexandria Ocasio-Cortez famously played it on Twitch to a record audience, and Among Us was even recently featured in Glass Onion. While Among Us remains about as popular as ever, upstart multiplayer title Goose Goose Duck is certainly taking its best shot at the once undisputed king of the social deduction genre.
Much like Among Us, Goose Goose Duck was actually released a couple of years ago but hasn't gained much traction until fairly recently. In fact, Goose Goose Duck recently peaked at 563,677 concurrent Steam players. That's a big number on its own, but when you realize that number was good enough to propel Goose Goose Duck past games like Apex Legends and Call of Duty: Modern Warfare 2…well, you can't help but wonder what all the fuss is about.
So far as that goes, you should first know that Goose Goose Duck is honestly kind of an elaborate Among Us clone. Most rounds consist of a team of player-controlled geese trying to complete a series of tasks. All the while, they're trying to find the player amongst them who is actually a duck. There are a few features that help distinguish Goose Goose Duck from its considerable genre competition, but anyone who has played Among Us will be able to jump into the game and figure out the basics relatively quickly.
So why has Goose Goose Duck suddenly become so popular? Well, it comes down to a few things, but this strange story can actually be traced back to the considerable global influence of the K-pop band BTS.
BTS member V (Kim Taehyung) recently started streaming Goose Goose Duck via the Weverse platform (you can find uploads of most of those streams on YouTube). Naturally, it didn't take long for BTS fans to decide to try the game for themselves, though the progress of Goose Goose Duck's popularity has been fascinating to track.
See, V started playing more Goose Goose Duck on-stream in October of last year. While the game received a slight uptick in concurrent players shortly thereafter, that uptick wasn't enough to help Goose Goose Duck beat its previous concurrent player record. That didn't happen until December of last year when the game started regularly attracting over 130,000 concurrent players. As you can see, it's only grown since then.
That's the most interesting thing about this game's popularity. Obviously, there's a degree to which Goose Goose Duck's sudden rise is more representative of BTS' popularity rather than that of the game itself, but that's not the whole story. More and more people have come to the game in recent weeks and months, and more and more people are sticking with the game since then.
Maybe that's because Goose Goose Duck not only offers a refreshing (though obviously familiar) take on the Among Us formula but may actually do certain things better than Among Us. For instance, Goose Goose Duck fans are quick to praise the title's sense of humor, map variety, and various settings, modes, and options. If you're into this kind of game, Goose Goose Duck offers a surprisingly solid social deduction experience.
However, there are a few things you should know before you dive into the free-to-play title. First off, Goose Goose Duck's servers are understandably taking a bit of a beating at the moment. Its developers are working on solutions, but they obviously didn't expect the game to become this popular this quickly. Furthermore, Goose Goose Duck is primarily played by gamers in China and Korea at the moment. That means that some Western gamers may struggle with natural language barriers in such a communication-focused title. Of course, you can always set up a private match if you have enough friends available to do so.
It's entirely possible that Goose Goose Duck will be a flash in the pan. It wouldn't be the first time we've seen a game fall as fast as it rose. However, Goose Goose Duck's trajectory really does resemble Among Us' own meteoric rise in popularity. At a time when even the smallest titles can become a hit thanks to streaming platforms, social media, and YouTube, there's no way to say for sure that Goose Goose Duck won't stick around and become one of 2023's biggest surprise hits.