Reviews
Game & Watch Super Mario Bros Review
Retro design meets modern function in Mario's best birthday gift this year.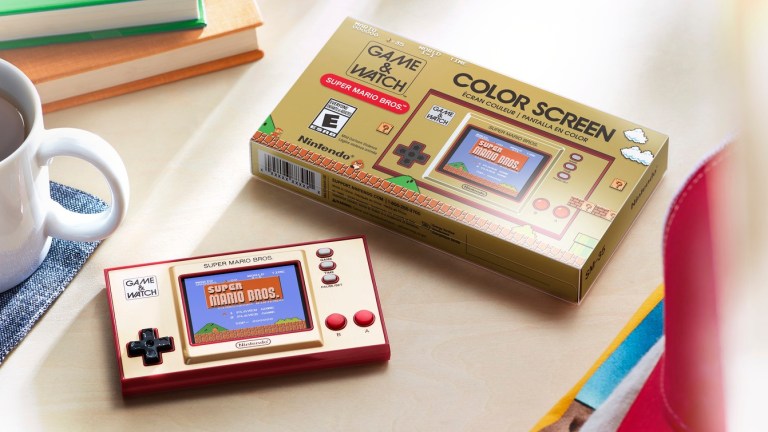 40 years after it was first introduced, Nintendo's vintage line of Game & Watch handhelds has come full circle in honor of Mario's 35th birthday. And what better way to celebrate such a special occasion than with the game that practically started it all? It's true that 1985's Super Mario Bros. for the NES has been released countless times over on various platforms through the decades, but it's been expertly rendered again here in this neat and nostalgia-fueled package. Now lovingly brought to life on a crisp 2.36-inch, LCD color screen, the aptly named Game & Watch: Super Mario Bros. is the unabashed love letter to Mario of 2020.
I was one of many this year who came away disappointed with Nintendo's poorly put together Super Mario 3D All-Stars collection. Despite making three of the mustachioed plumber's best platforming adventures in Super Mario 64, Super Mario Sunshine and Super Mario Galaxy playable on Switch for the first time, the remastered compilation felt incredibly slapdash due to the absence of special features, unwieldy controls, and all around lack of detail. Luckily, this anniversary edition Game & Watch excels in all three aforementioned areas, so much so that it has quickly become my preferred way to play Mario's original NES adventure.
At its core, the Game & Watch: Super Mario Bros. is a new and improved version of the classic handheld device. It tells the time, lets you play games in mere seconds, and is small enough to fit in your pocket but with a large enough screen that you can always keep up with the action. It used to be that each Game & Watch unit came pre-packed with a single title played on a basic, two-tone LCD screen. Here, however, we have a device that makes some sweeping modernizations, packing in Super Mario Bros., Super Mario Bros. 2: The Lost Levels, and an updated Mario-themed version of Ball, the first Game & Watch title ever released.
All the games mentioned play as expected and are well presented on the Game & Watch's beautiful full-color LCD screen, a particular highlight being Super Mario Bros. 2, which up until recently was notoriously tricky to get outside of Japan. First released in the West as The Lost Levels in 1993 as part of the original Super Mario All-Stars on the SNES (and later on Wii), this weird and whacky take on the Mushroom Kingdom has likely eluded many Nintendo fans to this day. Playing through The Lost Levels feels like someone has remixed the initial game's levels to make them harsher, yet its inclusion is fitting as an important part of Nintendo history.
Ball also, though incredibly simple by today's standards, remains a fun way to spend a few minutes chasing high scores. Boasting two game modes where you must see how many tosses you can manage between either two or three balls, Ball was last seen via a Club Nintendo re-release to celebrate Game & Watch's 30th anniversary some years back, so it's nice to see it back in a nicer package. What's more, while Nintendo could have easily presented it with a new graphical style and called it a day, this version of Ball faithfully replicates the traditional green/black LCD look.
A lot of love has gone into making Game & Watch: Super Mario Bros. the ultimate celebration of Mario, and you needn't look further than how the digital clock function has been integrated. Accessed via its own dedicated button in between the Pause and Game Select options, it's here where you can enjoy a series of color vignettes that change based on the time of the day. Sometimes you might see Mario run, witness him dodge various disasters, all as the scenery changes with every additional button press. The digital clock is full of hidden secrets and easter Eggs like this. It's clearly the area where Nintendo's designers were given the license to experiment and have fun.
From a pure aesthetic standpoint the new unit looks incredibly slick, recreating the basic shape and design of the original Game & Watch: Ball handheld only now with a golden brushed metal face plate bordered by a red plastic chassis (reminiscent of the Japanese Famicon). The face buttons used to switch between games and access the clock feel satisfying for the most part, as do the main A and B buttons. The D-pad is the absolute standout, though, utilizing a single piece of plastic that is responsive and easily trumps the broken out directional buttons featured on the Switch. Nintendo purists will want to play Super Mario Bros. here instead of the hybrid console.
My hands aren't the smallest so I was initially quite fearful as to how comfortable holding the Game & Watch: Super Mario Bros. would be during long play sessions. On an average 3.5-hour charge via USB-C cable, the handheld has around 8 hours of battery life, so I was prepared for my palms to ache while testing. During my time with it, however, I tested the unit's comfort in two four-hour bursts and never once had an issue. Also, at the highest brightness level it just about manages to last as long as stated. Veteran players are likely to finish Super Mario Bros. well before the battery runs out and commuters can rest easy knowing that 8 hours on a full charge is more than enough.
All three games also sound great thanks to a booming mono speaker built into the upper left-side corner of the handheld. Admittedly, that famous chip-tune theme only coming out of one side was a little distracting at first, but it's loud enough that I eventually got used to it. If you were a Nintendo fanatic hoping to play through Super Mario Bros. or The Lost Levels using headphones, though, you'll be disappointed. True to tradition, the unit doesn't feature a 3.5mm jack input.
I knew that I was in for a treat with the Game & Watch: Super Mario Bros. as soon as I slipped the packaging out of its plastic sleeve. Printed on the latter is a classic 8-bit scene pulled directly from the headlining game wrapped around the front and back. The affection continues as soon as you slide it out: you get a traditional-looking gold box primed to fool collectors into thinking that this is an item from 1980. Either option would look good sitting on your shelf. Warm touches like this were severely lacking in Super Mario 3D All-Stars, yet it's more than made up for here.
While it's easy to look at the Game & Watch: Super Mario Bros. as an outsider and think it to be just another easy cash grab, for Nintendo newcomers and veterans alike it's a celebratory package primed to warm the hearts of even the most cynical fan. All three games play brilliantly and are easily switched between, the battery life is generous, and as a collector's item it looks appealing both in and out of the box. Sure, you can play almost everything featured here in other ways, but the retro form factor and meticulous attention to detail sees Mario finally given the birthday present he's due.