News
Where Is Super Mario Galaxy 2 in Super Mario 3D All-Stars?
The release of a new collection of Super Mario games, Super Mario Bros. 3D All-Stars has fans wondering why Super Mario Galaxy 2 isn't on the Switch yet?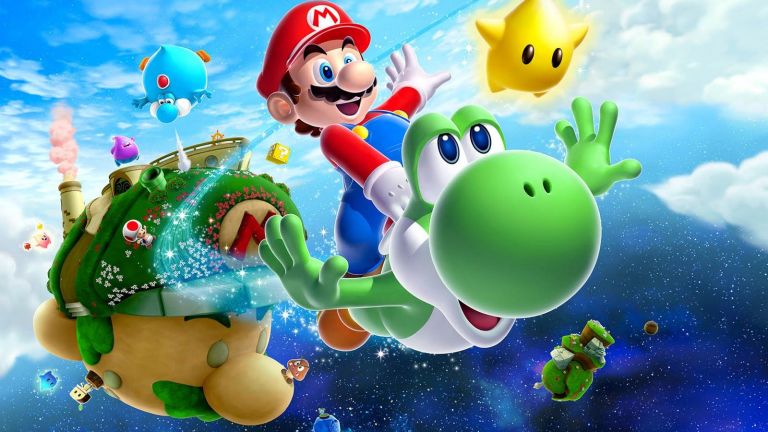 Nintendo is celebrating Mario's 35th anniversary in a big way this month. During a surprise Direct announcement, the publisher announced that almost every Super Mario Bros. game that hasn't yet been ported to the Switch will hit the system in the coming months. Super Mario 3D World, for example, will release on the Switch in February, while a three-game collection called Super Mario 3D All-Stars is set to bring Super Mario 64, Super Mario Sunshine, and Super Mario Galaxy to the console on Sept. 18.
The Big N is even introducing two new Mario experiences to mark the major milestone. One is a very Nintendo take on the battle royale genre called Super Mario Bros. 35, which pits 35 players against each other in a platforming race to be the last one standing. The 35-player split-screen looks hectic as hell to say the least. The other release is an AR game called Mario Kart Live: Home Circuit, which lets you race real Mario Kart models around your living room, an interesting new way to approach toys-to-life. Both games are out in October.
If you're an eagle-eyed Nintendo fan, you might have noticed one major omission on the list of Mario games coming to the Switch. Where is Super Mario Galaxy 2? At the moment, it seems the game is not part of Nintendo's anniversary plans, which is surprising since the sequel was almost universally loved by critics and remains a fan favorite since its release in 2010 on the Wii.
Certainly, there are quite a few Twitter fans wondering why Nintendo didn't include Super Mario Galaxy 2 in the collection:
So what's the deal? Surely, Nintendo didn't just forget about Super Mario Galaxy 2, a game that sold millions of copies upon its release. While there's no definite answer at this time, it's possible the publisher is saving a Super Mario Galaxy 2 Switch port for a later date.
This isn't exactly a satisfying answer or even the answer fans of the game were probably hoping for but it's no secret that Nintendo likes to stagger its releases quite a bit, which is why even the 35th anniversary stuff isn't all out this month ahead of the actual anniversary on Sept. 13. While other companies would drop a mega collection of games all at once in order to cash in on the milestone, Nintendo's properties are the golden eggs of the gaming industry. Nintendo knows that a Super Mario Galaxy 2 Switch port will make tons of money whether it's released now as part of the anniversary or in 2021 or later.
You also have to take into account that the shutdowns caused by the Covid-19 pandemic have meant that virtually all video game publishers and developers have had to push back their projects somewhat. It's possible Nintendo had a Super Mario Galaxy 2 port planned but wasn't able to complete it in time for the 3D All-Stars collection. Another possibility is that Nintendo is saving Super Mario Galaxy 2 for when it needs to fill a gap on the release date next year.
Fortunately, there's plenty of other Mario titles to keep you busy until then.