News
Fortnite Martin Luther King Jr. Event Makes the Internet Cringe
Fortnite's MLK event has everyone wondering what Epic was trying to accomplish and if this was the best way to go about it.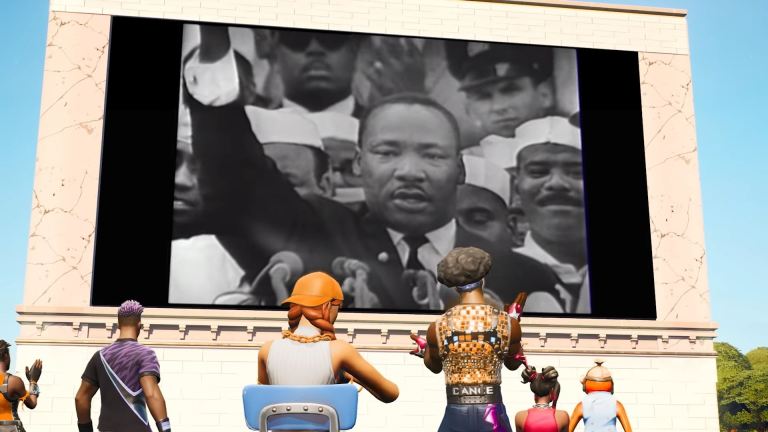 Epic Games and TIME Studios (with reported cooperation with Eric D. Tidwell, Esq., Managing Director & General Counsel of the King Estate) have collaborated to host a special Dr. Martin Luther King Jr.-themed event within Fornite's creative mode, and the internet has been quick to react with memes, confusion, and a rather interesting debate over the relationship between context, intentions, and implementation of an idea.
"TIME Studios, the Emmy Award®-winning television, film and immersive division of TIME, in collaboration with Epic Games' Fortnite, has launched March Through Time, a new year-long Fortnite Creative experience to celebrate the anniversary of The March on Washington for Jobs and Freedom," reads a statement from TIME regarding the event. "Inspired by TIME Studios' groundbreaking immersive project The March, which brought Dr. Martin Luther King Jr.'s iconic 'I Have a Dream' speech to virtual reality for the first time, March Through Time, was developed to introduce a new audience to this historic event and explore pivotal moments from the Civil Rights Movement."
Before you assume the worst and start picturing Fortnite players running the game in Dr. Martin Luther King Jr. character skins, you should know that the event is at least a bit more tasteful than that. Instead, the March Through Time event sees players explore "D.C. 63, a reimagined Washington, DC" and "learn first-hand the civil rights teachings of Dr. Martin Luther King, Jr. like never before."
To be more specific, March Through Time allows Fortnite players to watch a video of MLK's "I have a dream" speech as well as tour a virtual museum (and other nearby digital landmarks) filled with information about MLK and the Civil Rights Movement. The event also includes cooperative challenges that not only teach players more about the history of that time but reward participants with a special "D.C. 63 spray" upon completion.
That's where things start to get a little more awkward. After all, part of the reason you might have been worried that Epic would go so far as to add an MLK skin to Fortnite is probably because that strangely sounds like exactly the kind of thing the company might actually do. Not only has Epic CEO Tim Sweeney previously referenced the civil rights movement when discussing the company's ongoing lawsuit against Apple (thank you to Kotaku for reminding us all about that one) but the company has also previously been accused of appropriating dances popularized/created by black performers and monetizing them within the game. We probably also don't have to remind you that Epic has essentially turned Fortnite into the world's largest digital billboard by adding every popular character to the game that they can secure the rights to and then figuring out how it all makes sense later.
Actually, one of the strangest things about this event at the moment is watching players wear those copyrighted character skins as they participate in various activities. It kind of…changes the seemingly intended tone.
That last tweet honestly does a great job of getting to the heart of this matter. On the one hand, using one of the most popular video games in the world to teach a (mostly younger) fanbase about Dr. Martin Luther King Jr. and the Civil Rights Movement is certainly not inherently a bad thing. Honestly, if done right, it could be a great way to that information to people who may otherwise never learn about it. Maybe Fortnite isn't the ideal platform for such discussions, but maybe that also says something about the shortcomings of traditional educational avenues or maybe it even just says something about the ways that the evolving digital landscape creates new educational opportunities.
On the other hand, the actual event itself leaves a lot to be desired. Not only do parts of this event feel like a giant advertisement for TIME (who apparently couldn't help but put their name on nearly everything), but the gamification of this concept as well as the ways that Fortnite's inherently absurd nature often (unintentionally?) mocks the subject matter really makes you wonder if this whole thing needed to be rethought. Kinda Funny host Blessing Adeoye Jr. sums up the whole thing well in this tweet:
Epic may have made a lot of money in recent years through digital character skins, but this really feels like one of those times when they needed to step back and really ask themselves if they were just making a skin-deep gesture when they had the chance to use their platform to do something a bit more substantial.