News
Fortnite Chapter 2: Season 3 – Trailer, Battle Pass, Skins, Patch Notes, and News
Fortnite Chapter 2 Season 3 adds Aquaman, rideable sharks, and more. Here's everything you need to know: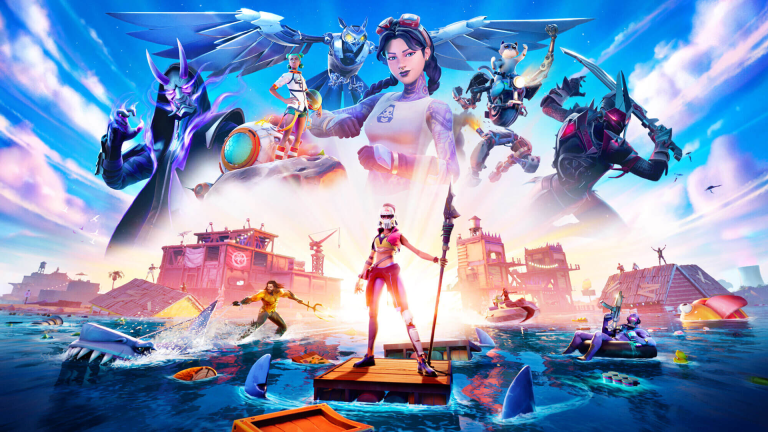 Fortnite Chapter 2: Season 3 has officially launched as Epic reveals some of the details of what you can expect from this expansive new season of content.
The early highlight of this new season is a massive flood that has covered much of the Fortnite map in water. That flood not only sunk some of the old locations on the map but it has revealed new spots such as Rickety Rick and Catty Corner. The entire map is, essentially, a collection of islands.
To make matters worse, dangerous sharks patrol most of the waters looking to offer you an embarrassing PvE death in this battle royale title. If you're feeling brave, though, it's actually possible to hook one of these sharks with a fishing pole and use it as a new form of transportation.
Speaking of PvE threats, a group of adversaries known as Marauders now roam the islands looking to end your run. Much like the guards added to the last season of Fortnite content, these Marauders do not discriminate and will often enforce their will while you're trying to battle other players. They're not especially tough, but they do offer yet another obstacle to attempt to overcome.
If you're looking for a confidence boost when battling these aquatic adversaries, you can always wear the new Aquaman skin added to Fortnite as part of this season update. Modeled after the Jason Momoa version of the character, the addition of this skin now means that there's a good chance you'll see John Wick battling the DCEU version of Aquaman sometime during an upcoming Fortnite match.
Of course, it wouldn't be a Fortnite update if there wasn't a new Battle Pass for you to spend money on. For a cool 950 V-Bucks, you can unlock the various tiers of the Season 3 Battle Pass and enjoy all the cosmetic goodies that the Epic design team has dreamed up in an attempt to keep the Fortnite money train rolling along.
As with previous Fortnite seasons, Epic will introduce changes to the existing Fortnite world as time goes on. While they've already confirmed that some of those changes will involve the water that has engulfed this land receding (and revealing new areas in the process), we're still waiting to hear exactly what you can expect from Fortnite Chapter 2: Season 3 as this latest update evolves and rolls along.
Until then, be sure to check out this cinematic trailer for the latest season of content:
While you're here, take a look at this preview for the new Battle Pass which highlights some of the cosmetics included alongside the recent update: