News
How Dr DisRespect Explained Twitch Ban During YouTube Stream
Dr DisRespect addressed his Twitch ban for more than 500,000 YouTube viewers. Here's what he had to say.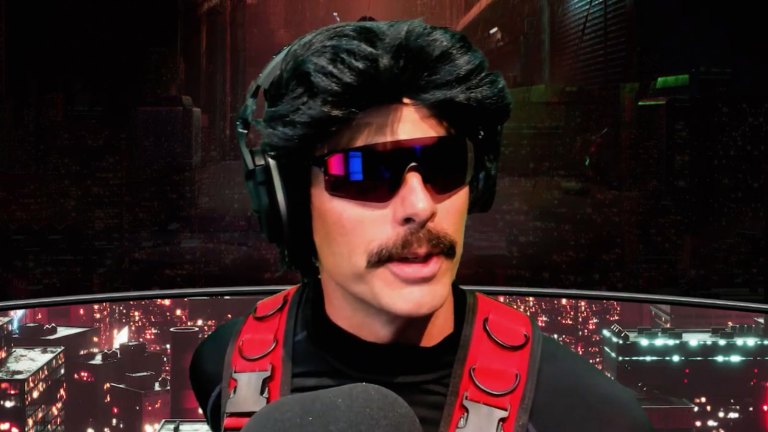 Guy Beahm, the uber-popular streamer better known as Dr DisRespect, made his return to live streaming on Aug. 7, broadcasting on his YouTube channel more than a month after he was banned from Twitch. For the over 500,000 fans who tuned in, Beahm's return stream was par for the course: a high-energy performance full of bombastic smack talk, lots of screaming, some insults, a few rounds of Call of Duty Warzone, and an assortment of skits promoting Mountain Dew Game Fuel and Doc's plan to create a production company around his brand.
But Beahm also took a much more serious tone at one point, addressing the Twitch ban that permanently removed him from the platform where he previously had a multi-million-dollar exclusive contract. Acknowledging that he'd received a lot of support from his fans as well as countless questions as to the reason behind the ban, Beahm talked about the situation for what he said would be the last time.
"A lot of people wanna know… they wanna know what happened.' Why did you get banned?'" Beahm said. "Guess what? I want you to look me in the fucking eyes when I say this, okay? We still have no idea. We have no idea. And I'm gonna tell you this right now – as far as I'm concerned, we didn't do anything to warrant a ban, let alone how they went about banning us. No communication before. No reaching out. Nothing. Boom. Done."
Beahm also confirmed that his lawyers were currently exploring legal action as the Twitch ban had broken a "heavy contract." He said that he would let "the legal professionals do what they need to do."
You can watch full video of the segment below:
Beahm's short statement on the ban echoed what he said during his interviews with The Washington Post and PC Gamer back in July, the first time he opened up about the situation since being booted from Twitch on June 28. During those interviews, Beahm revealed that Twitch hadn't even informed him of the ban until after he'd reached out to the company directly. He said that he initially found out about the ban while watching someone else's stream. Twitch has since cut off all communication with Beahm, according to the streamer.
"Yeah, that's the kind of the mind-blowing thing about all of this," Beahm told PC Gamer. "Obviously, for legal counsel, I have to be careful here. But I can say however, that I will not be returning to Twitch, so, I mean, that's it."
At the time of the ban, a Twitch spokesperson offered news outlets only a generic statement on the matter: "As is our process, we take appropriate action when we have evidence that a streamer has acted in violation of our Community Guidelines or Terms of Service. These apply to all streamers regardless of status or prominence in the community."
A violation of Twitch's community guidelines or terms of service can mean many things, from a DMCA copyright violation to something much worse. Many theories have been posted online and spread on Twitter, Reddit, and other forums. Some, like a 4chan rumor that Beahm had left Twitch to start a new streaming platform called Brime, were debunked. Other rumors and reports, including one by streaming industry insider Rod Breslau which points to a more serious reason behind Beahm's Twitch ban, have yet to be proven true or false.
The ban came just months after Beahm signed a multi-year exclusivity deal with Twitch, locking him into the platform at a time when other popular streamers like Ninja and Shroud had been poached by Microsoft for its own Mixer streaming service, which was recently shut down. Beahm confirmed to The Washington Post that Twitch had voided his contract. The streamer had stood to earn $10 million per year from the deal, according to Kotaku.
For now, Beahm's hundreds of thousands of fans have their Doc back, but it may be a very long time before anyone hears exactly why he was banned from Twitch in the first place. Until then, the ban remains one of gaming's biggest and strangest mysteries.
We'll keep you updated as we learn more.