News
Dr DisRespect Says He Still Doesn't Know Reason Behind Twitch Ban
Dr DisRespect finally speaks out about his Twitch ban, but the reasons behind his suspension still remain a bit of a mystery.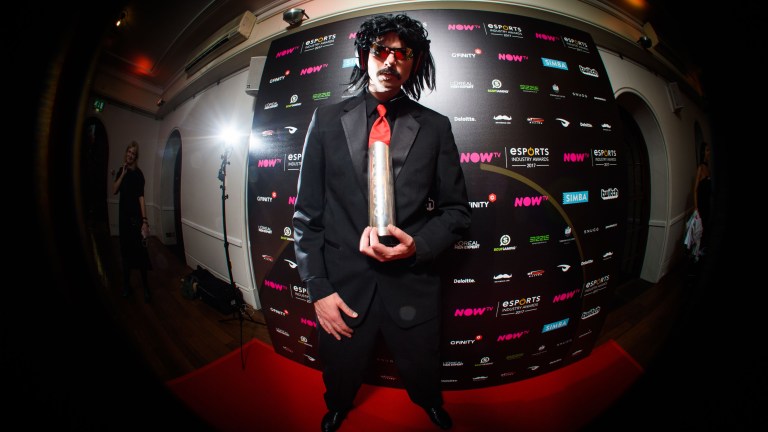 Three weeks after being banned from Twitch, Guy Beahm, who is better known as the uber-popular streamer Dr DisRespect, is finally speaking out about his suspension. Unfortunately, the reasons behind the Twitch ban, the most high-profile suspension of a streamer ever by the service, remain unknown. In his first interview since the ban, Beahm explained that he still doesn't know why he was kicked off Twitch.
"I've been dealing with a lot of stress and anxiety," Beahm told TheWashington Post. "You know, my wife and I both, this is our livelihood. We worked really hard to get to this point. … Let's just say I've felt all of the emotions that you could possibly feel."
Beahm's suspension has quickly become the biggest mystery in the streamer industry and gaming community. With more than 4 million followers on Twitch before his suspension, Beahm has been the subject of countless rumors, including a laughable theory that he'd left Twitch to join a fledgling streaming platform called Brime. As both Twitch and the streamer fail to give any concrete answers, the internet hearsay becomes more serious.
At the time of the ban, which came on June 28, a Twitch spokesperson offered only a generic statement on the matter: "As is our process, we take appropriate action when we have evidence that a streamer has acted in violation of our Community Guidelines or Terms of Service. These apply to all streamers regardless of status or prominence in the community."
A violation to Twitch's community guidelines or terms of service can mean a lot of things, from a DMCA copyright violation to something much worse. In fact, hours after the ban, esports industry in Rod "Slasher" Breslau said he'd heard from his own sources that fans should expect the latter, suggesting that Beahm's situation is "serious."
"For several hours now I have been told from credible sources the reason Dr DisRespect has been banned. However, due to the importance and sensitivity around the subject I have refrained from going on it," Breslau wrote on Twitter. "I don't feel comfortable with it currently."
Shannon "ShannonZKiller" Plante, another popular Twitch streamer, said on Twitter (via GameSpot) at the time that she'd heard from her "sources" that "Doc is indeed done, and not just on Twitch. I know why and cannot say. But this is serious." Plante later deleted the tweet.
Whatever the cause of Beahm's Twitch ban, no one is talking beyond hinting at the serious nature of the case. When he finally addressed the ban a day later, Beahm himself wouldn't give a reason. He said he didn't know why he'd been banned either.
"Champions Club, Twitch has not notified me on the specific reason behind their decision," Beahm wrote. "Firm handshakes to all for the support during this difficult time."
Pressed by The Washington Post about whether he knew anything about why he was banned, Beahm reasserted that Twitch hadn't given him a reason as of yet. Beahm told The Washington Post that he learned of the ban while watching a friend's stream, and that when he reached out to Twitch about the ban, the company confirmed his suspension but did not elaborate further on the action.
"Honestly, we just don't know," Beahm said. "It was a total shock. Imagine showing up to work and the doors are closed and you can't get inside. You're going, 'What's going on?' And you've been told you've been fired. But you haven't been told the reason why. We just weren't given an answer. … It was the worst feeling."
The ban came just months after Beahm signed a multi-year exclusivity deal with Twitch, locking him into the platform at a time when other popular streamers like Ninja and Shroud had been poached by Microsoft for its own Mixer streaming service, which was recently shut down. Beahm confirmed to The Washington Post that Twitch had voided his contract. The streamer had stood to earn $10 million per year from the deal, according to Kotaku.
Beahm was also booted from the Discord partner program. A spokesperson for the company told The Washington Post that "Discord Partners must abide by our Code of Conduct, and when violations occur we take the appropriate action." Discord did not provide a concrete reason for the removal.
Before the ban, the streamer had also struck a TV development deal with SkyBound Entertainment to produce a show. According to Beahm, the deal is still on and that he's "working really hard. We're ready to go. You know, we're excited to take those next steps." SkyBound declined to comment on the project's progress, per the outlet.
In a separate interview, Beahm suggested that he was considering a return to live streaming on another platform, such as YouTube, Facebook, or his own championsclub.gg website. But Beahm hasn't made a decision yet.
"We worked really hard to get to this point, and all of a sudden it's just like everything's kind of halted," Beahm said. "But, you know, I'm surrounded by a good team. And we're putting together a nice little game plan. I'm really excited to take things to the next level."
The timing of the ban has caused some on the internet to fear the worst. After all, the ban came on the same week that Twitch announced in a blog post its commitment to creating a safer streaming community after several high-profile streamers were accused of sexual misconduct, including popular Destiny 2 streamer Lono "SayNoToRage" as well as Tom "Syndicate" Cassell. Following a week of allegations in late June, Twitch confirmed that it would begin investigating and banning streamers it found had violated its community guidelines. Streamers iAmSp00n, BlessRNG, WarwitchTV, DreadedCone, and Wolv21 have all been banned as a result, according to Polygon.
"We are reviewing each case that has come to light as quickly as possible, while ensuring appropriate due diligence as we assess these serious allegations," said Twitch in the blog post. "We've prioritized the most severe cases and will begin issuing permanent suspensions in line with our findings immediately."
There's no evidence that Beahm's ban is related to sexual misconduct. As of this writing, Beahm has not been accused of anything or charged with a crime.
This is the second time Beahm has been banned from Twitch. He was first suspended in 2019 for filming from a bathroom in the LA Convention Center during E3. Beahm's account was reinstated a few weeks later. Twitch was much more open about the situation in that case.
We'll keep you updated as we learn more about Beahm's situation.