News
Call of Duty Vanguard Alpha Start Time: When Can You Download and Play the Alpha?
If you own a PlayStation console, you can be among the first players to try Call of Duty: Vanguard's new multiplayer mode, Champion Hill, this weekend.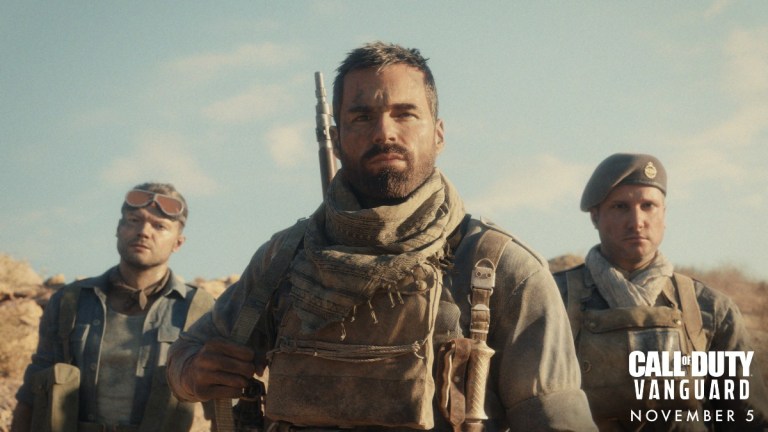 PlayStation owners will have their first chance to try Call of Duty: Vanguard during a public alpha test this weekend that's open to PS5 and PS4 players. The alpha will focus on Champion Hill, a new multiplayer mode that's described as "a mix of battle royale plus Gunfight with progression happening between each of the rounds."
Champion Hill, which can be played as 2v2 or 3v3, sees teams compete in tournament-style deathmatch rounds on a map split up into five sections, including a Buy Station Area at the center where players can upgrade their loadouts, buy Perks, new weapons and equipment, and more. But you'll need to take out your enemies to earn the cash to be these goodies. The goal of the mode is to deplete every other team's life count to zero and becpome the last squad standing.
This is definitely an interesting experiment for Call of Duty. Whether it'll catch on like Warzone remains to be seen. But the truth is that Call of Duty's yearly multiplayer offerings have been decidedly overshadowed by their much more popular battle royale counterpart for some time. Sledgehammer Games undoubtedly hopes Champion Hill is exciting enough to get players to ditch modern warfare for a bit and try World War II again. But this should hardly be Activision's biggest worry.
Call of Duty: Vanguard comes at a time of reckoning for Activision Blizzard, which is facing several lawsuits as well as disturbing allegations of toxic working conditions at the company, including for women and minorities. In the weeks since California's Department of Fair Employment and Housing filed a lawsuit against the company over its workplace culture, many current and former employees have shared their own stories of being harassed or mistreated at the publisher. The DFEH recently expanded the lawsuit, claiming Activision has impeded the agency's investigation into the workplace by forcing employees to sign NDAs and requiring them to speak with the company before talking to the DFEH. You can read more on the allegations here.
Here's everything else you need to know about the Call of Duty: Vanguard alpha:
Call of Duty: Vanguard Alpha Start Times
The Call of Duty: Vanguard alpha test will begin on Friday, Aug. 27 at the following times:
1 pm ET/10 am PT in the US
6 pm BST in the UK
7 pm CEST in Europe
Call of Duty: Vanguard Alpha End Times
The alpha will conclude on Sunday, Aug. 29 at the following times:
1 pm ET/10 am PT in the US
6 pm BST in the UK
7 pm CEST in Europe
Call of Duty: Vanguard Alpha Download & Pre-Load
You can download and pre-load the alpha on your PlayStation now. But first, you need to install Call of Duty Warzone, Cold War Black Ops, or Modern Warfare to your console. Once you've downloaded the Vanguard alpha, you'll be able to access it from the main menu of one of those three games. The file size is 20.376 GB in the US and 21.233 GB in Europe.
Use the links below to download the alpha in your respective region:
PlayStation 5
Download Free PS4 Alpha: Asia.
Call of Duty: Vanguard Single-player and Multiplayer Modes
Vanguard's single-player campaign tackles an alternate WWII history "what if" scenario where a special ops unit must foil the Nazi's plan to find Adolf Hitler's successor at the tail end of the war. The four main characters making up the squad trying to stop "Project Phoenix" are based on real-life soldiers who fought for the Allied Forces.
The game's multiplayer component, including 20 maps across the Western, Eastern, Pacific, and North African fronts of WWII, and in a first for the franchise, Treyarch will provide a new Zombies mode for another studio's Call of Duty game. Vanguard's Zombies mode is billed as "a crossover [that] connects with the Call of Duty: Black Ops Cold War  Zombies storyline," according to a press release. Activision confirms that Vanguard will build off of the Zombies lore established in Cold War. IGN revealed that the new mode will explore "the birth of the zombies."
As for Warzone, Raven Studios is designing a brand-new map — not just a re-skin of Verdansk — that ties into Vanguard. The mode "shares the same tech as Vanguard for seamless weapon and operator integration" and will also introduce a new "multi-faceted, anti-cheat system" that will hopefully help with many of Warzone's current hacker woes.