News
Will Call of Duty: Vanguard Release on PS4 and Xbox One?
Call of Duty: Vanguard is the new installment in Activision's shooter series. When is it coming out and which platforms can you play it on?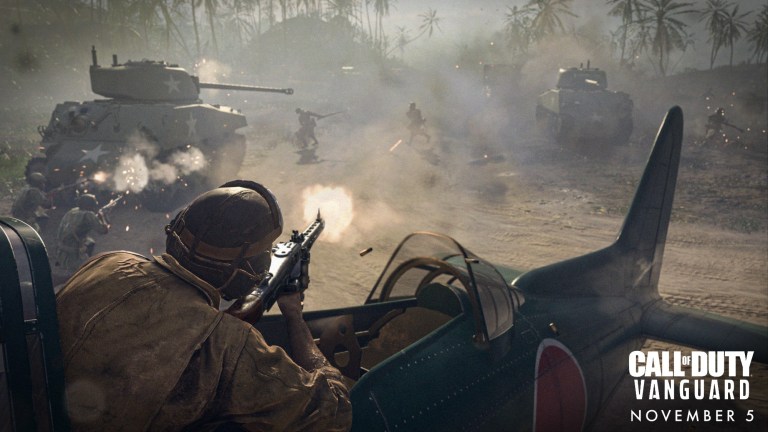 Despite facing several lawsuits and serious allegations of a sexist, toxic work culture where women and marginalized workers have felt unsafe and/or mistreated, Activision Blizzard has gone ahead and announced the next Call of Duty game anyway. It's called Call of Duty: Vanguard and it releases on Nov. 5.
The new installment, which is being developed by Sledgehammer Games, in conjunction with Treyarch and Raven Studios, will take the series back to the conflicts of World War II for the first time since 2017. It'll feature an all-new single-player campaign that tackles an alternate history "what if" scenario where a special ops unit must foil the Nazi's plan to find Adolf Hitler's successor at the tail end of the war. The four main characters making up the squad trying to stop "Project Phoenix" are based on real-life soldiers who fought for the Allied Forces.
Vanguard will also ship with a new multiplayer component, including 20 maps across the Western, Eastern, Pacific, and North African fronts of WWII, as well as a new mode called Champion Hill, which is "a mix of battle royale plus gunfight with progression happening between each of the rounds," according to multiplayer creative director Greg Reisdorf in an interview with IGN.
In a first for the franchise, Treyarch will provide a new Zombies mode for another studio's Call of Duty game. Vanguard's Zombies mode is billed as "a crossover [that] connects with the  Call of Duty: Black Ops Cold War  Zombies storyline," according to a press release. Activision confirms that Vanguard will build off of the Zombies lore established in Cold War. IGN revealed that the new mode will explore "the birth of the zombies."
But the element fans want to hear about the most is Warzone. How will Call of Duty: Vanguard change the popular battle royale mode?
Raven Studios is designing a brand-new map — not just a re-skin of Verdansk — that ties into Vanguard. The mode "shares the same tech as Vanguard for seamless weapon and operator integration" and will also introduce a new "multi-faceted, anti-cheat system" that will hopefully help with many of Warzone's current hacker woes.
Now, with many franchises moving on to next-gen consoles, what platforms will you be able to play Vanguard on? The game will obviously release on PlayStation 5, Xbox Series X/S, and PC, but Activision has also confirmed that Vanguard will hit PlayStation 4 and Xbox One. We assume this means Warzone will continue to have cross-play functionality as it makes the switch over to Vanguard.