News
Is the Call of Duty: Cold War Beta on Xbox One and PC?
The Call of Duty Black Ops: Cold War open beta begins this weekend, but not everyone will have a chance to participate right away...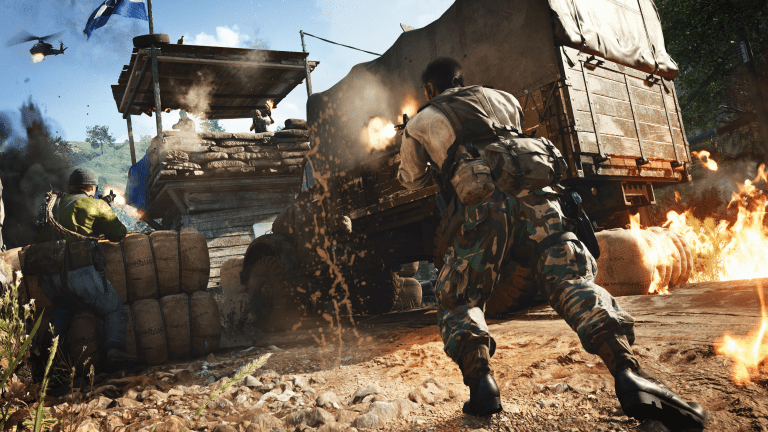 First-person shooter fans will get one more chance to try Call of Duty Black Ops: Cold War before the game launches in November. An open beta period will begin on Oct. 8 on PlayStation 4 and will run for two weekends, culminating on Oct. 19.
If you're eager to jump into Cold War on Thursday and have already pre-ordered the PlayStation version of the game, you'll be able to get early access to the beta on Oct. 8-9 and play all throughout the first beta period, which ends on Oct. 12. PS4 fans who haven't pre-ordered the game will be able to jump into the open beta on Oct. 10-12 and then again on Oct. 15-19.
But where does this leave Xbox One and PC players? When will they be able to jump into the beta? Well, if you're an Xbox or PC owner, you'll have to wait until the second weekend of the beta to try the game, as PlayStation has exclusive access to the first weekend.
Those who pre-ordered Cold War on Xbox or PC will be able to get early access to the second beta weekend starting on Oct. 15. All players, regardless of platform or whether they pre-ordered, will be able to play on Oct. 17. The second beta period will run until Oct. 19. Check out the full breakdown of the schedule below: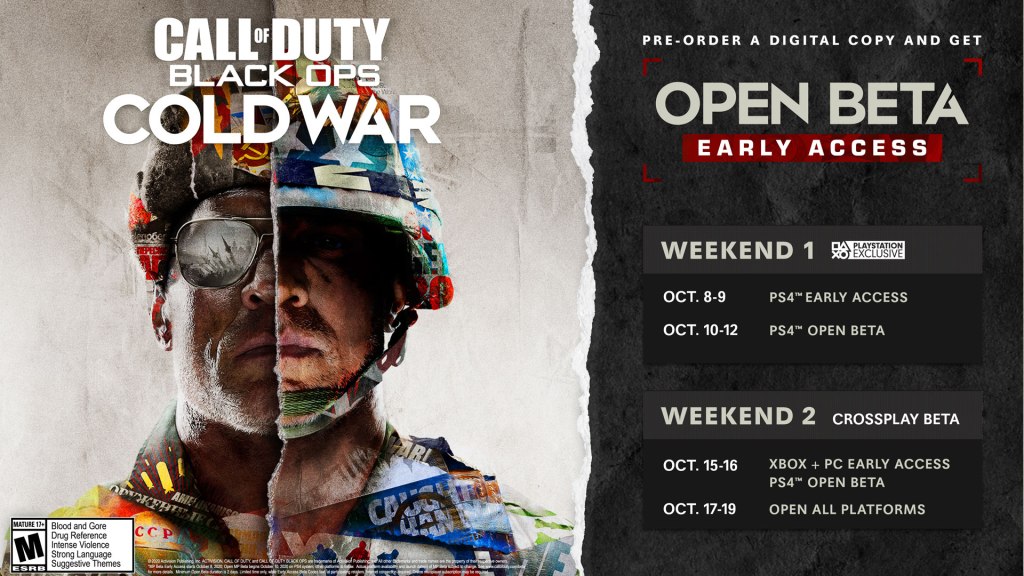 As far as what you'll be able to play during the open beta, the testing period will let you get hands-on time with a few traditional 6v6 multiplayer modes, such as Deathmatch, Domination, Kill Confirmed. You'll also be able to get a first taste of three new match types coming to Cold War: the 12v12 Combined Arms, the 6v6 objective-based VIP Escort, and the 40-player Fireteam: Dirty Bomb.
Unfortunately, players won't be able to try Cold War's take on the franchise's popular Zombies mode, which kicks off a whole new story unrelated to the past Black Ops games. Also missing from the open beta is Cold War's version of Warzone, which will allow you to bring all of your rewards from the Modern Warfare edition of the battle royale mode forward to the new game.
Cold War, which is being developed by Treyarch and Raven Software, will also feature a single-player campaign that continues the story of the very first Black Ops game, pulling players back into the world of Cold War-era espionage.
While the game will be available on next-gen consoles, Call of Duty fans will have to buy the Cross-Gen Bundle on PS4 or XBO to upgrade to the PS5 and XSX versions when they launch. That bundle will cost $70, making Cold War the latest cross-gen game to not allow players to upgrade to next-gen for free.
Pre-order bonuses will allow players to "instantly unlock digital rewards, including Black Ops Operator Frank Woods for play in Call of Duty: Warzone and Call of Duty: Modern Warfare now, and receive early access to the Call of Duty: Black Ops Cold War Multiplayer Open Beta. Open Beta dates to be announced soon."
Call of Duty Black Ops: Cold War is out on Nov. 13 for Xbox Series X, PlayStation 5, PS4, XBO, and PC. You can pre-order the game here.